ARCADIA — A local farm animal sanctuary in DeSoto County has partnered with Swedish food-tech startup Raging Pig, creators of a new plant-based, vegan bacon seasoning product.
Mike and Jenni Presley have been operating Shelter Farm Sanctuary, a 501©3 vegan farm animal sanctuary, in DeSoto County for around two years and have been vegan for longer.
They are now up to 81 animals living on their farm, ranging from pigs and cows, to dogs, cats and even tortoises.
"We started out rescuing (only) dogs and cats that are definitely deserving to be rescued," Mike said. "There are a lot of people that love dogs but there are not as many people that are going to take care of these other animals (like pigs and cows) that also deserve love and affection."
Adam Mikkelsen, co-founder of The Raging Pig Company, initially reached out to Mike and Jenni through social media about teaming up — not only for the benefit of their new vegan bacon product but also to spread awareness of animal rights activism and the benefits of veganism.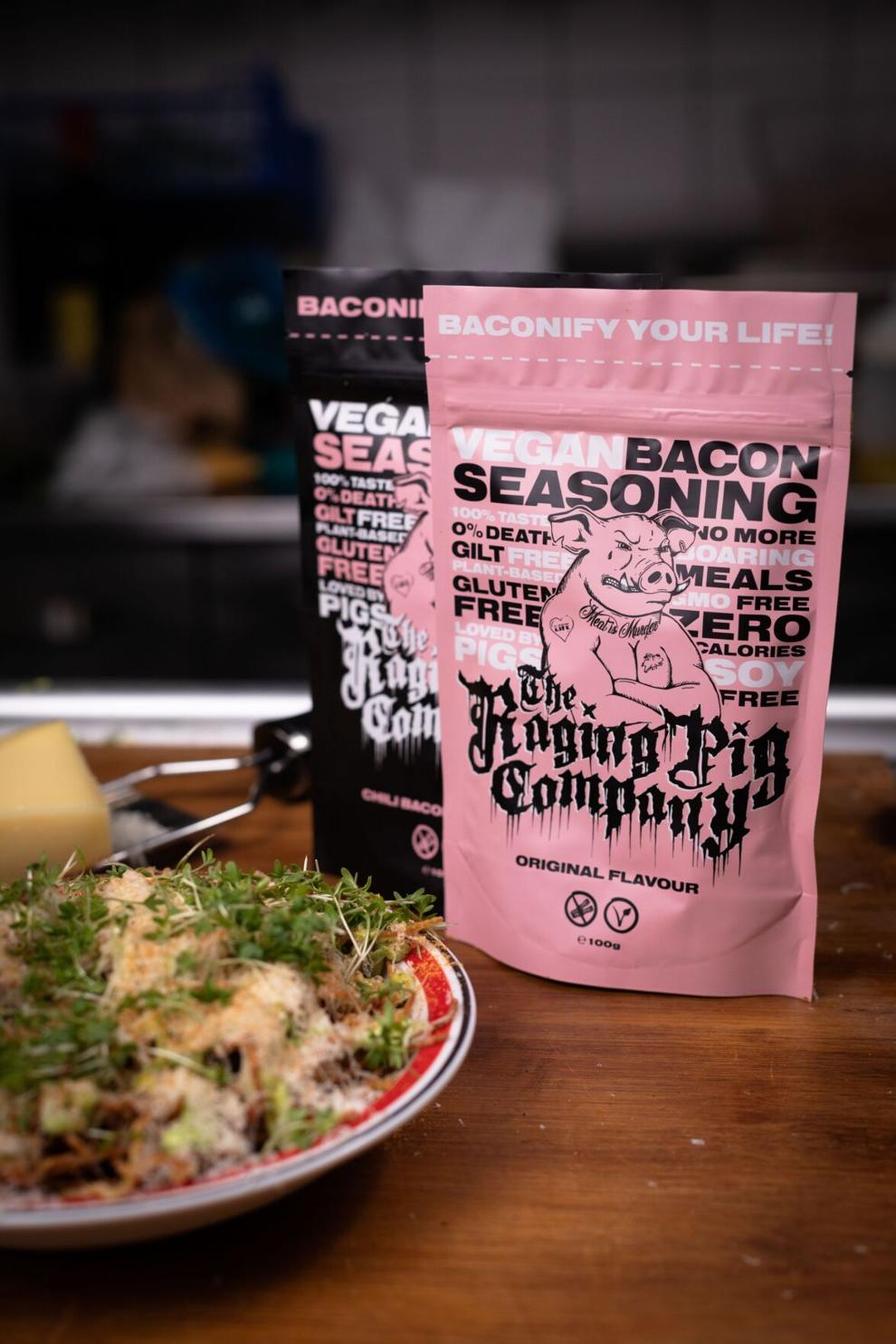 "We (me and my co-founder) thought that the world was ready for a company that tried to merge the activism of plant-based products with the inspiration and education of (getting) people into eating more plant-based products," Mikkelsen said.
"We were also both disappointed in the global food industry — in some sense even with the plant-based brands — that are trying to drive the change (animal welfare awareness) — but aren't doing it fast enough or connecting it to the real challenges that our world is facing at the moment."
Raging Pig's Vegan Bacon Seasoning comes in three flavors — original, cheese or chili — and is 100% plant-based without GMO, preservatives, gluten or cholesterol.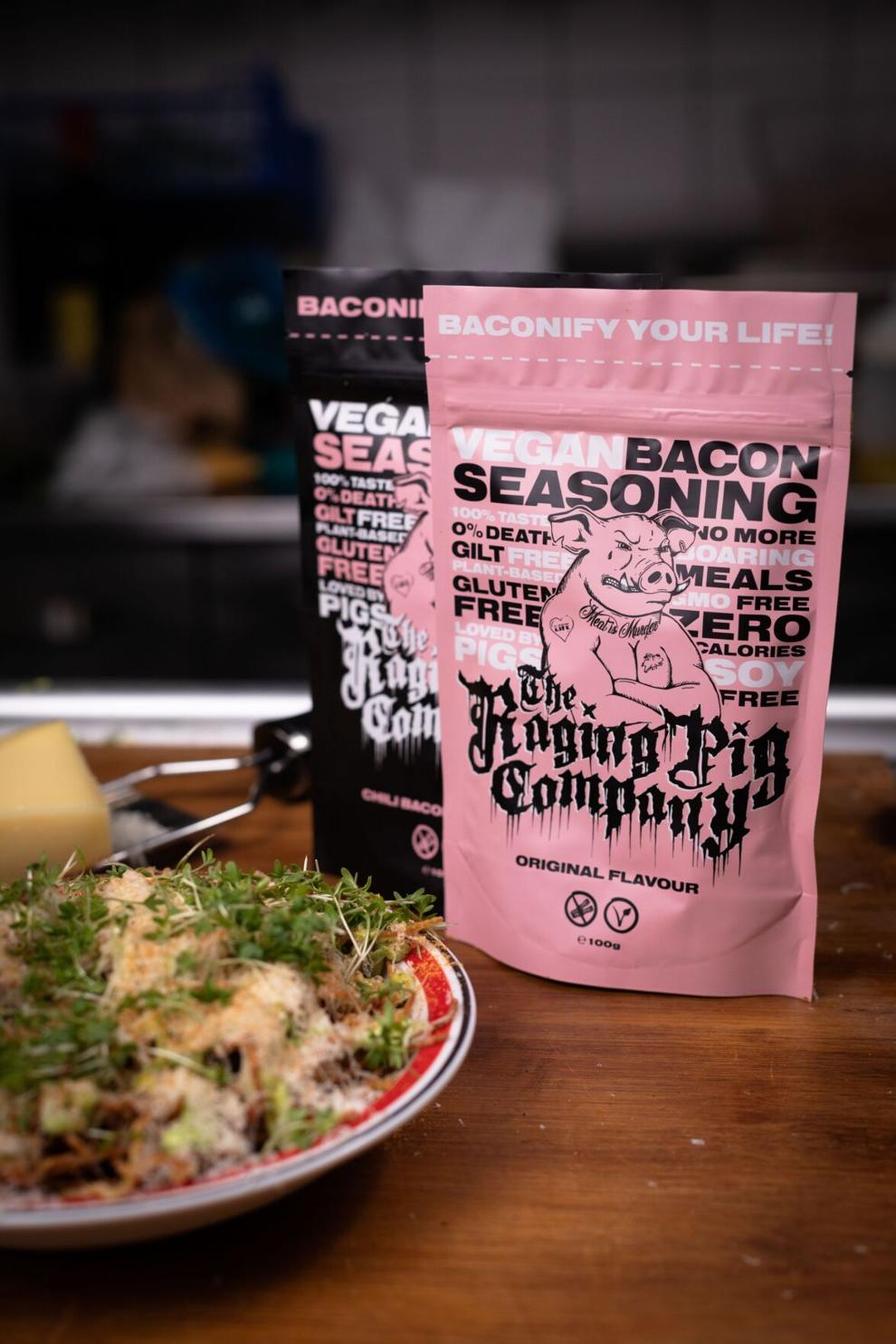 "We chose bacon to start with," Mikkelsen said, "because it's one of the most engaging meat products out there. We call it the 'power of bacon.'
"So, we're trying to merge the power of bacon, the food technology and activism to ramp up the change that we believe we all needed yesterday — both from an (unavailability) perspective and a health perspective — but also to do our best to save pigs."
Mikkelsen went on to say that pigs are not that much different from dogs when it comes to being pets.
"In the western world, you would never consider eating a dog," he continued. "It's just about perception and lobbying and how we have been brought up."
Proceeds of sales will go to support the Shelter Farm Sanctuary, which is growing by the day, Jenni said.
"We get requests pretty much daily from people trying to relocate pet pigs or roosters, animals like that," she said. "We also try really hard to work the big cruelty cases — situations where animals are in dire straights and have no other options, or cases dealing with backyard slaughter houses, abandonment and neglect."
"Our property (1837 S.W. County Road 769) has certainly evolved as we add more animals and as we add more structures," she said. "We just bought another 14 acres down the street so we can start helping more animals because we kind of ran out of room already."
Both Mike and Jenni said they use the vegan bacon seasoning on almost anything — popcorn, french fries, ramen noodles, pasta and more.
"I put it in my grits every morning," Mike said. "We're almost out of the seasoning."
Mikkelsen said their company has plans to expand their products to vegan bacon strips, sausage, turkey and other products.
"Our end goal is to compete with the big players (in plant-based products) but to also build in the extra layer of authenticity (of lifestyle and product) whether it comes to animal cruelty or gender-equality, or other big (cultural) issues," he said, "a part of running a business that I think the consumers both expect and hope for today."
Shelter Farm Sanctuary is a nonprofit operating completely on donations, Jenni said.
Jenni said that it takes a lot of work to run the farm but it's a privilege to spend time with the animals and allow others to see them in person.
"I think a lot of people go through life and they don't really spend any time with a cow or a pig," she said, "and it's a lot harder to exploit an animal once you've spent time (with them)."