LAKE SUZY — Lake Suzy residents are tired of waiting for action at the long-neglected Kingsway Country Club — owned by Allegiant Travel Company.
"We've been very discouraged with the lack of activity (on the grounds)," said Paul Boardway, who has lived on the 15th fairway of the club's golf course for 20 years.
"The fact that the owners have let the course get out of hand with the growth of weeds and grass ... Well, it's not a pretty sight out there."
In early February, a "notice to proceed" was issued by DeSoto County's development department to Allegiant as part of an improvement plan for the site at 13625 SW Kingsway Circle, Lake Suzy — on the border of DeSoto and Charlotte counties.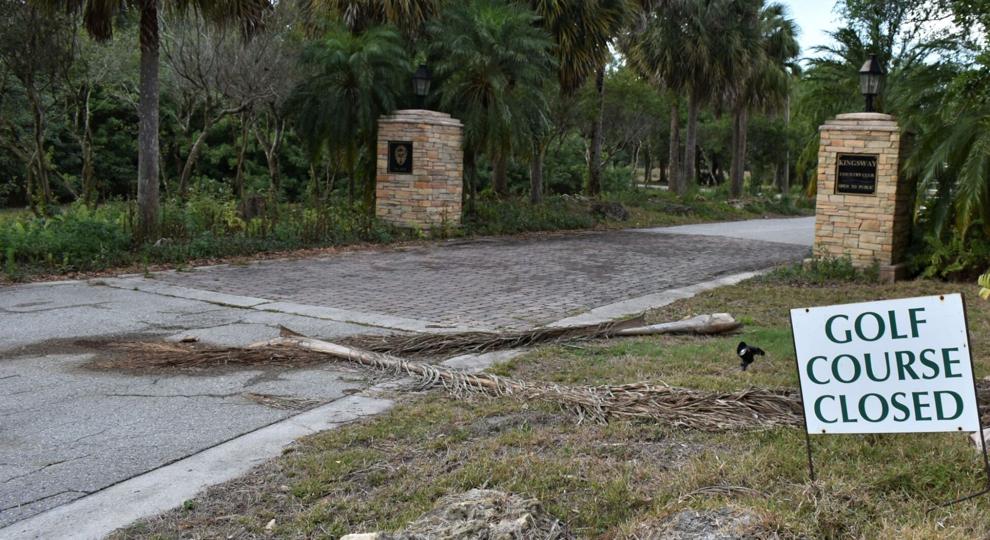 The notice included renovations on the course, to buffers along the residential units within the course and buffers along the property boundaries, as well as drainage changes throughout the property.
"There are collapsed culverts, collapsed and overgrown hazards, and more drainage issues," said Maureen Stasi, resident and Alliance of Lake Suzy Homeowners Association representative. "They have an improvement plan that calls for more lake drainage, etc. (too)."
Allegiant Spokesperson Hilarie Grey said the February notice was the final step in a permit process with the county.
"This was simply the final permit required by the county prior to construction, whenever that construction should take place," Grey said. "It was the last outstanding permit that was needed to be secured for the (Kingsway Country Club) project."
Grey went on to say that the permit had been initially delayed due to concerns from DeSoto regarding pipelines that run under the golf course.
"Part of the county process was working through those issues − which happened over the past year," she continued, "and now that any concerns have been satisfied, the permit was issued.
"It is not, in and of itself, an indication that the project (for construction or renovation) is starting."
When Allegiant bought the club in 2018, it was expected to serve as a companion destination to Allegiant's Sunseeker Resort in Charlotte Harbor.
Construction on Sunseeker was suspended in March 2020 due to the coronavirus pandemic and has yet to resume.
The club, established in 1976, was set to be closed April 1, 2020, for renovations but was shut down earlier than planned that March, also due to COVID-19.
In the months after, the club and its grounds were neglected, leaving area homeowners with an eyesore and safety hazard of overgrown weeds, dead grass, fallen palm fronds and other debris.
In June 2020, Allegiant was cited by DeSoto County for violating the DeSoto County's Clean County Act due to the disheveled state of the property.
In July 2020, Allegiant sent in a landscaping crew to clean up the grounds.
Homeowners say that effort, too, has waned in recent months.
"We haven't seen anybody out there for some time now," Boardway said. "We understood that Allegiant wasn't able to go forward with the proposed improvements (back in March 2020) but we did expect them to at least maintain care of the property at the bare minimum.
"The feeling is that they haven't lived up to that as they should have."
Stasi said upkeep for the golf course has been "non-existent" since November 2020.
"It looks pretty seedy if you ask me," she said. "It's definitely a safe haven for animals and even the homeless which some people have seen.
"You ask if it's safe, not according to my standards, or of which our neighbors are used to."
Despite residents' complaints, Grey said Allegiant has been maintaining the property.
"Site maintenance and mowing continue on a regular schedule," she said. "(Otherwise) nothing has changed with the project and it is still suspended at this time."
Stasi remains firm, however, that not enough is being done.
"Nothing has been done to the course since its closure in March 2020," she said, "except mowing which has now not been done since November 2020.
"All our neighbors are anxious to have the property restored as soon as possible."