By JACOB HOAG
Sports Writer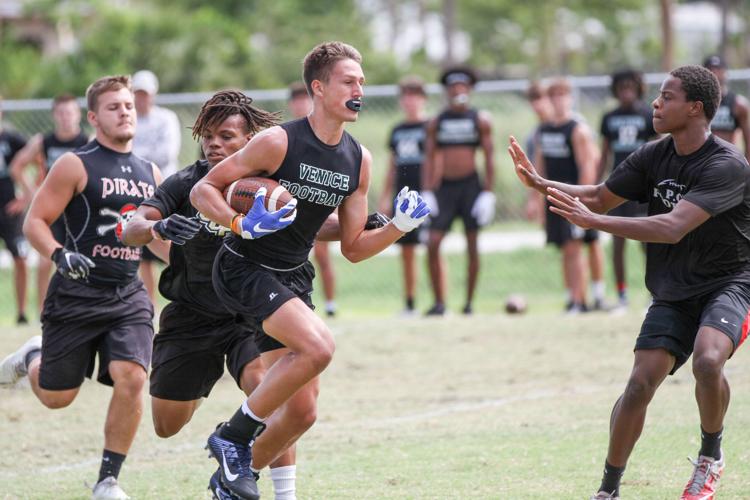 Charlotte high football players Kenny Scribner and Dustyn Hall sat behind a table in mid-December, ready to make the biggest decision of their lives — so far at least.
With green USF hats hovering over nervous smiles, they put pen to paper, making their commitment to play for the Bulls a certainty while teammates, coaches and family members cheered.
They both took a deep breath and let out a cathartic sigh of relief.
The college recruiting process is one of the more stressful events in the early stages of an athlete's career. These are 16-18 year-olds making a choice that affects the next four years of their lives, as well as their futures on and off the field.
Some players are naturally gifted athletes, who can hone their craft and prosper with what they have. Some have to work twice as hard just to get a look, and even then it may not be enough.
The process changes from sport-to-sport, but the pressures and difficulties remain constant until they get that sweet payoff of signing their letter of intent.
But what goes into that process is often unknown to people who don't experience it first-hand.
Venice receiver Weston Wolff is in the midst of it, and gaining momentum. The 6-foot-5 wideout is a freak athlete with size and speed that makes him hard to overlook, but even so, it took a little while for him to get his first offer. After that, things have begun to snowball.
After a great day in Waco I am blessed to say that I have earned an offer from Baylor University!!#SicEm💪🏼 pic.twitter.com/UNoKlRD0TS

— Weston Wolff (@WestonWolff2021) June 3, 2019
"After the first offer and my performance during my sophomore year, coaches from other schools started to hear my name and pull up my film," Wolff said. "Before spring started, I sent out my sophomore film to a bunch of schools that I was interested in. During spring there were a bunch of coaches at practice that were able to see me in person, and that's when I received my offers from Bowling Green and Liberty."
Wolff, who caught 70 catches for 796 yards and three touchdowns as a sophomore, went to a few camps this summer and added an offer from Baylor University.
His strategy involves a mix of camps and as much contact as he can get with college coaches. But nothing replaces strong game film.
That's where the process starts.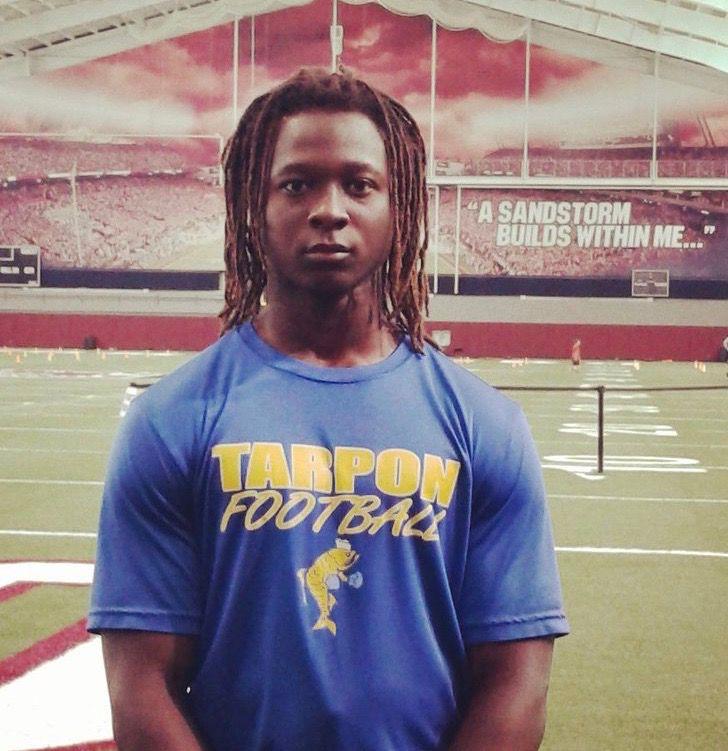 Unfortunately, not every player has a 6-foot-5, athletic frame and plays for a perennial state title contender that is well-known by college coaches. Even being on a well-known, playoff-caliber team doesn't give a player guaranteed exposure. Up-and-comers, like Charlotte's Jamal Warren, are forced to do just about everything to earn a look from a school.
Warren isn't the top athlete for the Tarpons and is aware that he starts the recruiting cycle lower on the list than others on his team. He also knows that entering his senior year, his time is limited to nab that coveted offer.
"Well, I didn't know much about the recruiting process until about the end of the season, so I've been playing catch-up," Warren said. "I realize how far others were ahead of me in the recruiting process so it's just been go, go, go.
"So I'm just trying to prove myself to these coaches. I want recognition of the fact that I'm taking extra steps in this recruiting process doing more than what's asked. I try to humble myself because I know I'm not the best athlete, but strong character makes up for the rest."
Warren's strategy is to document his football life to give coaches a front row seat to what kind of athlete he is.
He posts videos of his yoga sessions on Twitter, pictures of his pre-workout meals, how much he lifts and of course is game film, which like most athletes, is pinned to the top of his social media accounts.
#NEJB🏈🏋🏃💯🏆 pic.twitter.com/5Biwt3688L

— Jamal Warren (@JamalAWarren1) May 22, 2019
#NEJB @CHSTarponFB #11 pic.twitter.com/SLtQjOynv3

— Jamal Warren (@JamalAWarren1) May 18, 2019
He has attended multiple camps this summer, including ones hosted by FAMU, the University of South Carolina and St. Thomas University.
"(Camps are) definitely a necessity," Warren said. "These camps are basically an opportunity for you to lay all your hard work on the line. It's the big tryout for college for that spot in the field. It also helps you see whether you can hang with your competitors and it's an opportunity for you to get better take what you learned from camp and install into your team so that you guys can grow.
"Most coaches will invite you to their camps to see your skills and really take their time to evaluate you on everything you do. They can tell what kind of person you are before they shake your hand. So that face-to-face contact is definitely necessary."
There's a better chance than not that an athlete won't play Division-I. A small percentage of players get that opportunity. But with so many routes to play collegiately, it's well worth the countless hours from the dedicated athletes and their coaches. For those in pursuit of their first offer, it's all about continuing the grind and going the extra mile.
"It's tons of pressure," Warren said. "There's always that, 'What if I don't get an offer, what will I do after that.' It has been challenging to secure my first offer. I will just keep doing what I'm doing now working my tail off and promoting myself in the best way possible. But what I can control is having a great senior season and putting together great film and to score well on my tests."
Email Jacob Hoag at jacob.hoag@yoursun.com and follow him on Twitter @ByJacobHoag.