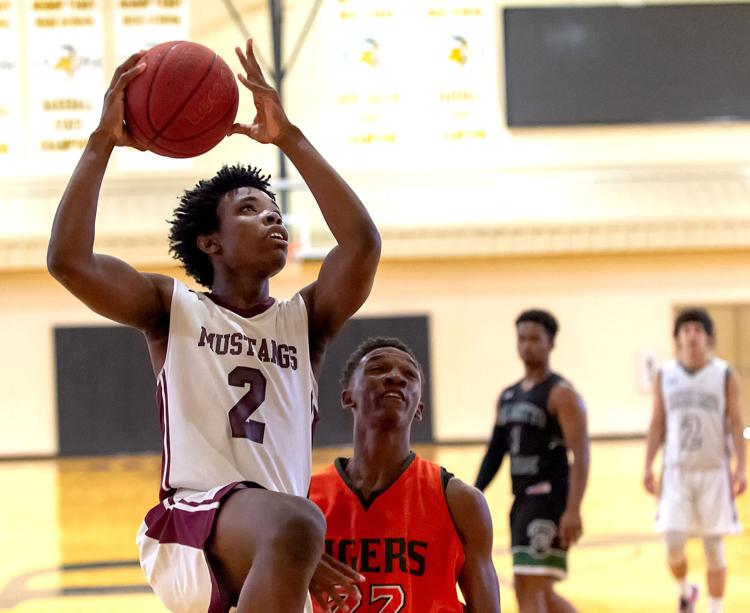 It was far from being the most propitious meeting between player and future coach.
Community Christian's Sam Battle was cut by Kurt Taylor, when he was in seventh grade, with his dream to play on a basketball travel team not being realized.
More than five years later, Battle became the first basketball player from Community Christian School to sign to play at the collegiate level, committing to Trinity Baptist College Monday afternoon. His coach at Community Christian was the same Kurt Taylor.
A junior varsity player at Port Charlotte as a sophomore, Battle's potential presented itself powerfully, when Taylor was coaching a 10th grade travel team, one that included several Pirate stalwarts including Brandon Gainey, Tyler Perry, Shemar Fleurissant and Alex Romero and current Mustang Ethan Bray.
"We put Sam on, and I saw a huge improvement in his game," said Kurt Taylor. "He ended up wanting to know about coming to CCS. He was at Port Charlotte. We talked. I told him, 'This is the way it's going to be.' He ended up coming to CCS as a junior. After I saw him play for a while and saw him in games. I knew this kid had a chance to play at the next level. That was my goal for him when he came here, was to get him signed at a college somewhere."
Battle embraced the opportunity to be a part of the Mustang program, and worked hard to be good enough to be the best player and lead CCS to having its best season ever, said Kurt Taylor.
A versatile player, Battle can play at least three positions on the floor, point guard, shooting guard and small forward. The opportunity to become a leader, one of the best players on the team and eventually a pioneer by signing to play collegiately were critical components in Battle's evolution, playing a large role in helping him to make the decision to transfer to Community Christian. Trinity Baptist College will provide Battle with the opportunity to play immediately, get an education and be encouraged spiritually in his relationship with the Lord, said Kurt Taylor.
"I think he's going to keep getting better," said Kurt Taylor.
"His signing to play in college is a big day for him and CCS; it's the first time a student has ever signed to play sports at the next level, from CCS. I'm expecting him to have a great career there, get his degree and go on to become a coach some day. He wants to play basketball as long as he can. He has a desire to coach. He's been coaching travel ball and rec ball in Port Charlotte for about three or four years now. He has a bunch of kids who look up to him...he has a chance to become very successful in what he does."
Battle's signing to play collegiately is an unbelievable blessing and opportunity, said Larry Taylor, Community Christian assistant basketball coach.
"Sam has worked very hard for this and he deserves it," said Larry Taylor.
"Coaching him this year was a joy and it was incredible to be a part of his growth. Sam is going to continue to do big things in life and on and off the court as time goes on. He's truly a special kid."