Explosive Clearwater no match for Tarpons in playoff opener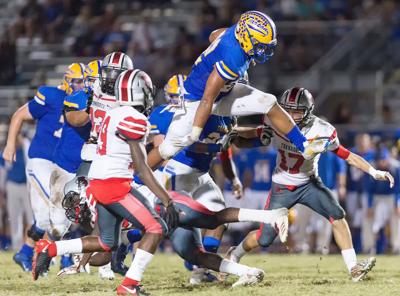 PUNTA GORDA — The Clearwater High School offense looked to have all the explosiveness needed to hang with Charlotte High School, which hosted Friday's 6A playoff opener.
Even with the freakish athleticism, the Tornadoes found little room against the Tarpon defense and quickly lost their wind as Charlotte cruised to a 44-20 win.
"We came out and started fast like we wanted to," said Charlotte coach Binky Waldrop, soaked with Gatorade. "We talked about it all week. We wanted to start fast and defensively we played a great game. They really stretch the field with those receivers and we hung in there and kept battling.
"We knew they'd have their plays. You're not gonna shut out a team like this. But we battled and I couldn't be happier right now."
Charlotte gave up plenty of yards (457 on 73 plays), but held the Tornadoes to just 47 percent on third down and kept them out of the end zone on all but three drives.
The Tarpons also won the turnover battle with three takeaways to none.
The first turnover, a 32-yard interception returned for a touchdown in the second quarter, blew the already lopsided game wide open.
On the second play @AlexMuse6 takes it himself for a 22-hard score. 8-0 after the conversion pass from Muse to @ScribnerKenny. pic.twitter.com/E0qgB1Bgy2

— Jacob Hoag (@ByJacobHoag) November 10, 2018
The Tarpons led 22-6 after two scores by senior quarterback Alex Muse — a 22-yard run and a 62-yard pass to a wide-open Freddie Fletcher — as well as a 1-yard run by senior Jayden Grant.
Record-setting Clearwater quarterback Rent Montie dropped back on 1st-and-10 from his own 26-yard line and attempted a throw to junior Keedrick Murray on an out route.
At the top of the route, Murray got jammed, which let the ball float easily into sophomore John Busha's hands as he jogged into the end zone.
After the Tarpon's second two-point conversion, Charlotte led 30-6 with 10:05 left in the first half.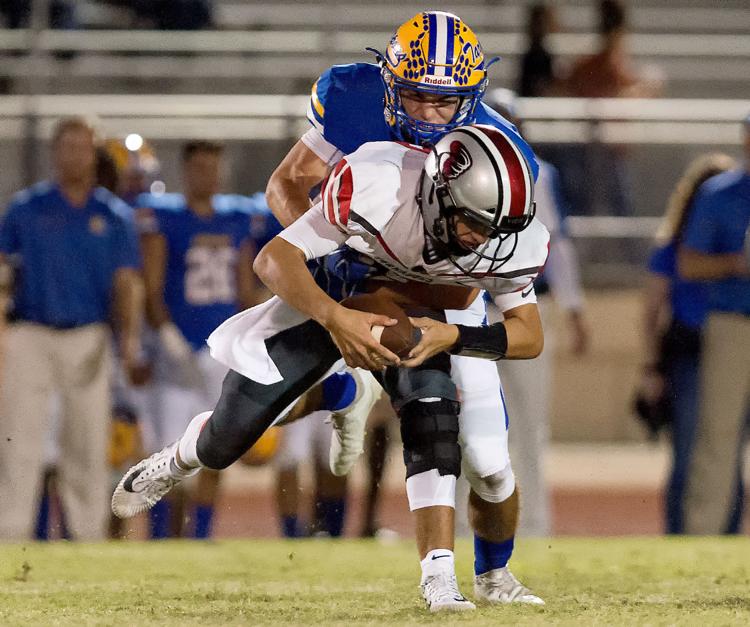 "We've been practicing that every day in practice so I was ready for it," Busha said. "When he ran his route I jammed him and picked the ball off and scored. It just changed our momentum."
For most of the game the Tarpons were the more explosive team. They scored two touchdowns of 60 yards or more and averaged 7.7 yards per play for 371 yards of offense.
The Tornadoes got a spark in the second half as the short passing game began to heat up. Catch-and-ru routes were gaining decent yardage and on their first drive of the half Clearwater capped a seven-play, 80-yard scoring drive with a 24-yard touchdown from Montie to a leaping Marquvion Jeter to cut the lead to 18 after a failed conversion.
But Charlotte came right back and re-energized the offense.
Muse, who missed the regular season finale due to injury, showed no rust, scoring three total touchdowns, the final coming on an 8-yard keeper in the fourth quarter.
.@AlexMuse6 does it again, this time from 8-yards our in 4th down to five @CHSTarponFB a 37-12 lead with 10:20 left in the fourth. pic.twitter.com/nlyKKsTPo3

— Jacob Hoag (@ByJacobHoag) November 10, 2018
The Tarpons punctuated the route with an 84-yard run from junior Jeremiah Harvey to put Charlotte up 44-12 with 8:11 left in the game. Muse finished 7 of 13 passing for 113 yards and a score, adding another 47 and two scores on the ground.
Harvey led the team in rushing with 84 yards on three carries. Grant had 71 yards on 13 carries.
Clearwater got a score late in the fourth quarter on a 19-yard pass from Montie to Murray.
That's one in the books for what Charlotte hopes is a deep postseason run. The Tarpons will host North Fort Myers on Friday. The Red Knights beat No. 3 seed Largo 24-17, but fell to the Tarpons 34-18 earlier in the year.
"It felt great," Waldrop said. "It felt great practicing all week and it felt great to have this opportunity. We're happy about everything and we'll be ready for next week."
TARPONS 44, TORNADOES 20
Charlotte 22 8 0 14 — 44
Clearwater 6 0 6 8 — 20
FIRST QUARTER
CHS — Muse 22 run (Muse to Scribner good)
CW — Perry 6 run (conversion failed)
CHS — Muse to Fletcher 62 pass (Scribner kick)
CHS — Grant 1 run (Scribner kick)
SECOND QUARTER
CHS — Busha 32 INT return (Muse run good)
THIRD QUARTER
CW —Montie to Jeter 24 pass (Conversion failed)
FOURTH QUARTER
CHS — Muse 8 run (Scribner kick)
CHS — Harvey 84 run (Scribner kick)
CW — Montie to Murray 19 pass (Montie run good)