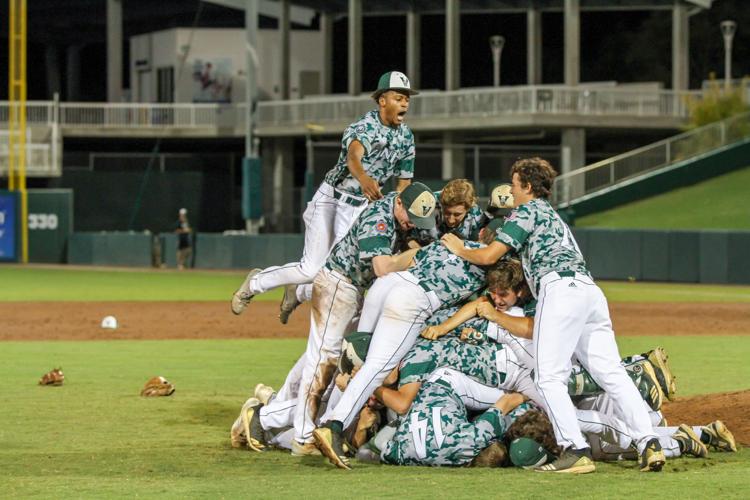 FORT MYERS — Twice in 24 hours the Venice baseball team had to rally late to avoid defeat in the state tournament.
One night after coming back from a 7-3 deficit against Creekside to win, 9-8, in extra innings and advance to the state championship, the Indians needed one more late push to win their sixth state title. The Indians rallied from down 2-0 to defeat Doral Academy, 3-2, on Saturday night at Hammond Stadium in front of hundreds of Venice fans who traveled down to Fort Myers.
"It's a tough road to come back from a two-run deficit," Venice coach Craig Faulkner said.
"They were dealing. They have a great team over there. We're just a really blessed team. We feel that God is shining on us, and we're really feeling blessed tonight. There's no doubt about it."
Final: Venice 3 - Doral Academy 2 The Indians win their sixth state championship after completing their second comeback in two days pic.twitter.com/8LwLBiINvE

— Vinnie Portell (@VJPortell) June 2, 2019
Trailing since the third inning, it took Venice (26-6) until the sixth inning to get on the scoreboard — two innings after Firebirds starter Adrian Figueroa was pulled from the game.
Like the rally in the semifinals, it all started with a hit from senior shortstop Kevin Dubrule.
Outfielder Zac Calhoon followed Dubrule's single by doubling him in to cut the deficit to 2-1. Two batters later, Calhoon made his mad dash for home to tie the game, 2-2, on a safety squeeze bunt by Reegan Jackowiak.
"We stayed up," Calhoon said of the Indians' upbeat approach. "We were down 2-0. Yesterday, we were down 7-3. We stayed up. We kept that composure. It wasn't my hit that won the game, it was my teammates' attitude that won the game.
"It all started August 27th with morning workouts. This group grinded it out every day and our coaches have guided us the right way."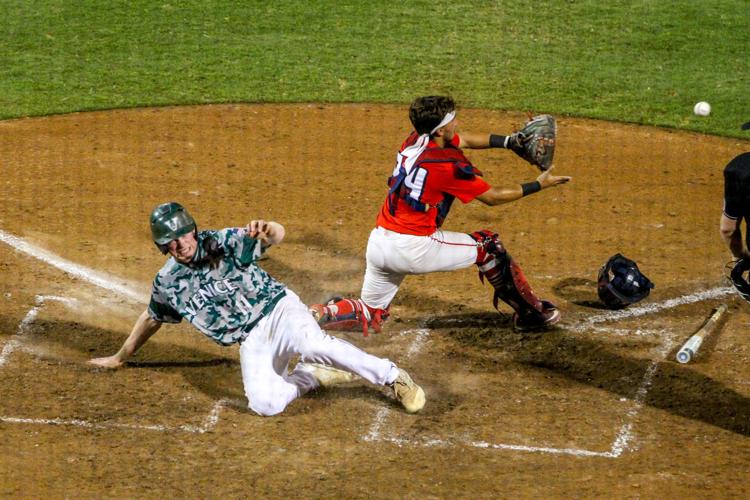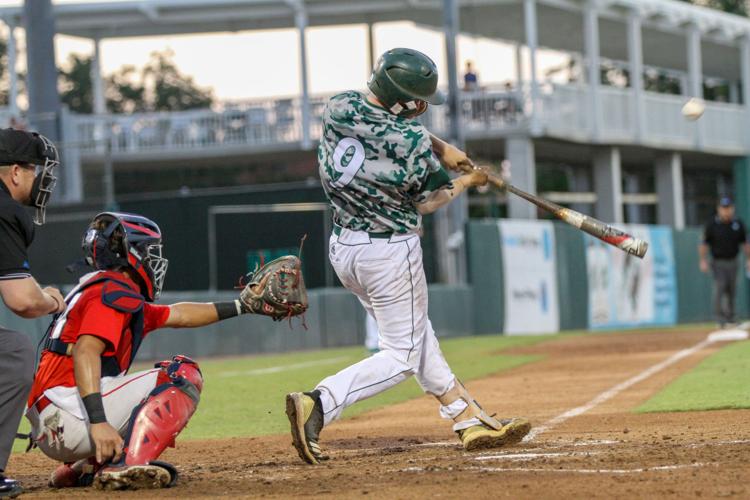 Two more batters after that, freshman Marek Houston ripped a scorching single through the left side of the infield to give the Indians the lead for good.
"They got on base for me. It was all them," Houston said of his game-winning hit. "My teammates have helped me the whole way. They've picked me up and encouraged me. For us to win in the end is just amazing."
Though the bottom of the Indians' order delivered with the theatrics on Saturday night, none of it would have been possible if not for the pitching of seniors Danny Rodriguez and Clay Callan.Rodriguez allowed a run to score on a double by Figueroa in the third and gave up a solo home run to Xavier Moronta in the fourth, but otherwise kept the Firebirds off-balance all night long.
He was pulled in favor of Callan one batter into the sixth inning and finished the night allowing just four hits and two walks while striking out 10 in his second consecutive state championship start.
"Our pitchers held," Faulkner said. "Danny, in his last couple of innings, got stronger and stronger. Then Clay came in and did what he's done all year. It's pretty neat for two seniors to be on the mound there to finish it off.
"Boy, I'm glad we only threw (Callan) 30 pitches yesterday. He didn't wanna come out of that game (Friday), but I'm glad we pulled him out."
The championship is the fifth in eight years for Venice, and marks back-to-back years of winning Class 7A.
Though the Indians found themselves in multiple-run holes for the first time in the playoffs in both state tournament games, they never wavered — getting key contributions up and down the lineup and throughout the pitching staff.
"I love these guys," Faulkner said of his team.
"They're a pretty special group of young men. They've worked hard like everybody does. They've just never stopped. They never get down. We've never had to get on someone for getting down or hanging their head in the dugout.
"They just keep rising up. They hold the path open, and only one team walks through it in the end."