ENGLEWOOD — The first two goals were identical for the Lady Bobcats. Same through ball, same left juke past the keeper and same finish to the center of the net.
Most importantly, same result as the North Port High girls soccer team quelled Lemon Bay's hot start on Monday night with a 3-0 victory.
Both teams came in to the matchup with high confidence. Lemon Bay was 5-1 with 25 goals on the year. On the other side, North Port had yet to lose in four games and have averaged four goals per game.
Getting the win gives the Lady Bobcats (4-0-1, 1-0) a surge of momentum as they prepare for a momentous district game against a 6-0 Venice team on Friday.
"I can tell you that the whole team and staff here are very excited," first-year North Port coach Hans Duque said. "We've had a couple (of) tests so far. Our advantage is that we have enough players of good quality that we can play with in different formations. That will help against Venice too because I know they're coming on fire, but so are we."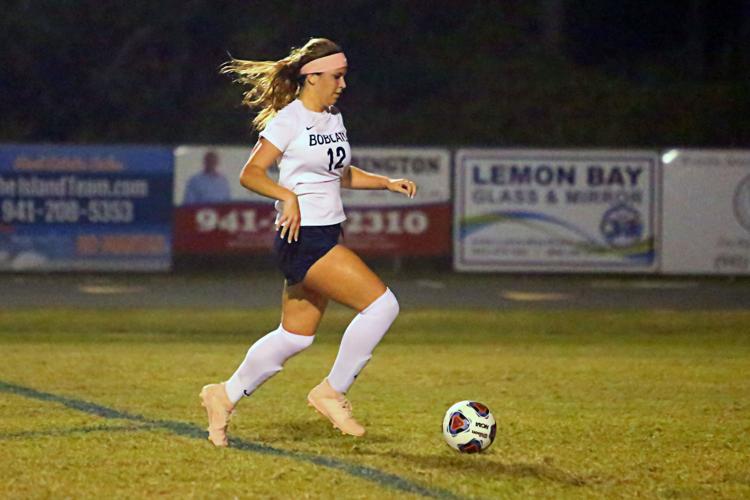 North Port controlled possession for most of the first 20 minutes. Choosing to keep the ball grounded with calculated passes helped find lanes.
In the 16th minute, the Lady Bobcats finally got their chance as sophomore Aleena Purvis streaked down the center of the field. Getting the pass, she charged into the box before cutting left past keeper Taylor Mason and finding the center of the net.
Eleven minutes later, sophomore Emily Idoyaga found herself in the exact same scenario. Getting the feed in the center of the field, she charged in, cut left and shot right to give the Lady Bobcats a 2-0 lead.
"Our goal for tonight was to be able to finally control the midfield," Duque said. "If it's a through ball, they figure it out. Those first two goals were a photocopy of each other and it's not just because we practice that play. You see a lot in high school they will play back and send a ball in the air and hope the forward scores. We keep the ball on the ground and that's what worked today."
Despite the 2-0 hole, Lemon Bay was even in shots with five in the first half.
Just before halftime, the Lady Mantas (5-2, 1-0) got two prime opportunities on a pair of free kicks, but North Port keeper Jordan Wyatt was able to stop both attempts.
"It was kind of disappointing because I know we can play feet a lot better," Lemon Bay coach Katie Cooke said. "It seemed like every time we got the ball we were giving it away. We just couldn't get anything to fall our way. We weren't being patient enough on our one on ones. We were just firing them off without really looking for the pointers. A lot of just not doing what we should be doing."
After the break, North Port wasted little time, scoring on a kick just outside the box by Idoyaga in the first 45 seconds of play.
North Port finished with a slim 11-8 edge in shots on goal, but was able to make more with the opportunities they earned. Mason finished with eight saves. Wyatt had six.
With this test now behind them, the Lady Bobcats now look toward their road match against Venice with the district lead in the balance.