By VINNIE PORTELL
Sports Editor
Ever since he and his family moved from Japan to Englewood, Florida in 2008, Yuki Fujii has been devoted to the game of golf.
It hasn't been all about golf for Yuki, as he's played soccer, tennis and competed in weightlifting for Lemon Bay High School (LBHS).
But golf has always been his true passion.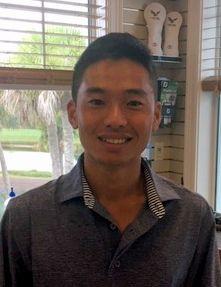 In fact, golf was a driving force for the Fujii family moving across the world to Englewood — and it's kept him close with his siblings ever since.
The family decided to take the leap when Yuki was around 11 years old.
All in all, mother Yuko, older sister Yumi, and younger brothers Yui and Marc joined him on the voyage to find a new home.
The move has more than paid off for the family, with Yumi and Yuki both playing collegiately at Florida Atlantic University, and Yui and Marc reaching the heights of high school golf.
The sport has become part of the family's identity, so when Lemon Bay Golf Club director of golf Ben McCoy reached out this winter to offer Yuki a job as an assistant pro, it didn't take much convincing.
"When we're hiring people, we're trying to hire kids for a few years and then move them on to bigger and better things," McCoy said. "Yuki just strikes us as that type who's gonna fall right in with the kids we've had in the past.
"He's smart, he's got a passion for the game, and he loves people. We knew it was a great fit. He's got a great opportunity here."
Among other local youth camps, Yuki got his start in Florida at "A Better Start" golf camp at Lemon Bay Golf Club in his pre-teen years. There, he honed his skills, found some lifelong friends and displayed a knack for helping others.
"He's always been interested in golf swings, and that's why I think this job works out for him," Yumi said. "He's alway been like that, he's always been helpful. He wants to help people around him, especially when it's something he's passionate about."
But Yuki's journey in the game of golf isn't going to end at Lemon Bay Golf Club.
For now, the idea is to get some experience under his belt while saving some money at home. Then, if all goes to plan, he can move on to become a pro at a bigger club, or even give competing another shot.
Tough times
Yuki knows that making it as a professional in the game of golf is no easy challenge, but he's also no stranger to adversity in the game he loves.
Though he's always been talented, the ride hasn't always been smooth for Yuki.
He worked his way up to become the No. 1 golfer at LBHS, and his play earned him a scholarship to play for Florida Atlantic University. As a freshman in college, he had some instant success — finishing ninth overall in a tournament and earning a win over No. 22 Kentucky in some of his first matches.
However, it wasn't long before he encountered a harsh wake-up call.
One tournament after his hot start, Yuki realized he still had some growing to do.
"My first tournament in college, we went to Texas and I finished ninth," he said. "So I was like, 'Alright, I can play.' Then I went to Western Kentucky and went to Bent Grass and got whooped. I shot 88. I had two four-putts. The greens are just different up there."
Over his next three years in Boca Raton, Yuki went through three coaches and struggled to shoot consistent scores. Though he had some initial success, he soon found his power wasn't up to par with his peers.
With a 5-foot-6, 130-pound frame, Yuki had to work on making his swing more efficient to make it in the collegiate level.
Along with tirelessly tinkering with his swing, he lost some of his love of the game as he felt the pressure of shooting for low scores.
However, when Yumi — who is currently working as a pro at Stonebridge Country Club — found him a job in college working there with her, the passion returned.
"I got him a job to work as a bag boy, and that gave him the opportunity to practice on his own and invite out the teammates he liked being around," Yumi said. "That gave him the positive energy and positive mindset to like golf again.
"I think his sophomore and junior year when golf wasn't going well, he was so stressed and upset with himself. When he finally found that passion to focus on golf for himself instead of for shooting a certain score, that helped him mature as a person and move on to get a job in golf."
He kept experimenting with his swing, trying to catch up to the collegiate level of players, but he was never fully able to take that next step — until now.
"I just plateaued for a while," Yuki said of his later years at FAU. "But since May, my game's been taking off. I've never hit it this far. When I started working May 13, two weeks after I graduated, that's when I started golfing again. I was just done with golf for a little bit."
The next step
Now out of college, Yuki still plays almost daily at Lemon Bay and has his eye on trying to take his game to the next level.
It's not rare that he'll have a round under par, even shooting as low as 65 (6-under par) some times at Lemon Bay.
Last week, he played in his first qualifying match as he tried to make the cut for the Florida Open Championship — a statewide tournament with a purse of $100,000. Playing through a finger injury he sustained while landscaping at home, he struggled to play his typical game and didn't make the cut.
But there's signs that his swing is better than it's ever been.
Yuki has finally found his power stroke — regularly hitting drives that approach or surpass 300 yards.
And though he is still learning to deal with the pressure of big tournaments, he's matured enough to realize what he needs to keep working on.
"Every tournament I've every played I've been nervous," he said. "Sometimes I put too much pressure on myself. Early on, if you make a mistake, it really shouldn't be that big of a deal, but in my head I'm like, 'Agh, I just made a mistake already.'
"I'm not quite there mentally yet to play for money."
No matter what he decides to do in the game of golf , the future is wide open for Yuki.
He could continue to work at Lemon Bay and "graduate" to a golf club up north. He could try his hand at qualifying and playing in local tournaments. Or he even could travel back to Japan and try to make it as a professional there.
Whichever path he chooses to go down, one thing is for certain — he knows golf will be in his future.
"When I have my A game, it's there," Yuki said. "But now I have to make my B game and my C game close to that. Then, that's where I can start competing for money. I need to have that confidence and not be nervous.
"But now, I know."