How do you replace a guy who produced 1,498 rushing yards with 31 touchdowns despite missing the first game of the year and rarely playing into the third and fourth quarters? Or how about a dynamic athlete who was a walking highlight reel, totaling 1,044 scrimmage yards with 15 touchdowns.
Venice High's Brandon Gregory, our Co-Player of the Year, was as good as it gets for area running backs. He was a bowling ball bursting through holes with a nasty stiff arm and spin move to extend plays.
Over in Charlotte County, one of the shiftiest players around had a knack for putting on a show. Port Charlotte's Swiss Army knife, Marc Jean-Louis, entered the season in a battle for the starting quarterback job, but ended up doing a bit of everything. He put the moves on linebackers, burned opposing defensive backs and even played some defense.
These two playmakers were electric during the 2018 season and will be sorely missed by programs that will have a void for another young guy to fill.
Long story short: I don't envy Coach Peacock, Coach Ingman or any area coach heading into spring ball.
Just when they get their rosters figured out by season's end, it's time to blow them up and start over. For some, it's an easier process than others.
For example, Charlotte returns a host of experienced athletes, despite losing some cornerstone pieces. On the other side, Lemon Bay is looking to bolster its numbers after fielding less than 30 players last year.
Every team has a unique to-do list as the spring games approach, and it will carry into the summer months for sure.
But one thing's for sure, every team be burdened with the task of replacing a senior that kept the team's motor running. It's not an easy task, but one that comes around every year.
Here are some guys who will be tough to replicate for the 2019-20 season: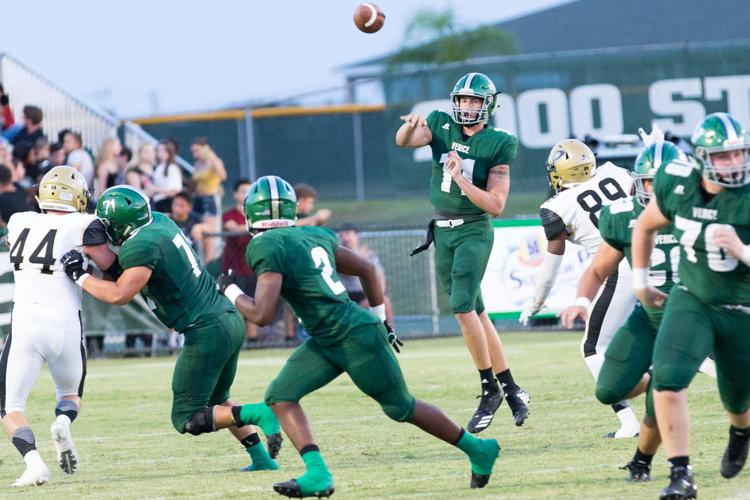 • Hayden Wolff, QB, Venice: If you want to know what Wolff means to a program, just ask the Mantas, who lost him to the Indians in the spring of last year. Though the offense was centered around Gregory, Wolff commanded the passing game. The 6-foot-5 Old Dominion player threw for 2,684 yards with a 63.2 percent completion rate and 24:9 touchdown to interception ratio. Replacing Mr. Football winner Bryce Carpenter, who broke the school single-season record with 64 touchdowns, isn't easy. But Wolff stepped in and help lead the Indians to the state semifinals with a 12-2 record.
Other notable departures:
Zack Sessa (K), Noah Carr (DB), Carson Sullivan (DL), Marlem Louis (DL), Nick Giacolone (LB)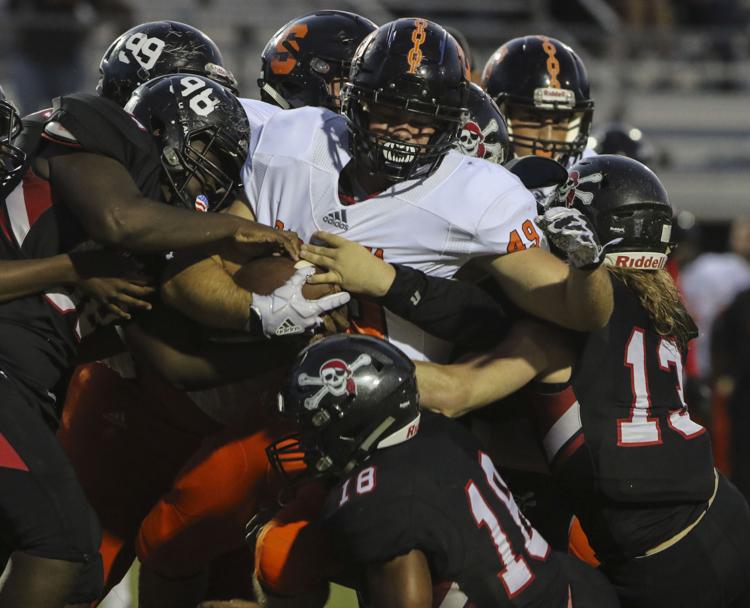 • Jake Monzeglio, LB, Port Charlotte: Linebacker or Nostradamus? Monzeglio was the most instinctive player on the Pirates defense. A senior that studied the game plan and his opponents, Monzeglio often knew the play and was tasked with relaying that to the rest of the defense. Port Charlotte coach Jordan Ingman relied on him to lead the defense and be his eyes and ears out on the field. He lead the team with 119 tackles and scored on a pick-6 against Ida Baker after he jumped a slant route.
Other notable departures: Jean-Louis (ATH), Brandon Leacock (DL), Tyler Perry (WR/DE), Caden Marcum (OL), Derek McCormick (K)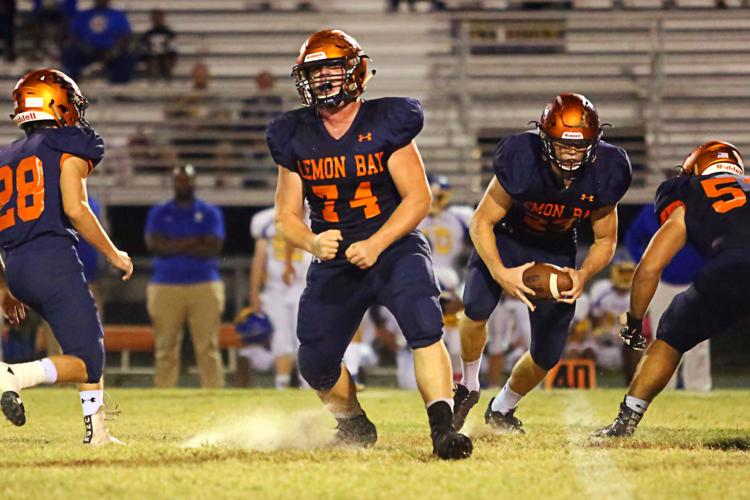 • Wyatt Soucy, OL/DL, Lemon Bay: I still don't know how Soucy was able to stay on the field as much as he did for the short-handed Mantas last year. He was arguably their top offensive lineman and defensive lineman and also took care of kickoffs. He rarely stepped off the field. That kind of conditioning alone will be hard to duplicate, let alone his destructive play in the trenches.
Other notable departures: DeVante Roberson (WR/RET), Keegan Marinola (RB), Trevor Hedges (QB), Kyle Dragon (OL/DL)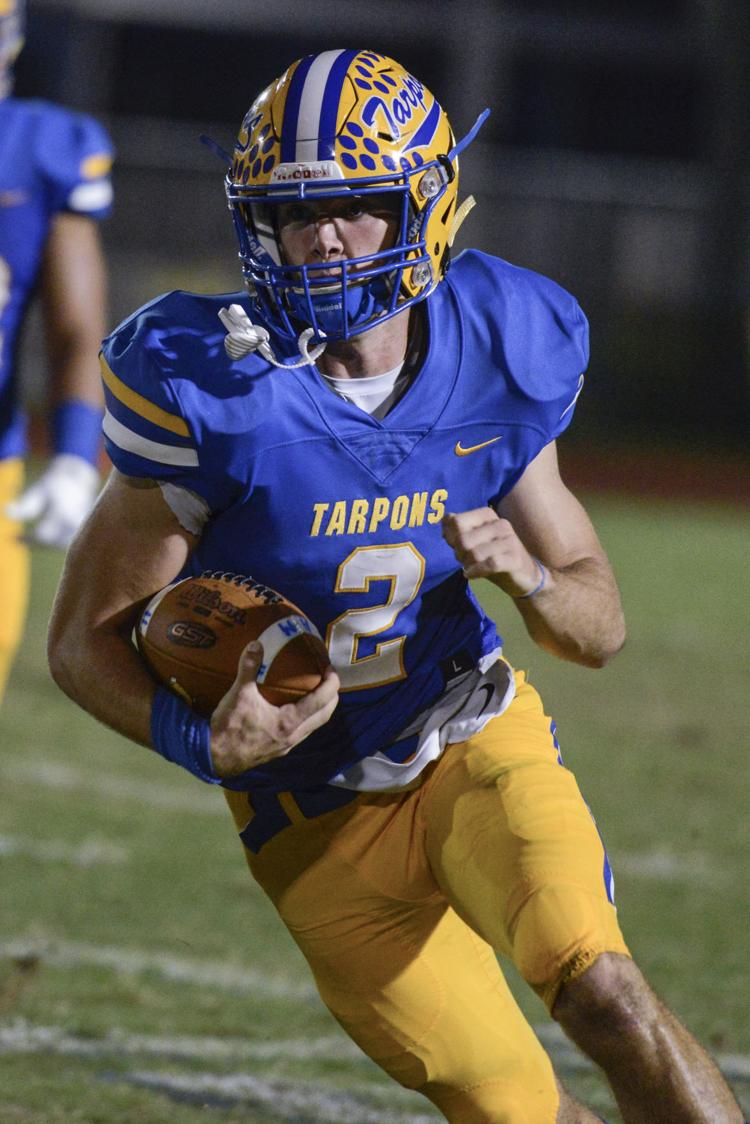 • Alex Muse, QB, Charlotte: It's a close call between Muse, the five-senior offensive line and running back Jayden Grant. All were dynamic players for the Tarpons, who reached the second round of the playoffs, but Muse was the motor for that offense. Charlotte coach Binky Waldrop implemented a scheme just for Muse and Charlotte ran it like clockwork. He could give it to Grant or Jeremiah Harvey, keep it himself or throw it downfield. He had an intangible leadership quality that galvanized the players around him. His senior stat line finished with 1,054 passing yards, rushing for another 496, and total 23 total touchdowns. In general, good high school quarterbacks are hard to replace.
Other notable departures: Grant (RB), the entire offensive line, Kenny Scribner (K/P), Cutter Rebol (LB)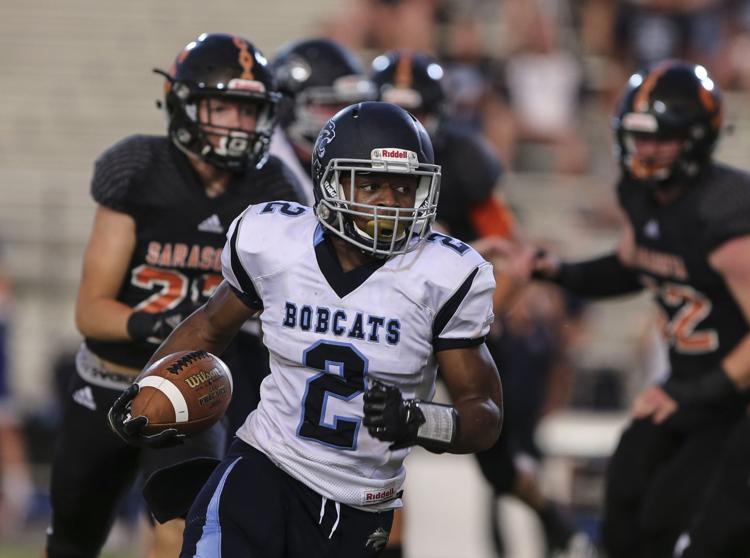 • Jalien Whye, RB, North Port: Every injury is a shame, but none more than the ACL tear that sidelined Whye for the final few games of the season. Prior to going down, Whye had a breakout season and averaged over 100 yards per game in six games he played before getting injured. His highlight was a 212-yard, four-touchdown effort against Lakewood Ranch. Without a true quarterback behind center, Whye was counted on to be the offense. It will be interesting to see if the Bobcats have another bell cow waiting to take over.
Other notable departures: Robert Washington (WR/DB), Andrew Koennemann (OL/LB), Josh Hogue (OL/LB)
Email Jacob Hoag at jacob.hoag@yoursun.com and follow him on Twitter @ByJacobHoag.