By JACOB HOAG
Sports Writer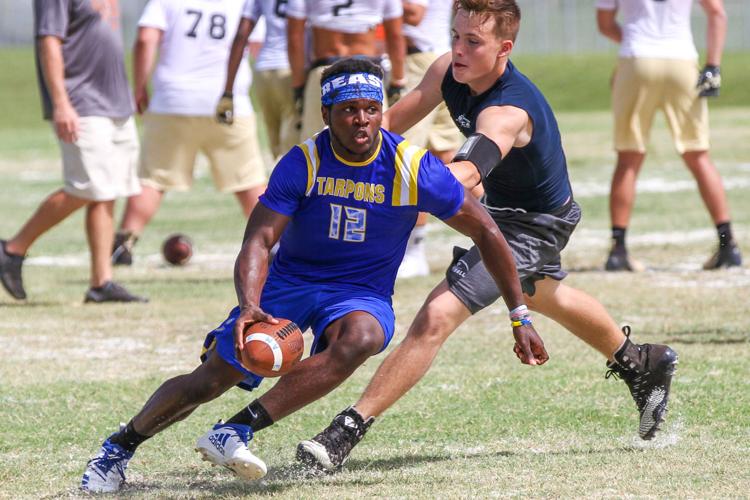 VENICE — Hours of sweat, smack talk and a little football culminated in a big win for Charlotte High after beating Plant High School in the finals of the Fellowship of Christian Athletes 7-on-7 tournament on Tuesday.
The tournament, hosted by Venice High, featured the Tarpons, Indians and North Port locally and also included Largo, Plant, Island Coast, Palmetto and Lennard.
"Usually you don't beat them twice," Charlotte coach Binky Waldrop said of Plant, which went 11-2 last season and reached the Regional Finals.
"But it was a great way for us to grow after we lost two tournaments already (to weather). We're happy we got six awesome games in today."
Charlotte notched victories over Lennard and Plant in pool play before taking them down again in the single-elimination bracket, adding a win over Largo as well. Venice and North Port both fell in the opening round.
In the finals, Plant got on the board with an early interception off a bobbled catch, giving the Panthers a 3-0 advantage. But the Tarpons quickly shook it off and forced a turnover on downs on the ensuing series.
Rising junior quarterback John Busha found his rhythm, hitting senior Ashar Thomas on a short pass, which Thomas turned into two missed tackles and a score. There was some confusion on whether Thomas had been touched, but the call stood.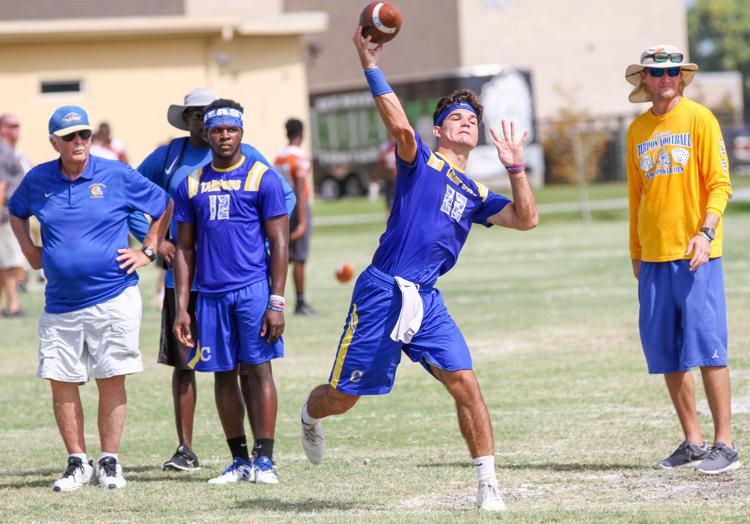 The play gave Charlotte an 8-3 lead and the defense carried the team from there.
"I didn't even expect to keep going," Thomas said of the score. "The first down was two yards away so my plan was to catch it and stay there, but they didn't come in, so I said, 'Okay, I'm gonna keep going.' Then after I scored everyone was saying, 'He touched him, he didn't touch him,' and all that."
With time winding down, Thomas came up big again, catching a deep touchdown pass from Busha after the Plant defense blew the coverage, allowing him to waltz into the end zone.
"Coach (Justin) Midgett told me that they were going to try and reroute me, so get to the inside shoulder of the safety," Thomas said. "So when I ran it, nobody touched me so I went right through the middle and caught it.
"Someone on our team had to step up. Our quarterback did amazing this whole game. Besides the little mistakes at the beginning, there is nothing I would change about his game today."
With the game clock ticking toward its end, Plant got a late touchdown to cut it to 14-10, but the Panthers' time ran out, giving Charlotte the crown.
Charlotte went 5-1 overall, but its lone loss was a big win for North Port, who pulled off a thrilling upset in pool play.
On the final play of the game, rising sophomore Sean Silverberg threw a high pass to tight end Josh Singleton to give the Bobcats a two-point victory.
"I thought we competed well," North Port coach Brian Hatler said. "It's good to just get out and go against somebody else and see a different face. There's some good teams out here and it was a lot of fun."
Though the final play gave North Port the win, the winning margin was produced by an interception by rising junior Jeffrey Terry, who intercepted Busha on the first series.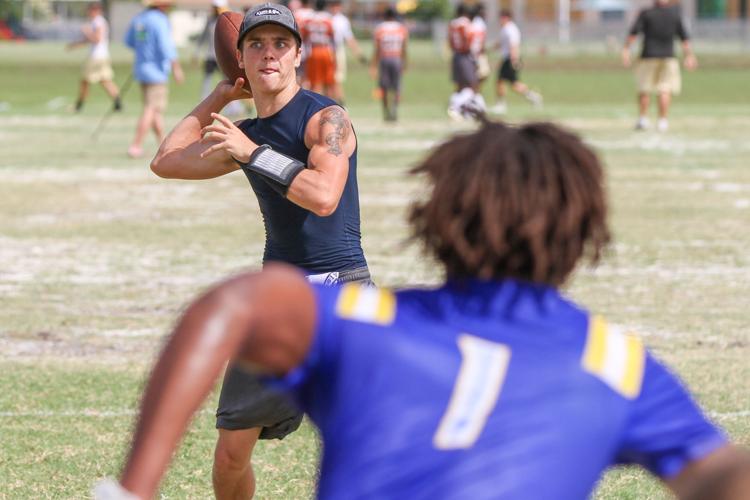 "I just saw the quarterback look at my man, and I know my man cut inside, so I just jumped on it and he bobbled the ball, so I snatched it," Terry said. "It's much more challenging (to play defense) because you have to know where everyone is and cover up your teammates zones, but you also have to watch your own zone."
"In 7-on-7, whenever you can get a pick on defense, that just changes the outcome a lot of times," Hatler added.
It was North Port's lone win, but the Bobcats came a two-point conversion away from a win over Lennard in the final game before bracket play.
The Indians, who went 1-2 in pool play, were eliminated in the opening round of the tournament in a 20-13 loss to Plant.
"You get in these 7-on-7's and teams aren't running the coverages they'll normally run and they're running a man under with two over top, which you're not gonna see," Venice coach John Peacock said. "And if we do, we'll hand the ball off and run it down your throat.
"But I was happy. There were some good things and bad things."
Vinnie Portell contributed to this story.