Though Thursday night's volleyball match between Venice and Leon took place in the middle of September, the TeePee certainly had a championship atmosphere when the two teams began play.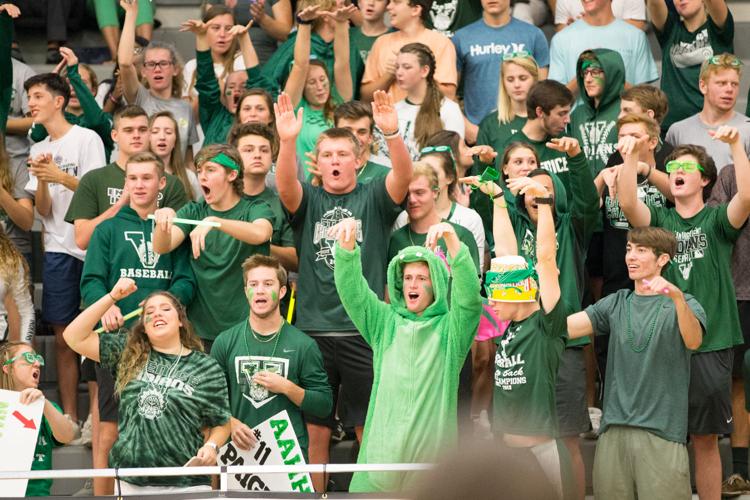 The Indians and Lions last met in the 2017 8A state championship, with Venice pulling away with a 3-1 win and the state title.
Thursday night, the teams met for a regular season game as two nationally ranked teams, with Venice ranked No. 8 in the country by MaxPreps and Leon ranked No. 23.
This time around, Venice (8-0) gave Leon a reminder of who the defending champs are, defeating the Lions in straight sets (25-23, 25-12, 25-21).
"This was one of those matches where we wanted to find out where we were," Venice coach Brian Wheatley said. "It's all part of the process. Nobody was giving out any state trophies tonight. It was a small step in our season, but a good win for us.
"Sadie (Kluner) had some great swings on the right side. They didn't really have any answers for that. And then our middle played outstanding. Carley Faulkner and Aja (Jones) were incredible with their blocking."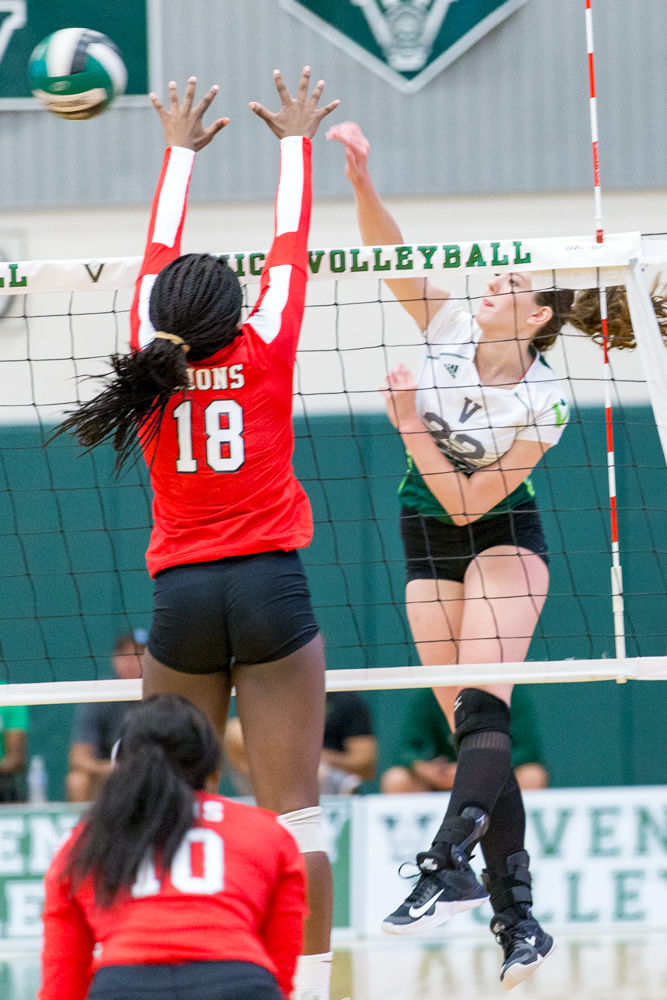 The two foes began the match with a back-and-forth first set in which Venice couldn't pull away until the very end.
Each time Tallahassee-based Leon would appear to be taking control, middle hitter Aja Jones (8 kills) rallied Venice. The senior slammed a spike so hard at one point that it toppled a tripod behind the court, and then followed that up a few plays later with a block that gave Venice the lead.
"It was crazy. It's so energetic and awesome here," Jones said. "Our student section went off tonight."
With emotions high on both sides, and the crowd buzzing with excitement, the Indians capitalized on two mistakes by the Lions to close out the first set with the lead.
"I thought winning the first game was big," Wheatley said. "It gave us some momentum on our side and in game 2, we came out like Lions and didn't hold back. We know Leon is an awesome team and they've beaten some really great teams already. We know they're hungry and they've been thinking about us for a while, so we kept the pressure on them."
In the second set, the Indians took control.
After Venice got out to an early 6-3 lead, Leon faltered several times. The Lions continuously hit the ball out of bounds, into the net, or missed on multiple dig attempts as the match slipped out of reach.
After closing out the second set with a double-digit lead, Leon bounced back. The Lions battled the Indians in another tight set, hanging around within a handful of points. However, Venice proved to be too much at the net for Leon.
Jones and Faulkner (5 kills) repeatedly sent back Lions' shots until they simply could return no more, allowing Venice to hold off the attack for just long enough to finish with the sweep.
While a 3-0 win over the state runner-up may have come as a surprise to some, the win was never in question for Jones.
"We've been looking forward to this game a lot," Jones said. "We've been reading the paper and seeing what everyone's been saying. And we came for the win. We knew what was going to happen the second we stepped on the court."