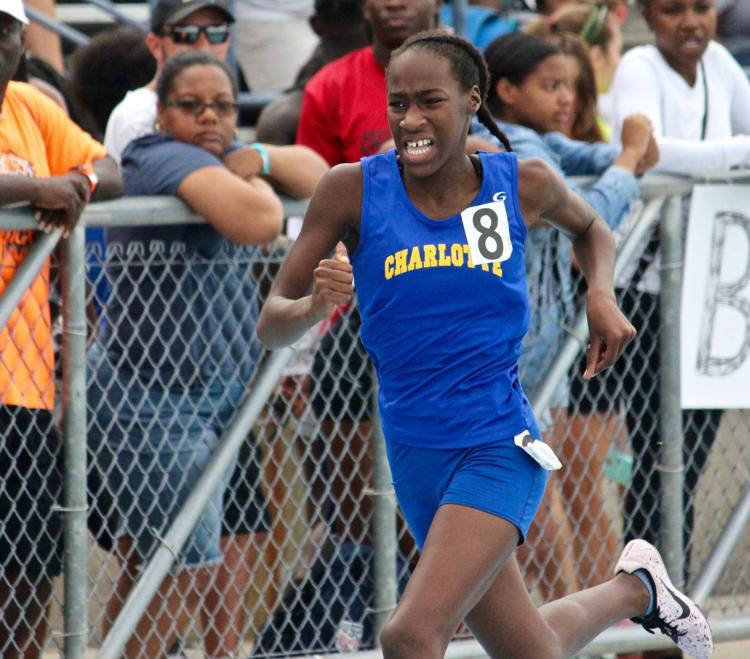 JACKSONVILLE — As the rain continued to fall, Charlotte High's Eunice Noel was sitting down to finally get something to eat after a long day of events and rain delays at the Florida High School Athletic Association State Track and Field meet.
Minutes later, she was on her way back to the University of North Florida to take part in the Class 3A state long jump.
Noel's story wasn't unique on Friday as lightning and rain delays made for a long and unconventional meet that wrapped up under the lights of Hodges Stadium nearly four hours after the expected finish time.
"It's been rough, annoying, tedious," Noel said of the delays. "I can't use excuses because you have to go out and compete in every race. It would've been better if it was more consistent, but it is what it is. Tomorrow we know what we need to work on, so that's what we're gonna do."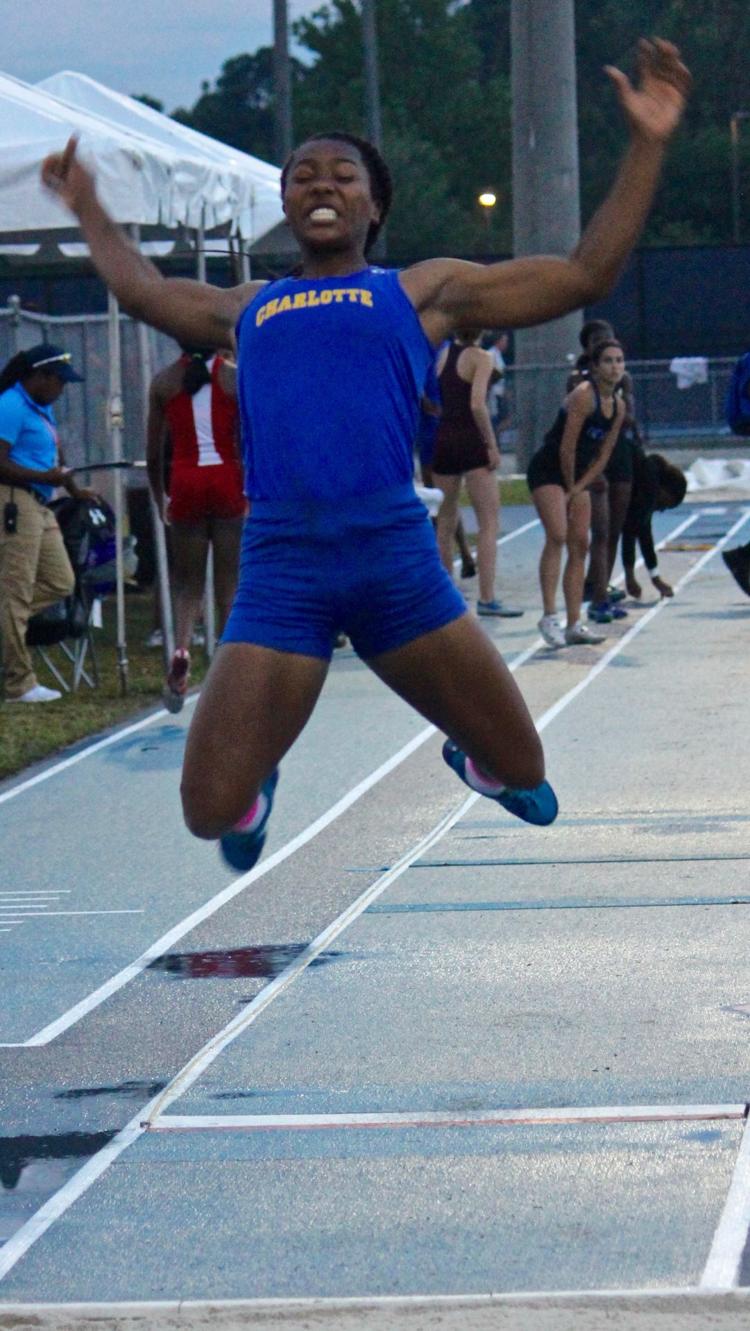 Noel competed in three events on Friday — the 100 and 300-meter hurdles, the 4x100 relay and the long jump. She qualified for today's finals with a sixth place finish in the 100 and will be racing in the fast heat of the 300 tomorrow. After many delays, she finished 14th in the long jump to round out the day.
The girls 4x100 team also qualified for the finals today. Aleecia Collins finished 16th in the 800 meters. Natalie Jen waited until today to compete in the girls pole vault after being delayed Friday.
"We struggled like everyone else did with the weather and delays, but got into the finals," Charlotte coach Jerry Voss said. "You have to adapt to the surroundings and conditions."
The weather affected nearly every runner that participated. On multiple occaisions, athletes had to mentally prepare, warm up and then sit back down again before repeating the cycle, waiting for the weather to pass.
"Physically, athletes are used to that because in high school they compete in multiple events in a day," North Port coach Phu Nguyen said. "Mentally, I compare it to driving a car for four hours. You have to remain focused and that's the tough part. Mentally, it's draining."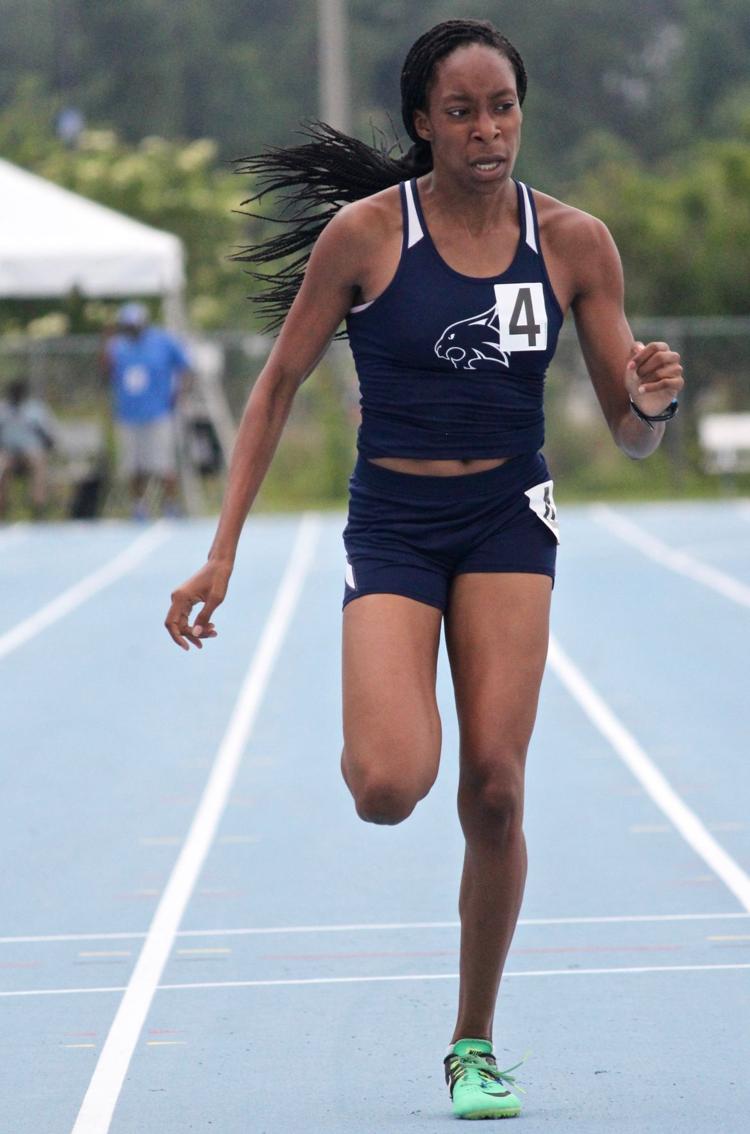 The Bobcats also had a handful of athletes competing Friday, but most got pushed back to this morning due to weather. Freshman Kylah Buckle was one of two runners who actually got to run. The other was Daham-Shel Jean, who finished 23rd in the 100-meter dash.
She narrowly missed out on making finals, missing the cut by .09 seconds. But Nguyen was impressed by her poise on the big stage.
"She ran a great race," Nguyen said. "She's been to a lot of big meets before, I know we label her as a freshman, but she is by no means a rookie. She's been in this position before and her experience shows. She didn't look nervous."
Venice's three runners got to finish their races with Juliana Courville and Gabby La Rock finishing in 15th and 18th, respectively, in the 800-meter run followed by Carson Skillman, who finished 20th in the boys.
The day was fittingly capped off with a rain delay just before the final race of the night, the 3200 meter run, which included Port Charlotte's John Perez-Dunn. The race was not completed by deadline.
For the updated schedule for Day 2, see yoursun.com.