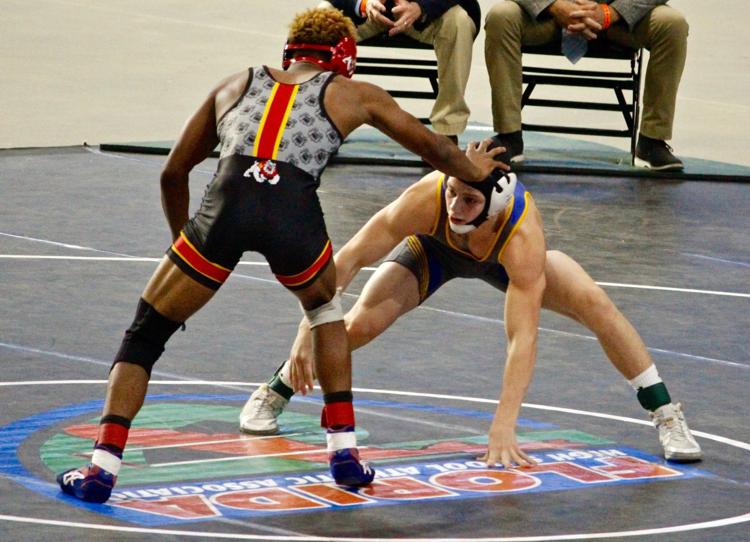 One sport's loss was another's gain.
Charlotte Tarpon Lucas Willis won his third consecutive state wrestling title, and has been named the Charlotte Sun Wrestler of the Year.
Lucas Willis didn't want to go to football practice. He only wanted to play in games. Even as a 6-year-old, the athlete wasn't going to let any experience define him.
He found a nurturing environment at home, with his parents encouraging his interest in sports, asking him what discipline he might like participating in, and eventually he found himself at North Port High School, at six years of age, in their wrestling program.
"I went out and practiced for two weeks, and my parents told me I was going to my first tournament," said Willis. "I was nervous and scared."
Willis was skeptical at first, not having been exposed to amateur wrestling. His idea of the sport was what he saw on TV with the WWE. But once he started learning the rules, what he could and couldn't do, his passion grew for the sport and it became all-consuming.
His first tournament helped to fuel that desire, winning two matches and losing one, but that one loss would resonate powerfully helping to transform his life. It was at that moment he would commit himself to be the best, willing himself to win. Lucas Willis hates to lose.
"I was excited (about winning the two matches), but still in the back of my mind, I never wanted to be second best," said Willis.
Wrestling appealed to Willis because he has to hold himself accountable, no matter the outcome of the match, where in a team sport, it's easier to deflect the the blame.
"Wrestling is all my responsibility, the sport matures you because you have to learn to be independent," said Willis.
Willis embraced his chosen discipline, emerging from those nascent stages with a passion and a desire to win, and began separating himself from the competition by committing himself to wrestling, with his focus being directed to his sole objective, to be the best.
"It was probably my second year of wrestling, maybe a little bit earlier than that," said Willis. "That's when I actually started dedicating myself to the sport. I was 6 or 7-years-old, and I was in my room working out doing 250 push-ups and 100 pull-ups a day, and eventually by the next year, I was doing 1000 push-ups and 500 pull-ups. I could not, not be the best."
It was that self-motivation that compelled Willis to ascend up the ranks. Both of his brothers made the successful transition from football to wrestling, with his oldest brother, Dacoda Flenard winning states his senior year, while competing for North Port, the year Lucas believes he should have won his first state title, during his seventh grade campaign, where he wrestled at 106-pounds and was undefeated going into regionals. However, fate would intervene, as paper work hadn't been filled out properly, denying Willis the opportunity to participate. However, that incident served as the impetus for Willis to work harder, even though he had just been through one of the most adverse times of his life, not being able to compete. He was home schooled at the time, and wrestling for the Imagine Schools at North Port.
But his intrepid spirit and unwavering desire to be the best found him increasing the intensity of his workouts the summer between his seventh and eighth grade year. He was home schooled again, would wake up at 5:30 a.m.; be at CrossFit by 6 a.m., where he would stay until 7:30 a.m.; return home for breakfast; would home school, and then spend three hours in his garage working out. At 1 p.m., he would be on his way to Broward County, wrestling for Somerset in Fort Lauderdale as an eighth grader. It was a challenging year for Willis, who made a number of sacrifices, leaving his friends, so he could concentrate on wrestling. However, the effort paid off as he captured his first state title at 120-pounds.
"That was the hardest year of my life, I'm bouncing back from my seventh grade year, and trying to better myself," said Willis. "I told myself at the beginning of the year, 'No one is going to beat you.' I went up a few weight classes from 106-pounds to 120 pounds, and that's a big difference, especially when I was a little guy, the small guy, so I bump up. The training was just crazy. Now looking back, I saw how hard I pushed myself. My parents pushed me. The people around me made it possible."
It was life transforming for Willis, providing him with a new perspective, at how quickly things can change, going from familiar surroundings, where he was around his friends, to making a number of sacrifices, dedicating himself to the sport he loves and building off of that momentum.
"I've missed plenty of Thanksgivings, Christmases, family member birthdays and funerals," said Willis. "I'm dedicated to the sport. I would like to see myself go farther than anyone in my family has before, so I can help my family out."
Willis has known Charlotte Tarpon wrestling coach Evan Robinson for years. However, when he was younger, the future three-time state champion wanted to attend Brandon High School, but realized by the time he reached sixth grade that wasn't going to happen. It was during his eighth grade year he began wrestling at Charlotte at their youth club.
"I came here with Cody (Rice) because Cody and I knew each other from when we first wrestled, we trained together," said Willis.
"Coach Louie, Coach Robinson's brother and Cody were pretty much my practice partners for my eighth grade year. Coming here (to Charlotte) really helped me out. The team that I was on last year; and the team that I was on this year were a totally different crowd. It's still the same thing. We're still a family."
Tarpons coach Evan Robinson has played a significant role in helping Willis evolve as an athlete and individual.
"He's one of the best coaches I could ever have; he's there for me in school, in life and in the room," said Willis. "He only wants the best for me."
It's Willis' work ethic particularly in the wrestling room that has impressed Robinson. But it's Willis' toughness and competitiveness that seem to be the traits that resonate powerfully, with others taking notice of his talent.
"There's always been that ability in him," said Robinson. "I'm definitely proud of him."
The athlete has had to make adjustments as he's moved up in weight classes, modifying his approach to the sport.
"The main challenge was going from wrestling smaller, quicker kids, to the stronger kids, the stronger kids are what threw me off," said Willis. "When I was a little kid, I was always a stronger kid because there weren't a lot of eight, nine or 10-year-olds working out like I was. I was working out two to three hours a day. It was all worth it, and it eventually pays off."
Charlotte Tarpon culture has become a way of life for Willis since joining the program, and the gravitas of his accomplishments have taken on great depth, claiming state titles in the 132 and 152-pound divisions.
The wrestler has flourished in an environment conducive to winning, where the emphasis is on the athlete and individual bring out the best in his performance.
"Winning the title for the school, it meant a lot to me," said Willis. "Throughout the school year, I got to know a lot of the teachers, a lot of the coaches through the other sports, and they helped support me the whole year, and then after that they still supported me. They're asking me, 'What am I going to do now?' telling me not to slack off because one good thing happened. They're all behind me, helping me. It's pretty much how the whole school is. They're always pushing me."
Winning has become a routine part of Willis' annual statistics, with a record of 102-6 over the past two years, 44-3 in 2017-2018 and 58-3 in 2018-2019, setting the tone for the Tarpon program, which has consistently boasted a deep roster of talented wrestlers. He won his 200th match this past season.
"I don't really find it as that big of an accomplishment,"said Willis. "I've done better and I know I can do better, Whenever I lose to a kid, I'll immediately watch that match. When I lose, there's a reason that I lost. It's because my opponent outworked me here, or he did this better than me in that match. I have to fix that, and that's what makes me a better wrestler, studying not only the matches I lost, but the matches I win. Wrestling is pretty much my entire life."