Once again this year, the Charlotte State Bank and Trust along with other local businesses are collecting school supplies for students who need assistance for the upcoming school year.
The bank has been serving as a drop-off point for school supplies for more than a decade, and it has helped "with long-time mentors for the Take Stock in Children program," said marketing manager Niki LeVasseur at the beginning of the campaign.
Also serving as drop-off locations for school supplies are Copperfish Books, Abate, and RG Architects, according to Cynthia Molina, database specialist with the Charlotte Local Education Foundation (CLEF) which is coordinating the campaign.
The donations are then brought to a building near the Port Charlotte Town Center mall. Meanwhile, those visiting the mall may drop off their donations at the community room, located between JCPenney and Dillard's, right inside the entrance between the two stores.
Look for the big, yellow school bus with the banner, "Stuff the Bus." The community room is right inside the entrance, to the left.
On Friday, CLEF program officials, a CLEF volunteer, representatives from Charlotte County Public Schools, along with sponsors RG Architects and Charlotte State Bank and Trust, gathered at Port Charlotte Town Center mall.
Mall general manager Barbara Roche, said she hopes this year's collection, which began July 23 and runs through Aug. 15, "is just as successful."
She stressed the importance of the community to donate school supplies to children whose families struggle to supply the essentials. "Every little bit helps, no matter how little or big. Even a package of pencils helps," she said.
Mall marketing director John Scherlacher, agreed, and said the public should know that beginning today and lasting for a week, school supplies and other related essentials will be tax-free, so donors might want to purchase items for children during the seven-day period.
Needed are: backpacks; notebook paper; spiral bound notebooks; art supplies; one-inch, three-ring binders; small index cards; scissors (kids and adults); erasers; glue sticks; pens; No. 2 pencils; rulers; tissue box; copy paper; composition books; 24 crayon packages; eight-pack markers (washable); pocket folders; dividers; dry erase markers; construction paper; and hand sanitizer.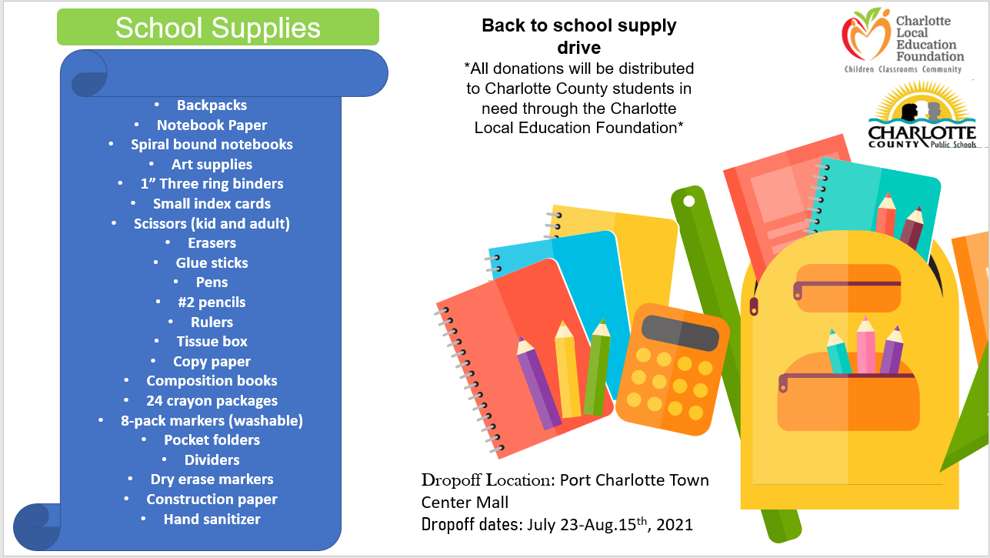 Monetary donations will be used to purchase what isn't collected during the campaign. Those wishing to donate money can make checks payable to CLEF, with "school supplies" noted on the memo line.
Charlotte State Bank and Trust is accepting donations at the bank's branches: Charlotte Harbor, 23112 Harborview Road; Parkside, 3002 Tamiami Trail; and at Peachland, 24163 Peachland Boulevard, all Port Charlotte, or at any other branch, including Punta Gorda.
Architects Charlie Gutekunst and Javier Salazar from RG Architects, sponsor of the campaign. They brought bags of school supplies.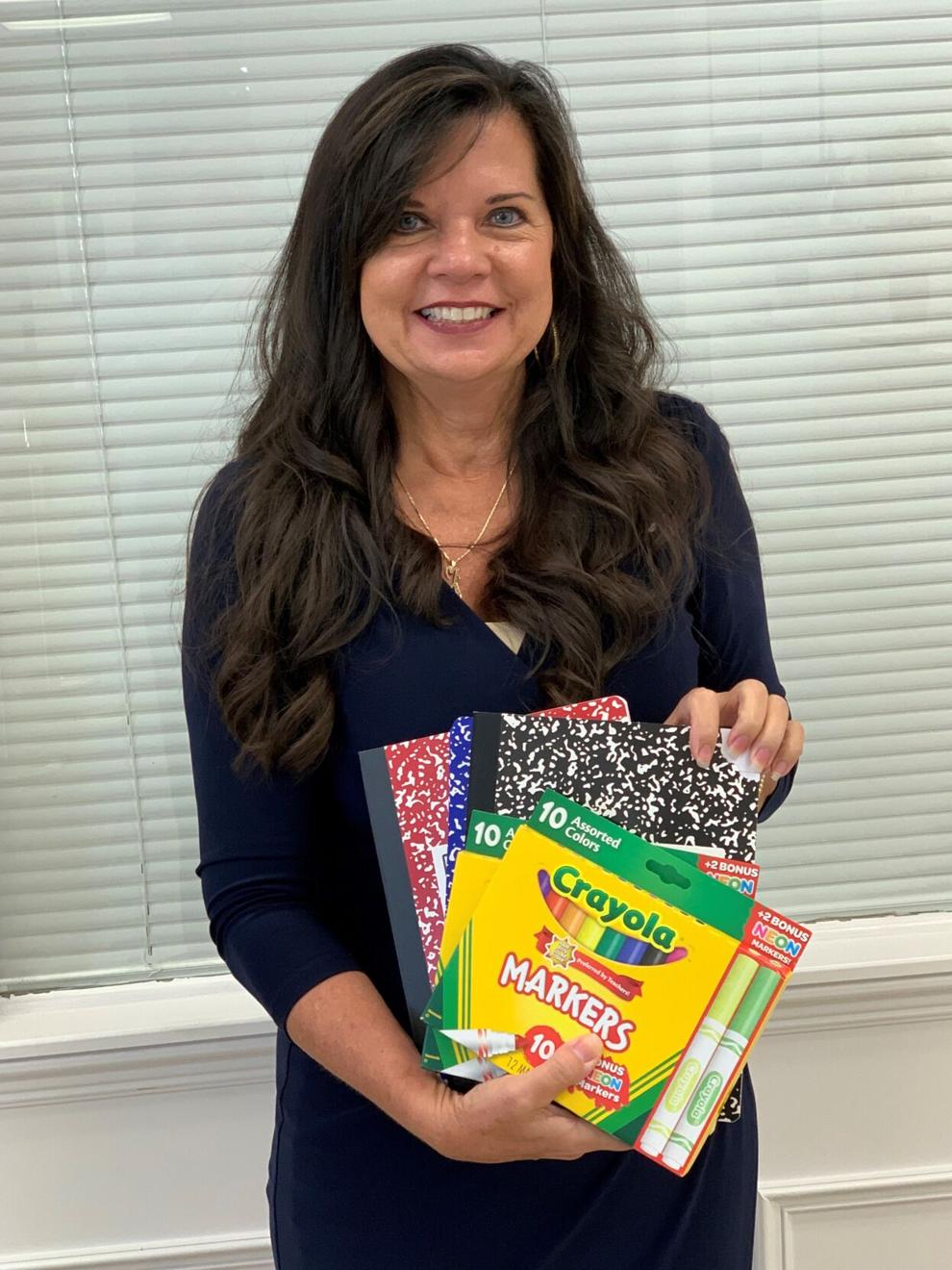 CLEF volunteer Tom Segur said he's the manager of teachers' supplies stored in the nearby building he called the "depot" across from the mall.
A one-person operation, Segur said he hopes this year's campaign will keep him even busier.
This past year has been especially difficult for a number of Charlotte County families with students. Many have lost their jobs, and although a number have returned to work, now there is a housing crisis, as low-income families who rented, are finding their homes being sold, as landlords are cashing in on the robust real estate market.