The Charlotte DeSoto Building Industry Association on Wednesday sounded the alarm that building materials are at the lowest levels since the industry began tracking the issue.
According to a May 2021 survey by the National Association of Home Builders, more than 90% of builders who buy the product in question reported shortages of framing lumber, oriented strand board (particle board), and appliances.
Exactly 90% reported a shortage of plywood, and 87% said there was a shortage of windows and doors.
The shortfall has affected area builders.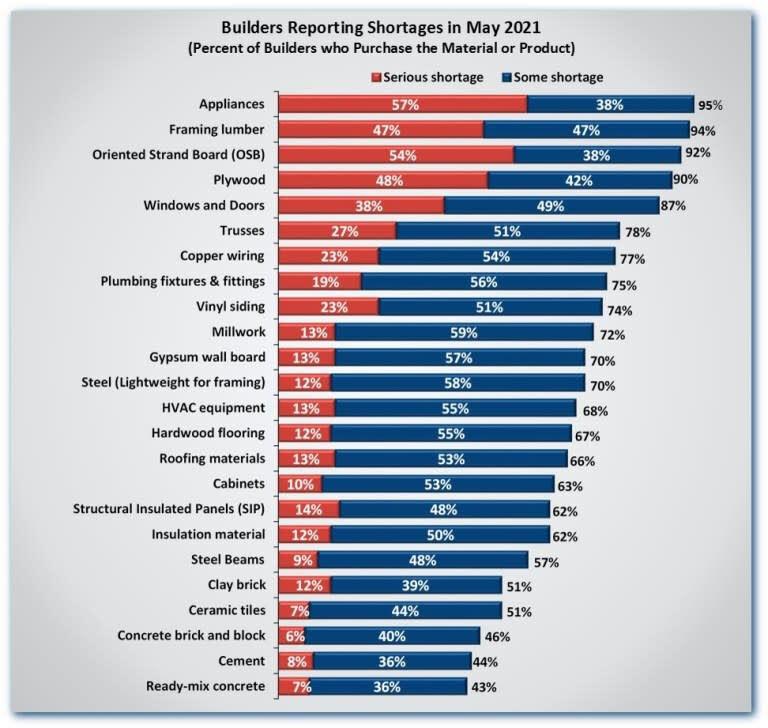 "It is certainly taking longer to get materials such as lumber and windows," 
said Stephen Fero, owner of Fero Construction Inc.
In addition, the shortages have caused prices to go up.
"Lumber pricing has gone up 350% to 400%," he said. "Plywood recently cost $60 a sheet; it used to be $15 to $17 a sheet last year."
He said other materials' prices have also gone up. Concrete blocks are in short supply, currently, as are pavers for the driveway. Perhaps the biggest problem is getting windows, as "any vinyl-related" material is difficult to get because of resins used.
When the pandemic shut down factories, production stopped, but those at home sheltering in place, decided to do home renovations, Fero explained. In addition, the southwest Florida market has been in the midst of a boom, and new home construction is at one of the highest levels seen in decades.
While last year the time to build a home took on the average nine months, the supply shortage "has added months" to the time of completion.
Fero said some builders "put people in queues," telling the clients their homes won't be able to be started for six months, for example.
Others "have too many jobs and can't go anywhere," while still others in the industry "put a moratorium on sales."
He said while building materials come from places such as Canada and South America, structural wood and interior framing is southern yellow pine, which comes from northern Florida and Georgia. Plywood comes from Georgia Pacific, and block is produced locally.
"We try to use what we can locally," Fero said.
Because there are a lot of houses being built and a good number of home renovations, everyone is vying for the same building materials.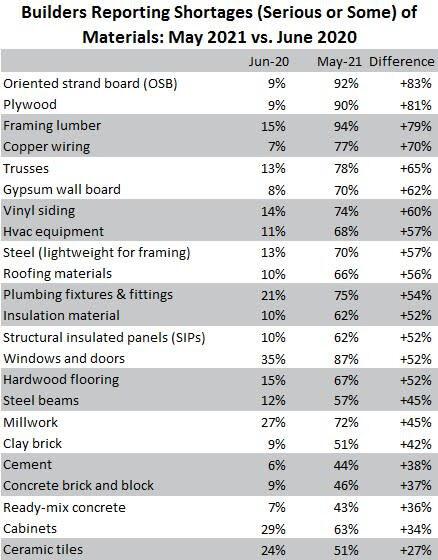 "There's no doubts clearly a variety of new shortages on weekly and even daily basis," 
said Anthony Farhat, owner and president of PGI Homes based in Punta Gorda.
He said the supply problem puts a hurdle in the marketplace, causing delays.
He said the problem is compounded "with high demand of people wanting to live in Southwest Florida."
To compound matters, changing prices causes an impact on builders, since they have their clients sign a contract with a designated price. Should materials' prices suddenly change, the cost would have to be absorbed by the building company, Farhat said.
"That being said, I'd rather have these problems than in 2008 when nobody wanted to build a house."
Recognizing that some might want to steal materials, such as two by fours which would be stored on site, Farhat said he's installed 24-hour surveillance video and audio monitoring devices.
"My company has not had thefts; we're trying to get in front of it," he explained.
Like Fero, Farhat cited lumber, concrete blocks, and windows as hard-to-get items, in addition to appliances such as ovens.
He said compared with "pre-COVID versus today, it takes 20% to build now, and prices are 20% more."
Another custom home builder, T.J. Thornberry, owner of Thornberry Custom Homes in Punta Gorda, said his firm has been experiencing materials shortages "since the beginning of the year."
"We're keeping tracking information from suppliers, vendors and subcontractors," he added. "Cost have gone up, too," he said.
"The problem is, we can't anticipate everything," Thornberry said.
He said there needs to be lead time in ordering, but not everything can be ordered weeks and weeks ahead, and by the time they are, their cost might have gone up and availability might take longer than expected.
Thornberry said shortages and long wait times extend beyond building materials. "From mills to transportation to wholesalers to retailers," delays and shortages are across the board.
"Communication is the key with customers," he said.
Customers will be kept apprised of their new home's progress, Thornberry explained. He will give them updates on timelines, but he said "some things pop up out of nowhere," such as shortages on certain materials.
"The housing demand, housing shortages, long wait times and supply chain disruptions" contribute to the problem.
But the bright side, Thornberry said, is custom home clients "are informed customers; they read the news and they understand."