ORLANDO — Florida native Lance Oppenheim makes his documentary feature debut with a film that details life in the United States' largest retirement community: The Villages.
"Some Kind of Heaven" examines " 'The Truman Show'-like" community designed to remind inhabitants of their youth. It follows four residents whose "Villages dreams have become a nightmare in an attempt to find what heaven truly is after finding the pre-packaged version isn't going to cut it," Oppenheim said.
"It's about human struggle and how we continue to endeavor to do things," he said.
Anne Kincer easily adapts to The Villages lifestyle, but as her husband, Reggie, struggles with his spirituality, mental health and drug use, the duo must deal with the consequences.
Widow Barbara Lochiatto intended to spend her days in The Villages with her husband, but those plans were turned upside down when he passed away shortly after they relocated to Florida. Now, she struggles to find a group or club with which she identifies.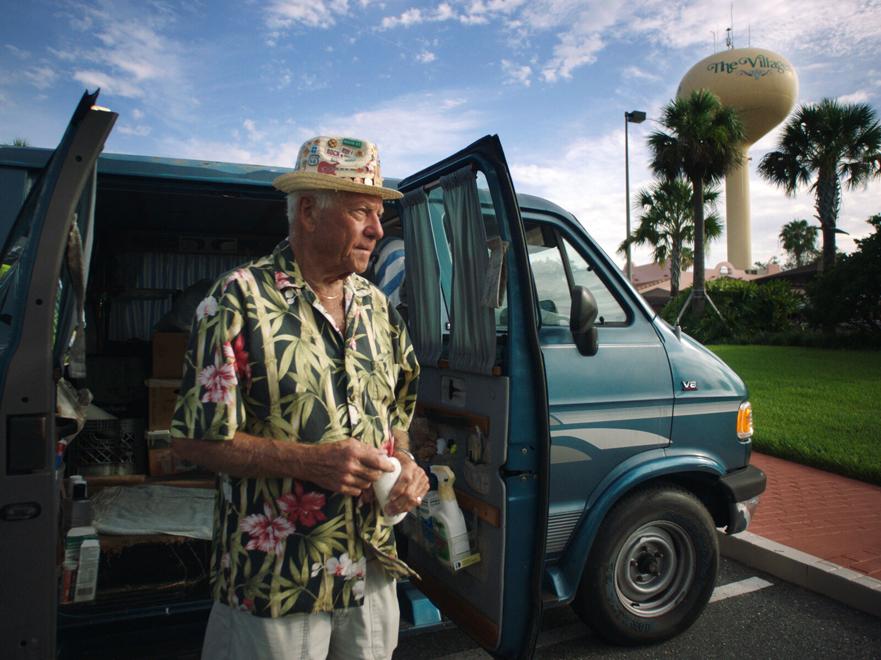 Bachelor Dennis Dean poses as a resident of The Villages but actually lives in his van. His goal: to find a wealthy female resident of the community to care for him.
The documentary premiered at the 2020 Sundance Film Festival, where it received praise from critics and audiences before moving to the festival circuit. Magnolia Pictures later acquired worldwide rights to the film, which hits theaters Friday and video-on-demand platforms on Jan. 15.
Oppenheim, who grew up in Weston in Broward County, credits his time in the Sunshine State for helping to shape his film career.
"Growing up in Florida, trying to figure out what I was doing or what stories I wanted to tell, it was a filmmaker's heaven," the 24-year-old said. "Florida is home to so many eccentric individuals."
In his middle and high school years, Oppenheim found inspiration in unique Florida stories.
"I was obsessed with trying to find interesting stories that kind of spoke to these weird pockets of people and things that were happening in the aftermath of the recession," he said, noting the 2008 economic collapse motivated him to pursue stories about people picking themselves up after losing it all.
He realized documentaries could fuel his filmmaking passion.
"I didn't really need a fancy camera or crew as long as I had the raw material, which I think Florida had in a lot of ways," he said. "I could make something for really cheap … and it helped me find my voice through telling other people's stories."
Oppenheim heard tales of The Villages throughout his adolescence — its rapid growth and "sexcapades" — but it didn't cross his mind to create a documentary about the retirement mecca until he completed a short film about a retiree living on a cruise ship and read another Villages article shortly thereafter.
He was interested in the institutions of the place and the particulars of building a community and a culture to block out the bad things in life.
Initially pursuing this as his thesis project at Harvard University, he booked a flight to Orlando and an Airbnb with two retired rodeo clowns in The Villages. His hosts gave him an "unofficial orientation" of the massive community of 125,000 and broke down the social structure. One day, Oppenheim gained the courage to attend club meetings and found a welcome reception with residents equally curious about him as he was of them.
However, not everyone was thrilled when he began filming in June 2018.
Oppenheim said The Villages developers and administration were unhappy with what they suspected would be an expose of the community. So, Oppenheim and his crew engaged in "acts of guerilla filmmaking," knowing each time they shot they would have about 20 minutes before being shut down.
"I think most Villages residents also have this impression that ('Some Kind of Heaven' is) going to be this takedown and assault on what they love ... I wanted to make something that was empathetic and deeply human," he said.