Being told "you're making a difference in people's lives" just feels so much cooler coming from a celebrity.
Especially if that celebrity is Ice-T.
Ice-T, a rapper who in the last two decades has played the role of Detective Odafin "Fin" Tutuola on "Law & Order: Special Victims Unit," was tapped by the Gulf Coast Partnership to give a shout-out to all the Charlotte County organizations as part of COAD, or Community Organizations Active in a Disaster, helping those in need during the COVID-19 outbreak. The message arrived via Cameo, an online service where people can book celebrities to give at least a 30 second, personalized message. A message from Ice-T costs $350, according to the website.
The one minute and 12 second video shows Ice-T in a Los Angeles Dodgers hat outside talking into the camera. Here is what he had to say:
"Hey, what's up? It's Ice-T and this is a very huge and sincere shout-out to all you guys, all the organizations down there in Charlotte County, Florida, working seven days a week since this COVID outbreak. I understand what's going on, I understand that the tourist economy had broken down, people can't pay rent, they can't pay the utilities, and you guys are trying to help all the workers from dealing with homelessness, just lack of money.
"I want to let everybody down there know that you are sincerely appreciated. You're making a difference in people's lives. And what is more admirable than helping people when they're truly in need? So, nothing but love. All right, the COAD reached out to me and wanted me to send you this, you know, this big shout-out. And I have no problem whatsoever, you know, giving you guys the big ups on what you're doing because, you know, I'm quarantined right now. I'm not in need, but I am in quarantine and I got a lot of friends that aren't doing that well, so I understand how important what you guys are doing and I have nothing but respect for you. Peace, from Ice-T and the COAD."
"Everybody is just getting tired and overworked," said Angela Hogan, the CEO of the Gulf Coast Partnership. "We were just trying to think of what we can do to cheer people up and let them know they're doing a good job."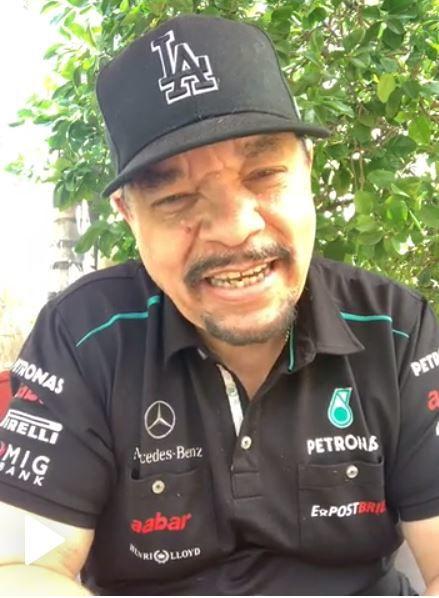 COAD is a public/private partnership between community organizations that are activated during all types of disasters to coordinate and respond to emergency community needs. By the way, COAD is pronounced "co-ad," as opposed to "code," as pronounced in Ice-T's video.
But, of all the famous celebrities on Cameo, why Ice-T?
"He just seemed like the right person," Hogan said. "Most people are big 'Law and Order' fans."
And even though Hogan was only promised 30 seconds, she was grateful Ice-T took a little longer to thank the organizations.
"He took the extra time and was thoughtful and genuinely did a shout-out," she said. "He didn't have to put that much energy into it."