Miss Geico claims championship crown at WaterFest
As Miss Geico rolled down Beach Road in Englewood after successfully defending her Offshore Power Boat Association World Championship in the Extreme class, she was greeted with honking horns, cheering fans and a celebration worthy of a world-class racing team.
Atop Miss Geico, as she was towed back toward pit row behind a shiny big rig, crew members waved back jubilantly and with appreciation to fans who had lined both sides of Beach Road. After securing 11 world championships, the Miss Geico team knew how to celebrate.
"Winning never gets old," said Partner and Managing Member Scott Colton.
During the 55-mile race along Englewood Beach, the 50-foot Victory Catamaran with Twin Mercury Racing 1650 engines, clearly proved to be the star of the two-day show. With James Sheppard at the wheel and Steve Curtis at the throttles, Miss Geico reached speeds up to 176 mph and held a healthy lead on Team CRC from start to finish.
Miss Geico collected 50 points for winning the race Saturday and 100 more on Sunday. Team CRC finished second overall with 130.5.
When Sunday's race approached the finish, and Miss Geico clear by nearly 30 seconds, a burst of applause rolled down the Englewood shoreline. A Florida operation, Miss Geico is headquartered in Riviera Beach.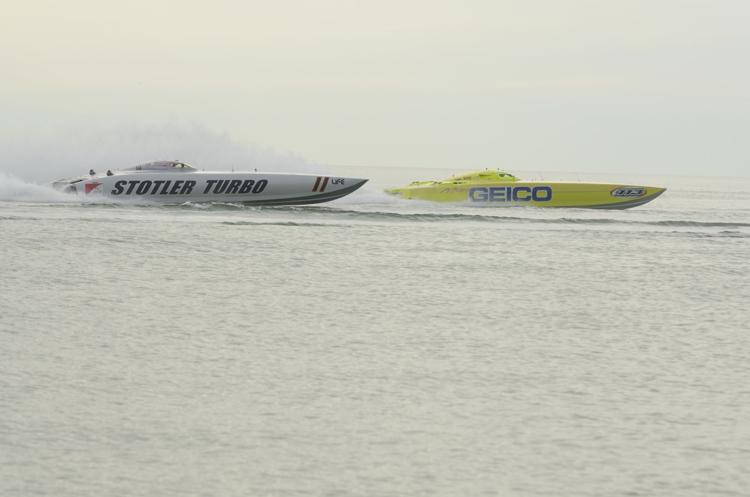 "This is a dream weekend for Team Geico. I mean, it's the world championships and we've all worked really hard," said Shepard who flew in from England earlier in the week. "In the end it all worked. We had some issues on the final lap of the Saturday race and an issue over the final three laps today. But you have to be there at the end to win and we were."
A transmission issue threatened Miss Geico on the final lap Saturday. Nevertheless, she powered home a clear winner. With double points on the line Sunday, good boat performance was even more critical. The crew worked overnight to fix the transmission. Curtis, a veteran throttleman, managed to work out a turbo wastegate issue over the final laps Sunday to help secure victory.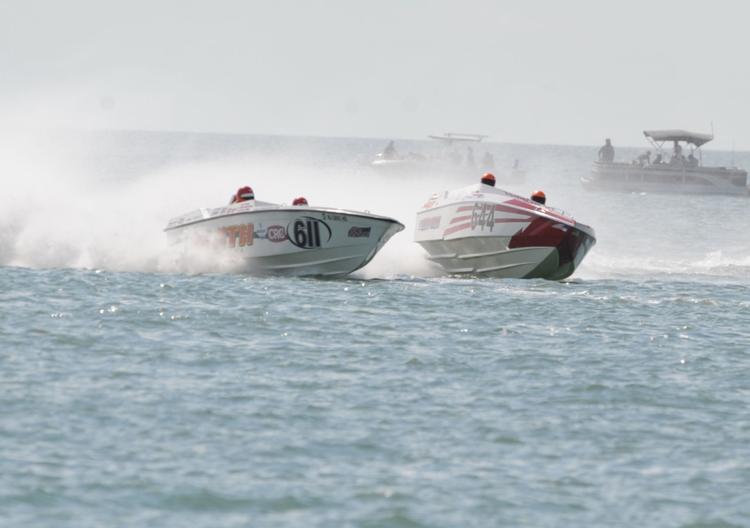 "Conditions today were very flat, but when we arrived here for practice on Friday it was very bumpy," Sheppard said. "If those conditions prevailed over the weekend, I don't think we would have been able to race. Yesterday was a bit bumpy, but today was dead flat – maybe a half-foot swell."
Among the local competitors, Team Raven was tops in Class 5 after collecting 100 points for winning the double-points Sunday race. Their overall total was 140.5.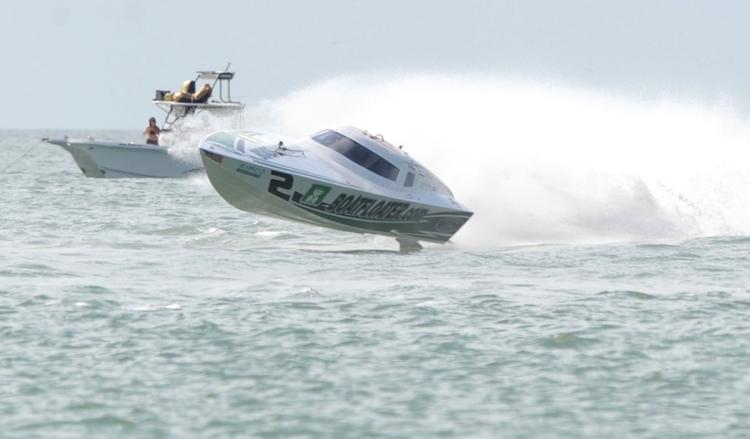 Knot Krazy – known also as KrizenPest.com — is also a Class 5 boat. They didn't fare as well on Sunday, but still finished a respectable fifth. Cape Haze Marina encountered problems on Saturday while Second Amendment, of Punta Gorda, a participant in past years, did not attend the 2018 race.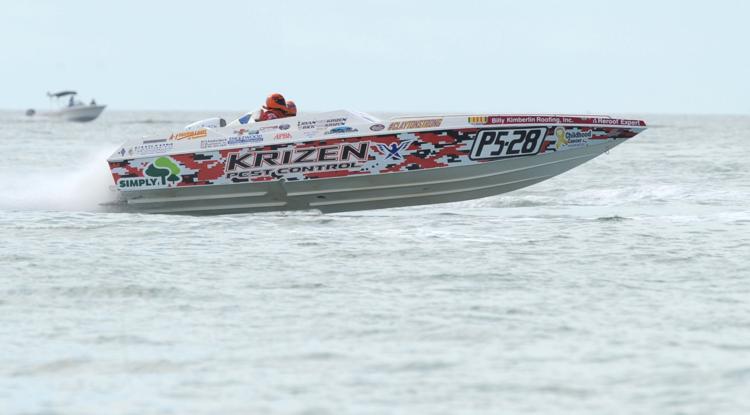 At the wheel of the 29-foot Team Raven was Andy Copeland of Oklahoma City. Working the throttles was Robert Bryant of Venice. Ryan Krizen piloted Knot Krazy, while brother Rick was the throttle man. Both are Venice High School graduates.
"The course was variable yesterday with one lap not quite the same as the next," said Copeland on Sunday. "Today was calmer and we were just trying to keep the throttle hammered down and stay close to our max speed and not let boats get inside of us. I failed on that in the fifth or sixth lap when I let Krizen get inside. But it was a strong race."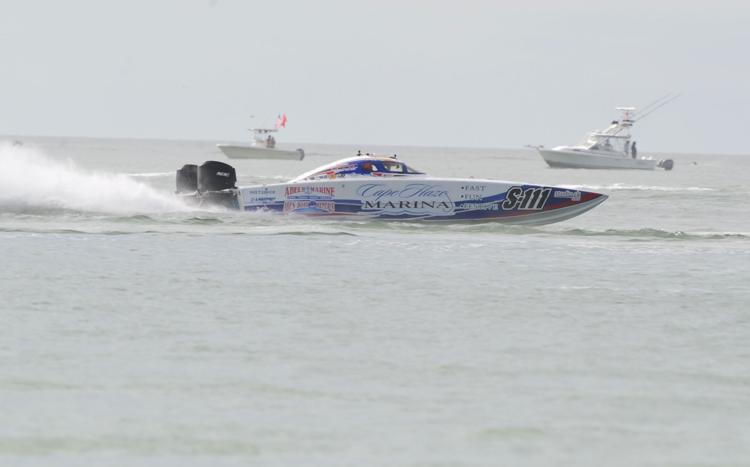 Krizen finished ahead of Raven on Sunday but was penalized for "breaking out" – or exceeding the maximum 75 mph speed allowed for Class 5 boats.
"We have a full team including Mike Kenney, Bob Robinette, Al Bryant and Dave Piper," said Robert Bryant. "We work on the boat constantly, just changing things. We just keep working on it to get a better setup and we ran really well today."
The Cape Haze Marina boat finished fourth in Super Stock after encountering problems on Saturday.
"Up at the far turn, there is kind of a hole down there that the locals know about," explained Cape Haze Marina General Manager Ken Stead. "Just the way the waves came in there and the conditions, they kind of missed it a little bit. They did about a 360, but they're all OK. Just a little bummed because the boat was running so well."
Greg DiRenzo of Cape Coral piloted the Cape Haze Marina while John Robinson of Naples handled the throttles.
As for the Krizen brothers, they had a strong race and were third over the finish line on Sunday.
"It was a really good race from the start," said Rick Krizen shortly after Sunday's race and before the results were announced. "We stayed as a pack the whole race. It was really great racing today and fun and competitive the whole way."
Added Ryan, "The boat was running so well today, it couldn't have been better."
While some teams have several or more team members, the Krizen operation is just a two-man squad. Rick, who went to school for marine mechanics, works on the boat after every race. They usually attend just a couple each year.
Other Class winners included: AMH Motorsports (Super Cat), Shadow Pirate (Super Stock), Done Deal (Super Vee Light), BoatFloater (Super Vee Xtreme), Bull on the Beach (Class 2), Wazzup (Class 3), Saris Racing (Class 4), Knot Guilty (Class 6) and Woah Mama (Class 7).