PUNTA GORDA — Florida Highway Patrol announced late Wednesday an arrest in a March crash that left one person dead.
Glen Foster Hallman, 60, of Venice, faces charges of DUI-manslaughter along with drug crimes, according to FHP.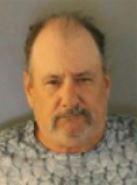 Hallman was 59 and living in North Port on March 1 when he was driving a pickup south on U.S. 41 in the turn lane of Veterans Boulevard-State Road 776.
A motorcycle driven by a 36-year-old Port Charlotte man was northbound, approaching Veterans Boulevard, the report states.
"(Hallman's) vehicle proceeded to make a left turn in front of (the motorcycle). The front of (motorcycle) collided with the right front of (the pickup.)"
Hallman ended up stopping in a parking lot on the east side of U.S. 41. The motorcyclist, who was wearing a helmet, was pronounced dead at the scene.
Florida Highway Patrol arrested Hallman on Wednesday and booked him into the Charlotte County Jail without bond. Along with DUI-manslaughter, he also faces charges of possession of marijuana and possession of drug paraphernalia.