PORT CHARLOTTE — A new chief executive officer will begin in January at Bayfront Health Port Charlotte and Punta Gorda following the departure of Tara McCoy.
McCoy, who took the hospital executive position in August 2020, has left for another health care organization, Bayfront said in an announcement Friday.
Taking over on Jan. 8 will be Andy S. Romine, a registered nurse whose most recent executive position was president of Rockledge Regional Medical Center in Rockledge on the east coast of Florida.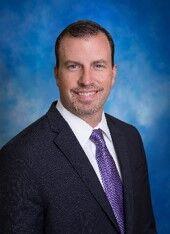 In the interim, hospital executive Doug Luckett will serve as CEO.
Bayfront board chairs praised Romine's track record of expanding programs in his previous institutions, of recruiting medical staff, of keeping existing staff and improving patient experience.
"Andy's background in nursing will ensure a quality of care that will serve Charlotte County and the surrounding communities well," said Jim Fendrick, board chair of Bayfront Health Port Charlotte. "Important to the board is Andy's record of providing a supportive environment to healthcare professionals and support staffs."
At Rockledge, Romine oversaw the expansion of outpatient satellite locations, recruitment of 68 physicians, development of a cardiology program, addition of two surgical robots, and an intensive outpatient behavioral health program.
Before Rockledge, Romine was chief nursing officer for Grandview Medical Center in Birmingham, Alabama where he led two electronic medical record conversions, had strong nursing retention rates and strengthened patient safety, Bayfront said.
"We are pleased to welcome Andy to the community and excited to have his administrative expertise and clinical knowledge at the helm," said James McCarty, board chair of Bayfront Health Punta Gorda. "He has demonstrated the ability to forge strong, productive relationships with physicians and employees that can support the delivery of great experiences for patients."
Romine also has a master of health services administration degree. While in Brevard County, he was active in the local United Way, American Heart Association, public schools foundation, symphony and Hospice of St. Francis.