Who wouldn't want to live in paradise? More and more boaters are anchoring off our shores to enjoy sunrises and sunsets, and instead of a house or condo, many call their boat "home."
But not all are good stewards of our waterways. Some discharge human waste from their marine toilets, which is against the law. Others, for whatever reason, eventually abandon their vessels, which in Florida is a third-degree felony punishable by up to five years in prison and/or a $5,000 fine.
Law enforcement keeps watch
To keep an eye out for violators and those not practicing safety protocols such as carrying a fire extinguisher, life jackets, etc., the Charlotte County Sheriff's Office, the Punta Gorda Police Department, and Florida Fish and Wildlife Conservation Commission operate marine patrol vessels to ensure boaters are in compliance.
The PGPD has two marine vessels; the CCSO has "a four to five man marine operation," and the FWC maintains two boats at Laishley Park Municipal Marina and Emerald Point, said Cpl. Joe Trufan of the PGPD marine unit. CCSO would not comment to The Daily Sun about its marine unit.
The FWC marine patrol checks fishing licenses, bag limits, plus it looks for other violations, Trufan explained.
FWC also checks to make sure human waste is not being discharged, said FWC spokesman Adam Brown. Like the CCSO and PGPD, the FWC has the authority to come aboard to make sure the marine toilet's Y-valve is in the locked position and held secure with a tie.
Dye put in the water will turn the area bright green or orange if there is a discharge, he said. Depending on whether it was a first or third offense, the fine would vary, going up to $250.
"We follow up in 30 days to see if the violation has been fixed; it not, they would get a penalty," said Brown.
Residents in Punta Gorda came forth with photos taken in 2019 and 2020, showing boats that dragged anchor, went aground and slammed into mangroves seawalls and rocks after Florida thunderstorms and non-hurricane winds of under 30 mph — pointing out another problem.
The photos were of boats being "stored" offshore, while the owners were elsewhere, which is not unusual in our area.
Trufan shared what he does in a typical day, and the things he looks for.
"A good portion of boats are stored there," he confirmed, indicating boats anchored off Gilchrist Park and along the waterfront from the U.S. 41 bridge to Fishermen's Village.

He said many who are "more frugal, keep their boat on a hook, or anchor." This way, the boat-owner avoids costs including mooring and marina fees.
"Some are weekend warriors," continued Trufan, meaning they keep their boats anchored, and use them as time allows.
In mid-April there were 20 some boats anchored off the city; that number climbed to 30 or more in the winter. At Laishley Park Municipal Marina, where most of the dozen or so boats were on mooring balls, several were not.
Roger De Bruler Jr., the Charlotte County Marine Resources specialist, said a boat must anchor more than 150 yards off a mooring field.
In the second week of April, one boat had been marked as non-compliant — a sailboat that had sunk, but someone pumped out the water and it was above water again. Trufan said the boat "was in and out of compliance." Since it had not run in a long time, it wasn't thought to have leaked any fuel into the water.
It was written up as being an "at-risk" vessel, as the hatch had deteriorated and rainwater was getting in. Trufan said the owner had amassed tickets over several years. An at-risk vessel faces a $50 fine, and fees increase with additional ones.
A derelict vessel is a misdemeanor offense. The yellow stickers seen on the boat were to "try and get attention of the owner," signaling action was about to be taken, he said.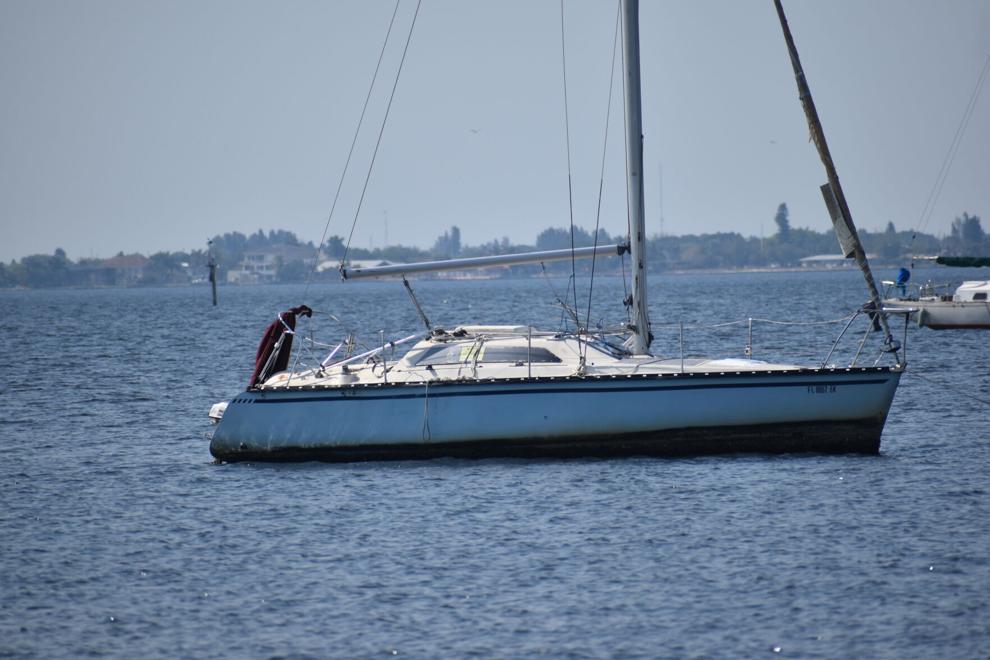 Once a boat is deemed derelict, the owner has to be informed and given a rights package.
Last year, the Punta Gorda's City Council voted to allow local authorities to remove derelict boats from its waterways.
De Bruler said in February PGPD Chief Pam David and Trufan went before the Marine Advisory Committee and secured funding to remove derelict boats. He said the least expensive contractor charges $97 per foot (length of the vessel) to remove it.
DeBruler went on to explain the history of navigation and how a treaty was made between the U.S. and foreign lands to allow cargo boats to anchor offshore while awaiting dockage to unload their wares. That same maritime law today applies to private vessels anchored offshore.
It takes a lot of time — about 94 days if the boat owner wants an administrative hearing — to have a derelict vessel removed, said De Bruler.
Trufan said one of the more common violations he deals with are speeders, and boaters not entering and exiting channels on the appropriate side of the markers.
Sometimes his job entails life and death situations, such as a 20-foot sailboat capsizing with six people aboard, or drownings.
Over the years, some area residents complained about "live-aboards" on boats anchored off their neighborhoods, but the definition of a live-aboard, according to Florida Statute 327.02 (22) is: "(a) A vessel used solely as a residence and not for navigation; (b) A vessel for which a declaration of domicile has been filed pursuant to s. 222.17; or (c) A vessel used as a resident that does not have an effective means of propulsion for safe navigation."
Since the majority of boats off the coast of Punta Gorda can move, either by motor or sail, their occupants could perhaps be classified as "boat dwellers."
One neighbor compared those living aboard their boats as "equal to a person living in a tent in the woods."
Deciding to investigate by land, The Daily Sun met up with long-time resident Larry Jaeger and took a walk around the waterfront where he pointed out various vessels and the dinghy dock at the Punta Gorda Boat Club site.
Two dinghies with outboard motors had no registration numbers or stickers on their port side, as required by law.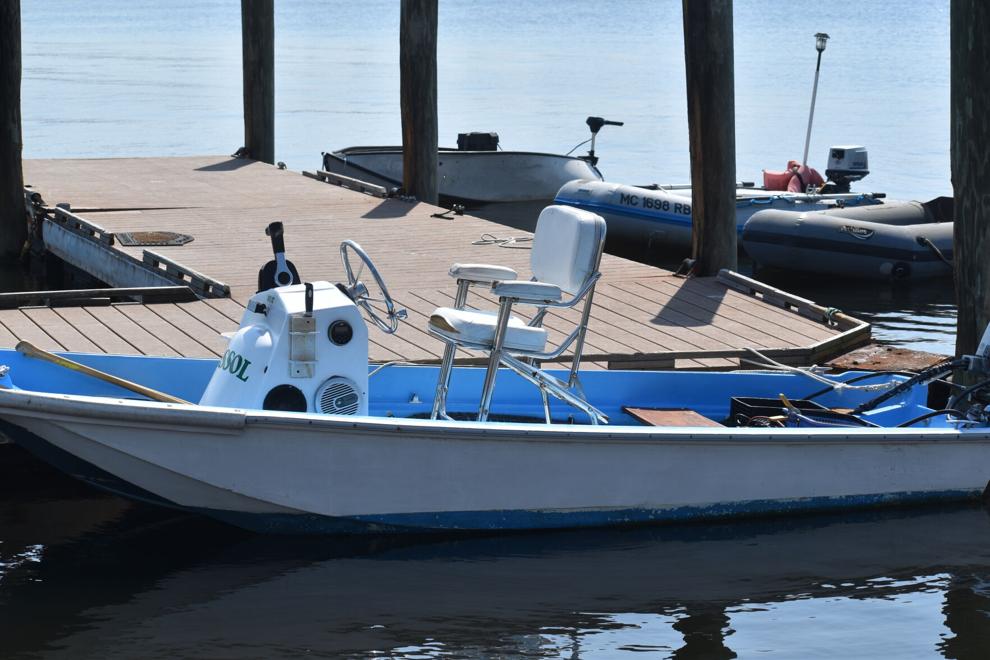 According to the Charlotte County Tax Collector's office, one must register their dinghy and be issued a title. Dinghies without motors are an exception. To register the dinghy, one must present paperwork, including the bill of sale.
Out on the water, some boats had gone aground, but that's not surprising since Charlotte Bay is so shallow, as is the rest of the Peace River and Charlotte Harbor.
One sailboat's hull was riddled with barnacles, indicating it was not being maintained.
More boats, more problems
Trufan said "the abundance of new boaters and new boat registrations has doubled in the past year."
At a recent boat show in Punta Gorda, Trufan asked one of the organizers why he didn't have many boats. "He told me he didn't have to do shows, and he had low inventory."
Yacht broker Ed Benson said earlier in the year the demand for boats both new and used, has been extraordinarily high during the pandemic.
"If it floats, we can sell it," he said.