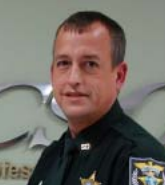 A Charlotte County Sheriff's Office corrections deputy was withdrawn from his appointment following an investigation into his role in the suicide of an inmate in the Charlotte County jail.
Corrections Deputy Mark DeHart failed to effectively determine if lifesaving intervention was appropriate and provided false testimony of events at the time of Palmucci's suicide, according to CCSO.
"This deputy violated his oath and demonstrated a lack of integrity," Sheriff Bill Prummell said in a statement. "The actions and inactions of former CDFC DeHart were unacceptable and do not reflect the high standards of this agency. Honesty is of utmost importance to me. Lying will unquestionably lead to your dismissal."
DeHart was notified of CCSO's intent to withdrawal his appointment. Then he went out on family or medical leave. Before he was disciplined for his actions, his appointment was withdrawn due to taking too much time off, according to CCSO.
DeHart had worked for CCSO for about 11 years, according to the agency's archives.
This isn't the first time that DeHart was investigated in relation to an inmate's suicide.
David Griggs died by suicide on Sept. 26, 2018. The inmate was found unresponsive with a piece of material tied around his neck in a lockdown pod at the Charlotte County jail. According to an internal affairs investigation, DeHart and another deputy were in the H Pod that day, and the documented head count times were "inconsistent with observations on the video surveillance."
Although DeHart was determined to have violated official procedures or directives, the case was closed and designated as an "exonerated policy failure."
The Charlotte County Sheriff's Office did not respond to additional questions from The Daily Sun.