MURDOCK — Charlotte County commissioners struggled before voting 4-1 on Tuesday to sell 3.6 acres on Charlotte Harbor to a company planning a small restaurant and boutique hotel.
The issues were the sale price of $4.24 million, and how to ensure a new owner would not in the future switch to 90-foot high structures like the Sunseeker resort across the street.
Commissioner Chris Constance voted against the project, saying he would rather lease the land to ensure low density commercial development on Melbourne Street and U.S. 41.
But the buyers' president, John Tallichet, Specialty Restaurants of California, said the company could not consider leasing, particularly given that they have already bought about 3 adjacent acres.
Specialty Restaurants owns the Whiskey Joe's brand, which currently has three other sites around Tampa and one in Miami. Another three are soon to open.
Charlotte Harbor would be the eighth, the county's Economic Development Director Dave Gammon told the board.
Tallichet told the board that their goals are the same as the county's — to keep the site open and as natural as possible with public access to the waterfront. Whiskey Joe's is a beach-style restaurant with smaller indoor spaces and natural waterfront views.
The company also wants a spot that is not choked by traffic, Tallichet said.
Specialty Restaurants must allow public access to and parking for the adjacent waterfront park, Live Oak Point.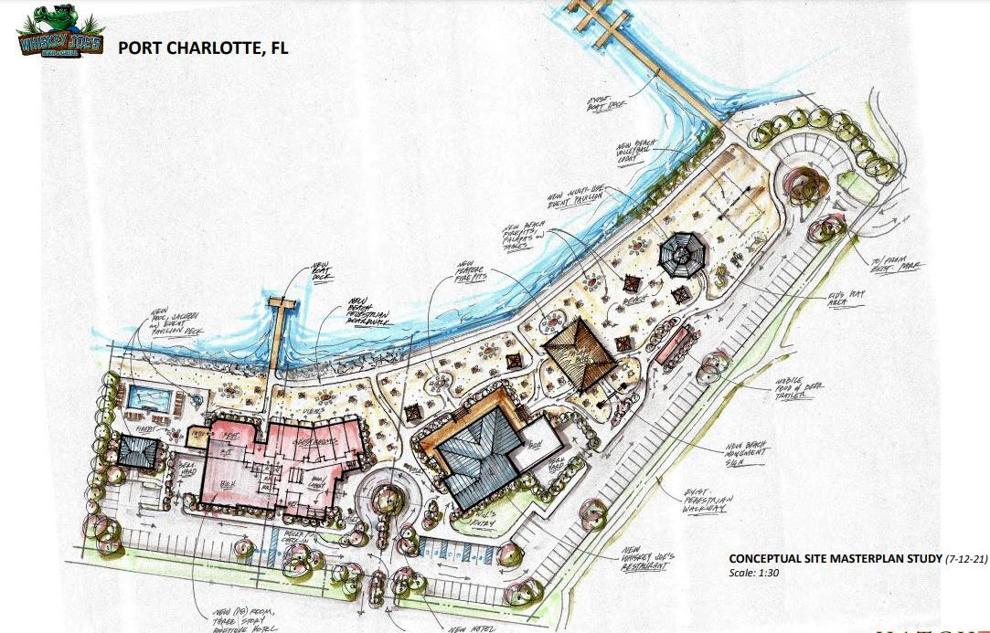 Several residents with commercial real estate experience told the board that the price was too low.
Resident Richard Russell said the price should be more like $5.5 million given comparable sales.
"As taxpayers, we demand a fiduciary from our county commissioners, so please, step back and rethink this," he said.
Resident Tim Ritchie said the county should not sell at all, but keep the site as a park for the public given the location.
"This is the crown jewel of Florida," Ritchie said of Charlotte Harbor. "Do we really need another restaurant in Charlotte County or bar? No. What we need is to conserve our precious commodities. That parcel of land is probably the last priceless property in Charlotte Harbor. It shouldn't be sold. It should be retained for the citizens."
Commissioner Joe Tiseo championed that idea last year. But the cost of a park was about $8 million, Tiseo said Tuesday.
Whiskey Joe's, with its low impact development, seemed a good compromise, he said.
"I don't think you can get anything less impactful for the price," Tiseo said. "Would you rather have Sunseeker pay $7 million and put up towers? Is price everything? We have to find a balance."
The vote Tuesday starts the clock on extensive negotiations in which the actual transfer of ownership might not take place until next fall. That assumes Specialty Restaurants uses both 60-day extensions.
The deal does not close until after the company submits its final detailed site plan and gets county approval.
To address Constance's concerns about a future owner building high-rise structures, county staff proposed adding a covenant limiting building height to 60 feet above the flood heights.
Tallichet said he would agree to that.