Not to go all hippie dippy, magical-mystical on you, but we're about to see some things around here that we've never seen before.
How about a food truck inspired by the reunion of a single soul split into two different bodies? Or a café that could have sprouted somewhere in 1970s Vermont? Hmm?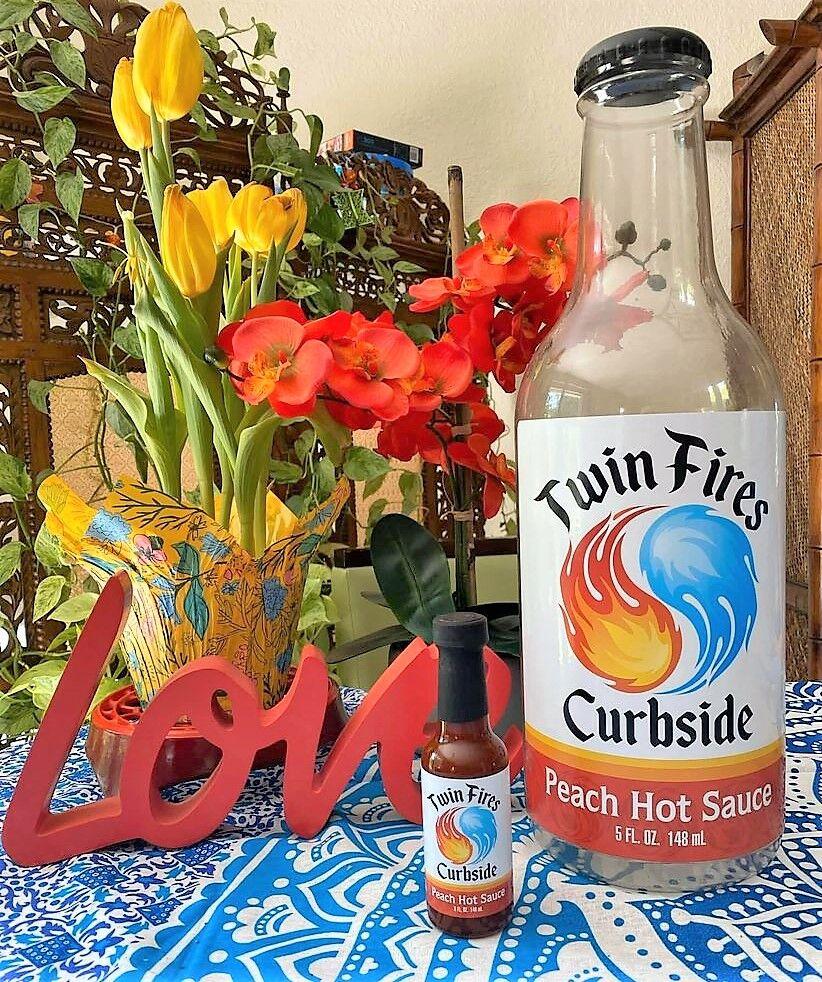 Two weeks was all the retirement that Geo Davis needed, despite an increasingly grueling 22-year Walmart management career.
He's leapt wholeheartedly into a new life owning and operating the area's newest food truck with wife and soulmate Lisa.
The couple had endured what Lisa called "horrible relationships" until they met.
"I knew nothing about 'twin fires,'" she said. "Geo had me Google it, and 'twin fires' (or 'twin flames') are a couple who were spiritually together in a previous life and meet up again.
"We got married on 2/20/2020 (she likes 20s), not realizing it was the start of the worst year in our history. Still, I've never been happier in my life."
After divorcing and raising four daughters on her own, Lisa had washed her hands of men, convinced that no relationship would ever work out for her.
"The Saturday I met Geo, I'd told myself I'd go listen to Gas House Gorillas at Gatorz, sit by myself at the end of the bar, and not be aggravated by any man trying to talk to me."
"I walked to the seat I'd planned on, and he was sitting in the seat next to it. He was good looking, sharp dressed, I thought I was in a dream. I was going to ask, 'Is this seat taken?' and he was going to say, "Yeah. My wife's in the bathroom.'
"Instead, he said, 'No, you're more than welcome.' Then he just stared at me and asked, 'What's that fragrance you're wearing?'"
Before she knew it, this guy she barely knew asked her to dance.
"I never, ever dance because I'm a Realtor and don't make a spectacle of myself," she said. "But I went up there and danced, and the whole band was giving us a thumbs up.
"We've been together every day since."
According to author Shannon Kaiser, "When you meet your soulmate or twin flame, you feel like this is a person you are destined to be with. ... Twin flames are deeply connected at a soul level. It is said they are the same soul, split into two physical bodies."
Should come in handy running a food truck.
Geo originally wanted a restaurant, but Lisa didn't want to be bound to brick and mortar. The couple compromised on a food truck and christened it Twin Fires Curbside to reflect their relationship.
Lisa — whose broker moniker is "PowerHouse" — said, "I can still do real estate. I'm not giving that up."
They ordered a brand-new, cosmically wrapped trailer and started lining up gigs.
And it's not as if Lisa knows nothing about food and gigs. When she ran Deep Creek neighborhood bar Uncle Joe's Ale Haus (now Sand Trap), she brought in comedians and trays of homemade lasagna, for dinner and a show.
"Geo's the main cook in Twin Fires, but when there's a rush I can cook fast because I had to feed four kids," she said.
The menu includes Cheez Whiz or cheddar cheesesteaks, cheeseburger, barbecued roast pork sandwich, sausage and peppers, and blackened chicken tacos, wraps or rice bowl. They can accommodate catering requests for 100 people and up.
Twin Fires Curbside ($, cash or 2.5% credit card fee), 941-575-1717, has its grand opening at SunTrust Bank, 18501 Murdock Circle, Port Charlotte, today from 11 a.m. to 3 p.m. and every Monday and Thursday hereafter.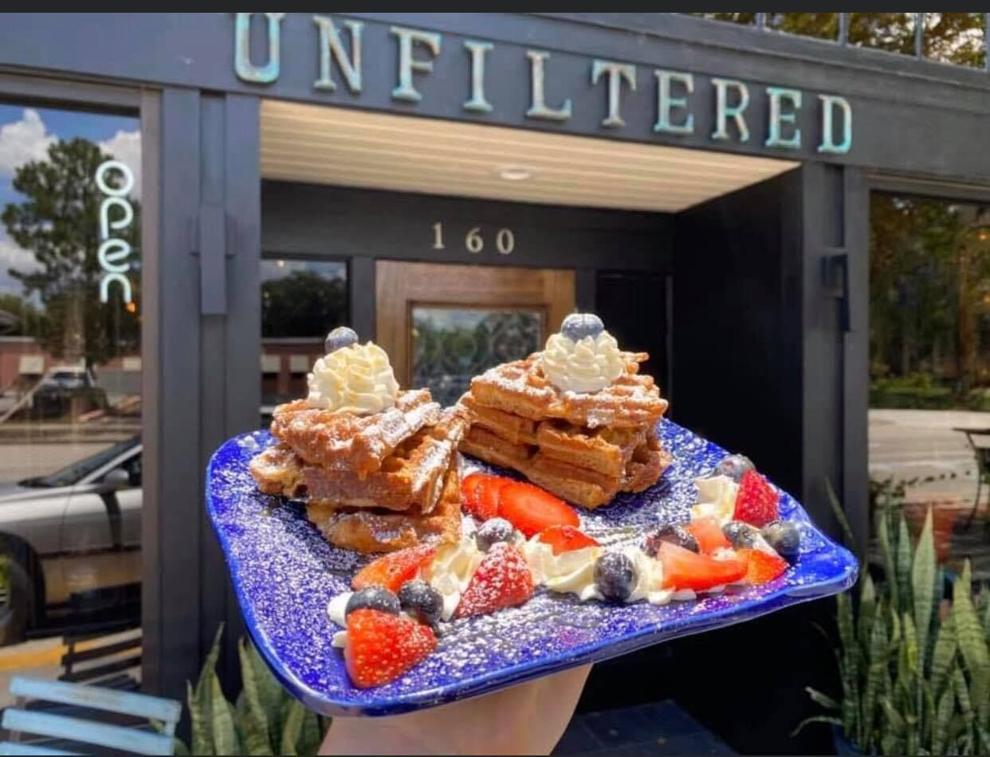 Unfiltered Bartow's website describes Geanie Folder's bohemian café as "an unapologetic, good vibes lifestyle. ... Here at Unfiltered we believe in living a life of good intention. We are a committed group of family, friends and artists that have come together to provide you the most authentic experience imaginable in a space filled with love, goods and memories."
This summer should be a lot better than 2020 was for Folder and Unfiltered.
The boho café/artisanal space opened on March 5 in a turn-of-the-century Bartow brickfront and closed 10 days later.
Folder pivoted creatively, selling eclectic eccentricities that she'd picked up along the way, providing a space for lessons in textiles, art and likeminded thought.
We can expect much the same (except for the sudden shutdown) when Unfiltered Punta Gorda opens later this summer in the 95-year-old Taylor Road bungalow last occupied four years ago by café/gift shop Two Thrifty Girls.
Count on Unfiltered for the same browse appeal, but more beat and beautiful. Art, tapas, quiche, pastries, coffees and, we hope, wine will be flowing freely. Purses, pinwheels, parsley and pussycats, a whole Pier 1 Imports vibe will explode all over the 1920s interior.
While excavating holes in the sidewalk for an archway between Unfiltered and next-door Pizza Gorda, the building's new owner, Tampa author/psychologist Richard Lindstrom, explained, "There'll be tables, chairs and sofas in this space between the buildings. I'm going to turn this old piano into a fountain. And they'll create giant framed pictures on the wall facing Pizza Gorda."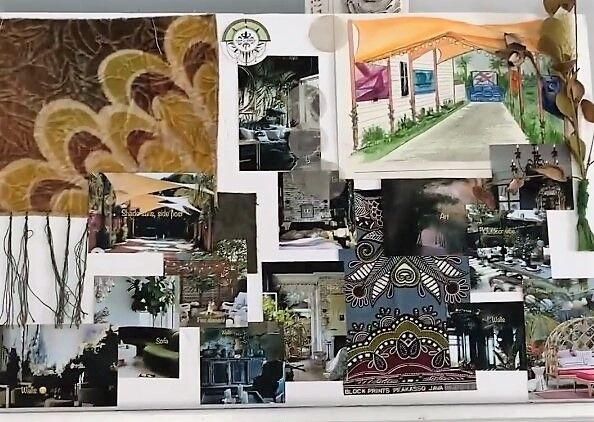 Faux finisher/muralist Linda Jane Cassels from Lakeland was hard at work painting the interior with giant blossoms and swaths of warm desert tones.
And, in an especially weird serendipity, both Unfiltered cafés will end up sitting across the street from a Wells Fargo Bank.
Unfiltered Punta Gorda ($), 813-481-1234, 321 Taylor Road, will open this summer. Meanwhile, road-trip to Bartow for a taste of what's coming.
Unfiltered Bartow ($), 813-481-1234, 160 Broadway Avenue, is open Tuesday to Saturday 8:30 a.m. to 2:30 p.m.