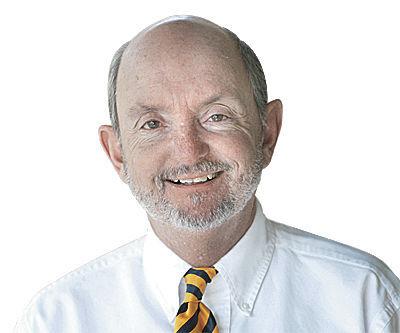 Response to my request for car stories was slower than I had hoped, but what we lacked in quantity was made up in the quality of some good, heartfelt stories from readers.
James Deutsch told me he's a car guy and Corvettes hold a special place in his heart.
He wrote "I can go through my life based on the car I was driving. And, any girl I dated had to like cars!
"When I returned from Southeast Asia, I purchased a 1968 Red Corvette. I've had a 'Vette ever since. My beautiful wife loved them, too."
James said the last Corvette he bought his wife was a red, 2008 edition. He ordered a new 2020 red, mid-engine for it. Sadly though, although she got to ride in it, she passed away from Alzheimer's before she ever got to drive it.
Sally Lightbourn, from Port Charlotte, told me "this may not be the great deal car story, but I believe it will be my last car story.
"I moved to Punta Gorda in September 2001 from the Bahamas so I needed to buy a new car. I bought a 1995 Jeep Grand Cherokee. Thank goodness for Dr. D's auto repair these last few years, because just earlier this month I watched the Jeep drive into the sunset with its new owner. The first car I drove was a black VW Beetle; my new car (and most likely my last one) is a black VW Tiguan.
"However, when did driving get so technical? I need an IT degree to understand what the (car) is telling me to do. I'm slowly learning — and the best part of the VW is its sunroof.
"Next week, maybe I'll learn how to open it."
Bill Ringelstein of Punta Gorda sounds like a guy I can call when my Explorer goes bad. He wrote "the best car deal I have ever made" turned out to be "the best car I ever made!
"I'll explain: Lotus Cars of England produced the Lotus Seven, 1953 to 1972, then sold the rights to Caterham. With emissions issues on imported cars, Caterham offered the Seven in unregulated kit form with an English engine. No English engine for me. A shop in Denver could modify a 2.0L, DOHC, 16-valve, fuel-injected Ford engine of about 155 H.P. with a 5-speed stick that would fit the engine room.
"I made a deal with Caterham to send everything except the engine. I received five crates of parts and instructions; the engine came separately. Six months later, I hit the road. My 1,300-pound rocket embarrassed many Corvettes at a stoplight Grand Prix.
And finally Natalie Abderhalden, also from Punta Gorda, said she likes Fords, too.
"I enjoyed the story on your trusty Ford. While employed at a Ford dealer, new 1998 Explorers were offered with 0% financing. My red XLT was so reliable and years later, what made selling it less sad, was the new black Mustang convertible with red leather that took her place!"
I can imagine Natalie now cruising in that Mustang convertible.