MURDOCK — COVID-19 cases continue to drop in Charlotte County, although the positivity of viral testing is higher than the state average, Health Chief Joe Pepe told commissioners Tuesday.
Pepe said cases are down to under 30 a day reported from testing sites. Data from the Centers for Disease Control, however, show weekly cases for the county, ending Oct. 8, numbering 287, averaging 41 a day. This is down 23% from the prior week.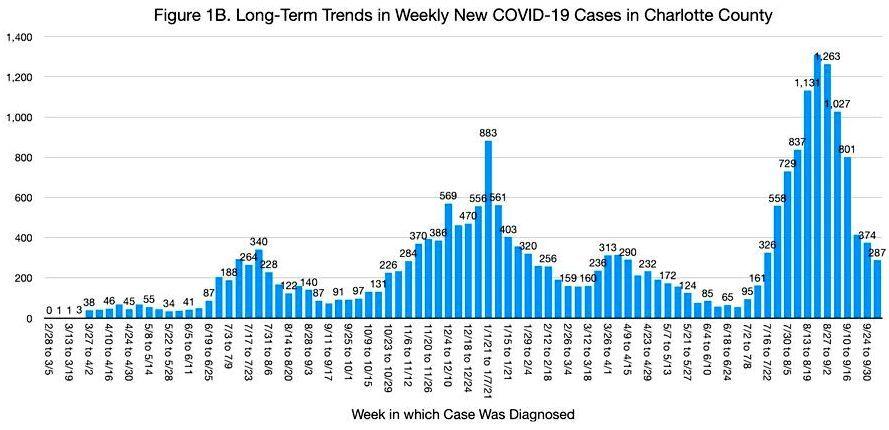 Asked about reinfection and breakthrough cases, Pepe said he believes that data may be available for the county. He was not able to provide it by publication time.
Reinfection is when a person tests positive a substantial time period after having already recovered from COVID-19. Breakthrough cases are when a fully vaccinated person tests positive for COVID-19. Some reinfection cases may be from people who have also been vaccinated.
The CDC and other health authorities are now studying reinfection rates to determine whether being vaccinated is better or worse than prior infection at reducing the chances of reinfection. An early study in Kentucky suggested vaccination is 2.34 times more effective than prior infection, but the study sample of double-infected patients was only 246 people, some of whom were vaccinated in between infections and most of whom were not. The time between recovery and reinfection had to be at least five months.
The positivity of tests, or percent of people tested showing up positive for COVID-19 this past week in Charlotte County, was 8.1%, Pepe said. The state average is 4.8% he said, which may show that the county is focusing its testing where cases are most likely.
The CDC reported the positivity for the county at 11.34% and for the state at 5-7.9%. There were 33 patients hospitalized in the county for COVID-19, and COVID-19 patients occupied 19.3% of intensive care beds. These are substantial declines from the prior week.
Pepe did not have a number of people in Charlotte County dying from COVID-19 in the past week, and the CDC suppressed the statistic as under 10. Pepe said the CDC's report in late September of 46 weekly deaths in the county was not accurate. He said he can only guess that the state Department of Health was reconciling unreported deaths from 2020.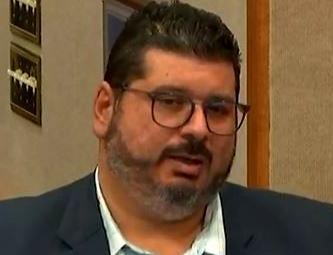 Currently, the county and medical professionals are reviewing the latest potential COVID-19 death reports, Pepe said. "We are working right now on significant validation of cases," he said.
That means a team of professionals reviews death certificates of people diagnosed with COVID-19, to determine if the death was from COVID-19. The state has begun a disputed practice of reporting those deaths by the day of death, even though the determination of death is done days or weeks later.
Pepe said he expects a long, gradual decline in cases over time, unless another genetic variant takes hold that evades vaccines.
Pepe said 91% of the county's population 65 and over was vaccinated. The CDC put that number at 82% fully vaccinated and 96% partially vaccinated in that vulnerable age group. CDC shows 58.6% of the total population as fully vaccinated at 63.4% of the population age 12 and over, or those vaccine eligible.
Statewide, the number of people initiating vaccination the week ending Oct. 8 was up 8.5% over the prior week.