MURDOCK — Murdock Village is heading for the certainty of more housing rather than an uncertain future of high-paying jobs following a 4-1 vote of Charlotte County commissioners.
Commissioners took turns Tuesday saying how much they liked a $14 million proposal by Georgia-based developer Trinity Development Group, which included the possibility of a senior wellness community, a truck battery startup firm and a brewery.
In the end, however, they picked Kolter Land Partners, which is already selling 20 homes a month in the 450-acre neighboring parcel next door. Kolter plans another 500 single-family homes and 304 apartments or townhomes on the remaining 185 acres of Murdock, between U.S. 41 and State Road 776.
To compete with Trinity, Kolter added more retail space and is leaving 50,000 square feet for medical space in the future, with no tenant in mind yet.
Kolter is also negotiating to bring in retail developer Sembler for part of the site.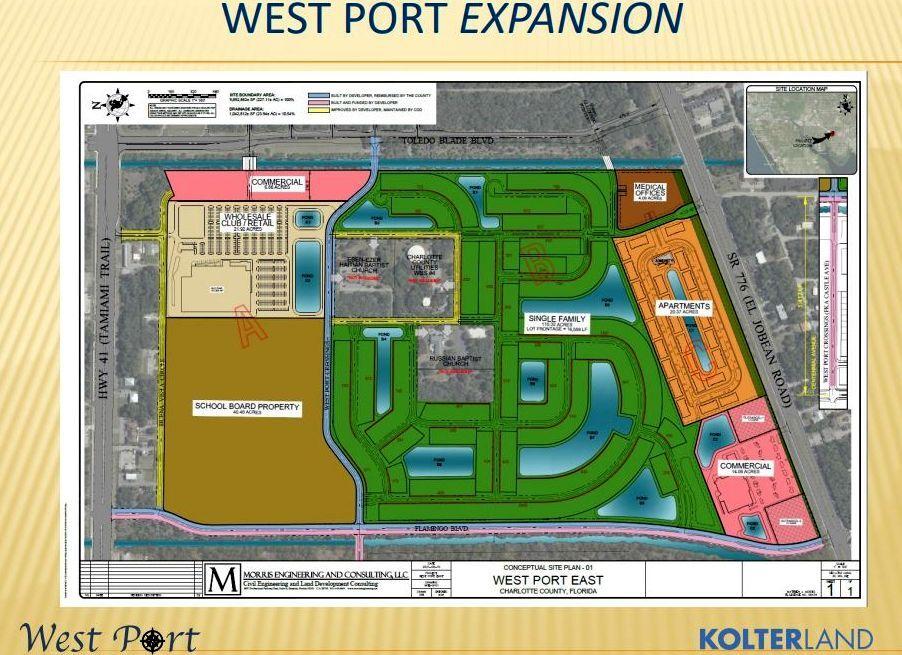 For housing Trinity had proposed 150 single-family homes and 400 apartments or townhomes. It also proposed 1.5 million square feet of commercial space and promised far more jobs with much higher pay than pure retail.
But its plan would have taken more years to complete with the developer paying a kind of lease over the years until finally buying the land.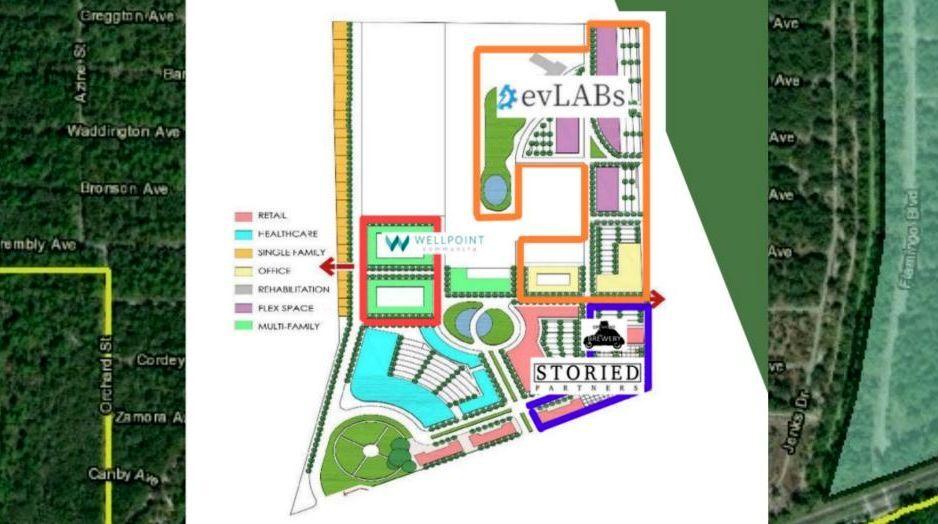 Kolter President Jim Harvey said his company was ready to go in a year.
"What you can expect from us is action," he said. "We're not looking for a seven-year option."
Before the vote, Commission Chair Bill Truex summed up the moment of deciding on the last of three major pieces of land on a region more than 1,000 acres in size. Murdock is considered the county's missing center.
"We're at the end of the story on this, and our decision today has monumental value to the legacy of the entire process," Truex said. "Our stamp on this and the last few pieces in there is really going to be what people remember."
A previous board made the decision almost 20 years ago to buy more than 800 acres of marginally developed land in the town center, piece by piece.
That kind of purchase for commercial development is no longer allowed. A recession stalled development for years. The county has been paying on a $120 million debt all along.
Commissioner Chris Constance voted against the proposal, saying he could not fully support either.
"I'm not going to be able to support it, because I still would like us to have a job creator," he said. "This is not what I envisioned, although I appreciate the tree buffer."
He said he appreciated the east-west roads and everything Kolter has done after the firm has been asked.
"Since we got involved in this 11 years ago, the vision was to get real employers out there," Constance said of the current board. "We need something where the School Board envisions the future, because our best and greatest wind up leaving this county."
Both Truex and Commissioner Joe Tiseo said after the vote that they hope Trinity will play a role in the stalled project on the other side of Murdock — an innovative downtown and a water park.
"Maybe we have an opportunity to rectify what's not going through right now, and maybe make whole the taxpayers without losing everything from Arredondo," Truex said, using the name of the project to the east.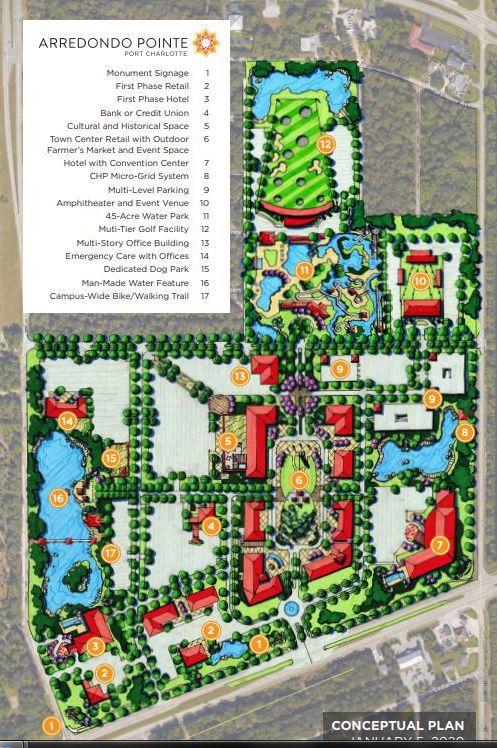 Economic Development Director Dave Gammon told The Daily Sun on Wednesday that Arredondo Pointe developer Lost Lagoon LLLP has already met with Trinity, but the county has not been involved.
Lost Lagoon has a deadline next week to break ground on widening Toledo Blade Boulevard, Gammon said.
Commissioner Stephen R. Deutsch said the failure so far for Lost Lagoon to break ground on its project may have influenced him on approving the ambitious but uncertain commercial plan from Trinity.
"I want to see something happen right away. I don't have another 20 or 30 years to hang around to see something happen," the 81-year-old Deutsch said.
Deutsch spoke of the water park and its future.
"I was looking forward to going down the slide at the ribbon cutting," he joked. "Unfortunately, we're not anywhere near where I thought or hoped that we would be today."
Commissioner Ken Doherty said he wants to get out of the real estate business.
"This community has agonized over this real estate for a long time, and is ready to get it back on the tax roll," he said. "I think we need to move on."