A counselor at DeSoto High School was arrested Tuesday on 10 counts of sexual battery on a minor by a custodian.
Bruce Jose Blanden Jr., 40, was arrested by the Arcadia Police Department and booked into the DeSoto County Jail on $1 million bond.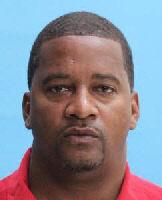 He allegedly had sex with an underage student on multiple occasions, according to the arrest report. They had sex at Blanden's house on the 1900 block of SE Maple Drive in Arcadia, and they also had sex in Blanden's office during school hours when Blanden would call her down from her classroom, the report states.
The girl told police that she and Blanden had sex in his office on eight different occasions.
She also told police that on her 17th birthday, Blanden picked her up and drove her to the football field, where they had sexual contact, according to the arrest report.
Blanden, a DeSoto High School graduate, is the head football coach of DeSoto Youth Football, according to his social media pages.
Blanden was employed by First Step of Sarasota and was assigned to work at DeSoto County High School as a counselor, according to DeSoto County Public Schools spokesman Mike Roberts.
First Step of Sarasota is a nonprofit organization that offers mental health and substance abuse programs for adults and children.