VENICE — As America marks July 4, the life of a Venice resident is being re-examined and crafted into a screenplay about his time as a POW brought back from a prison camp by his father.
David MacArthur died in 2017 at the age of 92. After his obituary ran in local newspapers, it caught the eye of the brother of a New York City literary editor.
Within a few weeks, a few phone calls were made touching base with Sharon MacArthur about just how much of her husband's extraordinary life was real.
Author R.C. George would ultimately fly into Venice and spend a week with Sharon MacArthur, going over the heroics and hysterics that ultimately led to "Lightning Sky," the story of Dave MacArthur's life.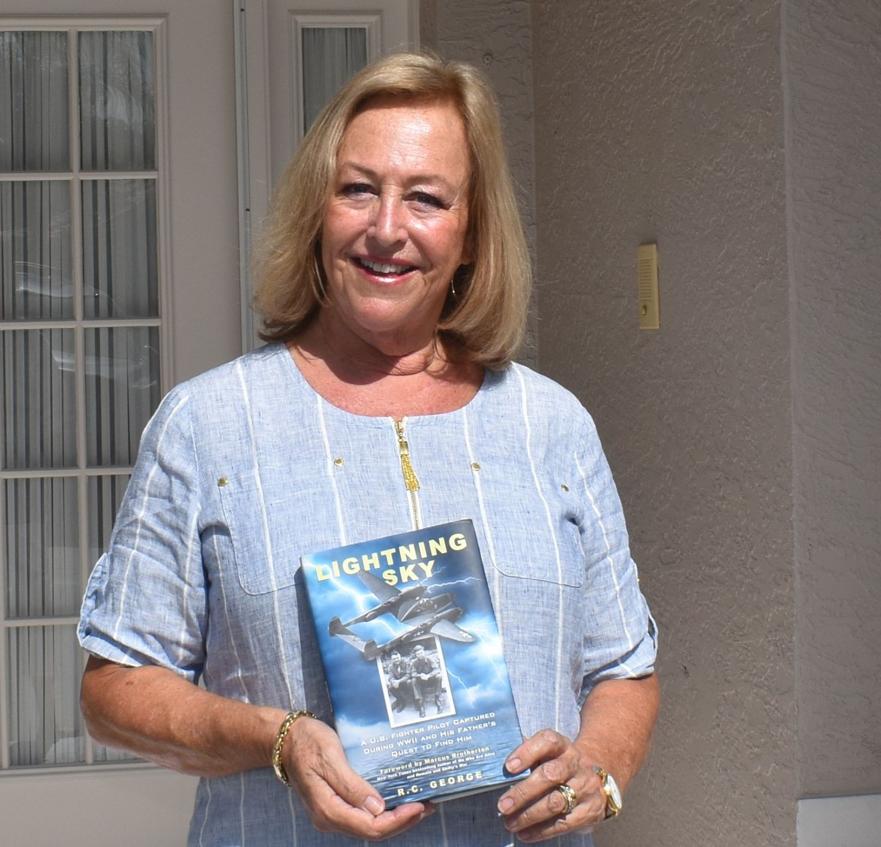 "She would give me these amazing, fantastic stories from his life and I kept thinking there's no way this all really happened," George said recently. "So I remember sitting on the couch with this, and it was like this "Forrest Gump" kind of life."
He got into fisticuffs with the Kennedy brothers (Jack and Bobby) in a Boston pub; he shook hands with the pope and was going to have a quiet meeting with him until the pope had to have an audience with Winston Churchill; he was shot down and shipped around Europe during the later stages of World War II; he spent time in a cramped railcar with Tuskegee airmen; and he suffered lung damage from a few days at Dachau.
And he'd be brought back to freedom after being found in a Stalag by his father, a lieutenant colonel in the U.S. Army who made it his personal mission to find his POW son.
"Please let all of this check out," George said, recalling the days of research that went into the 312-page book.
George signed the rights to an agent for the next step. That story is now in the hands of a Hollywood screenwriter who will work the novel into something that could become a movie.
Both George and Sharon MacArthur noted the boxes of paperwork that Dave MacArthur left, including his letters and documentation from the Air Force. It was a treasure trove for the writer and an emotional experience for his widow.
There was even one box labeled "For the Book" — a project MacArthur would occasional start and stop on his own.
Inside was correspondence between father and son.
"Their letters as Dave was going through flight school and all through his life were so respectful, and you can tell how much they loved each other," Sharon MacArthur said.
When Dave MacArthur graduated from U.S. Army Air Corps flight training in Eagle Pass, Texas, his father gave the commencement address. His father had previously been in the Army but at the time was a Methodist minister trying to figure out how to pay for his sons to attend college.
World War II had changed some things, but Vaughn MacArthur was paying attention to the work of his church.
Dave MacArthur was shipped to the 49th Fighter Squadron, based in Italy. In October 1944 he was not supposed to fly but the pilot scheduled that day couldn't be found anywhere. Flying his Lightning, which the Germans called the fork-tailed devil, he was struck and crashed in water near Thessaloniki, Greece.
He was fished out of the water by Germans.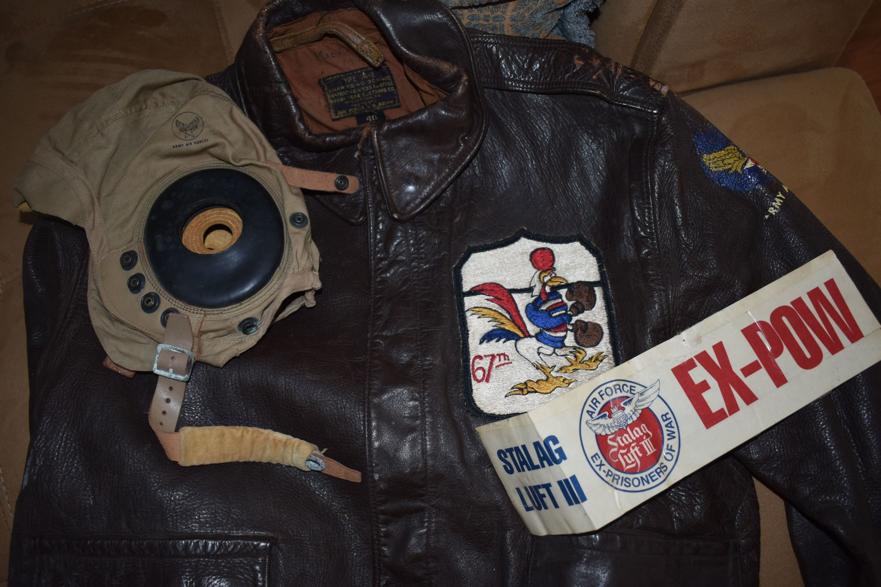 Based on after-action reports, the family knew he was a prisoner of war.
And that started Vaughn's new calling.
"From the moment he set foot on European soil, he made it his mission to find his son," George said.
His father, 44 when he got to the front, was considered too old for the war but he persuaded officials to send him to Europe as a chaplain.
He arrived with the 8th Armored Division of Patton's 3rd Army.
While he was with the 8th, his son was going from stalag to stalag, spending time in camps and escaping an infamous winter march three times, only to be captured again.
Vaughn MacArthur would ask about any camps that were found or nearby or being liberated.
The chaplain would grab a translator and a vehicle and go check them out. Higher-ups didn't seem to mind much and he was beloved by troops in the 8th Armored, so nobody stopped him on his mission.
"Finally, he was reading an article in the Stars & Stripes that detailed a camp that had just been liberated the day before — it was Stalag Luft III," George said. "So he reads the little snippet and there were a lot of U.S. pilots there in the camp. So he just had that gut feeling that only a parent can have. He convinces his higher-ups to let him take a plane and pilot to see if that's where his son is."
As the war started to close, Nazi guards and German soldiers started leaving Stalag Luft III.
"All those (prisoners of war) had stayed there because they didn't know if the war was over," Sharon MacArthur said.
It led to a haunting incident that R.C. George discovered in her research.
In his writing, Dave MacArthur wondered if the Americans and Germans troops were that far apart.
"He remembered one German who stayed so he could continue feeding the prisoners. When the U.S. troops came, they shot this guard. And Dave thought: It did not have to be that way," George said. "He had a very nuanced view of war. He was willing to do whatever it takes to keep his country safe … but he was very aware that it was not always a black-and-white issue …. Sometimes the enemy is not that much different from us."
The camp was consolidated from several large camps. It was a sea of men technically liberated, but now being slowly processed by Allied forces.
Vaughn MacArthur was a passenger in a two-seat plane, already cramped. After landing in a nearby field, he walked toward the fences and barbed wire and noticed one man.
"Popping out over the top of it, he sees this lanky, red-headed kid and he just knows it's his son," George said. "His dad just started shouting his name."
Sharon MacArthur knows the story.
"(Dave) heard his name being called. It was a huge campus, but he turned to look to see where they sound was coming from and saw the cross on the helmet and it was his father," she said. "How providential."
Vaughn MacArthur, according to Sharon MacArthur, would spend several days with his son in the camp, wanting to know what Dave and the other POWs experienced and eventually experiencing the lice and some other miseries.
Later, they would fly out — a pilot and two men in a two-man plane. Vaughn and Dave faced each other and were able to fit because Dave was so thin.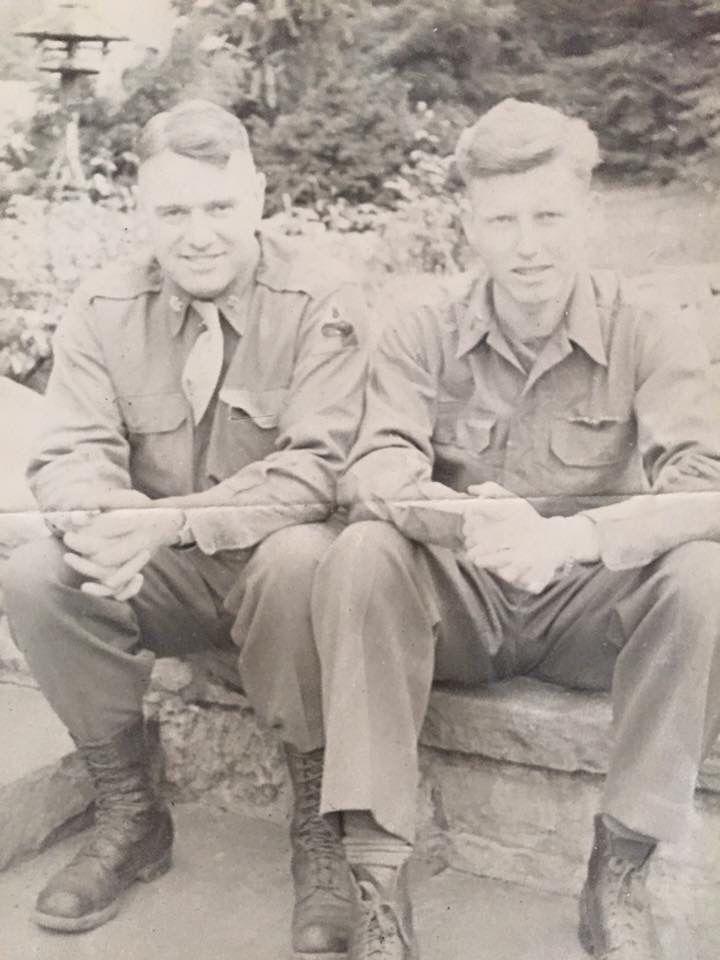 Vaughn MacArthur was able to bring his son back to the 8th Armored, where they were given the quarters of a high-ranking officer so they could try to relax.
"How far a father would go to save his son?" George asked, fighting against time, the elements, circumstances. "It happened in May just before Mother's Day. When he was able to take him with him, he wrote a telegram back to Dorothy (his wife) that said: 'I have the best Mother's Day gift I could ever give you — I have found Dave and he is safe.'"
Tragedy would strike a few weeks later.
Dave MacArthur returned to America but his father stayed behind to take care of the spiritual needs of troops as the war ended. After VE Day, Vaughn MacArthur was killed in Czechoslovakia.
The funeral for Vaughn MacArthur brought together men who loved him.
His father's faith in family and God had a big impact on Dave MacArthur, who stayed in the military.
Distinguished Service Cross
"Lightning Sky" opens with his life in Korea, where Dave became a hero to his own troops.
"He was very inspired by his father and what he did — the sacrifice that his father had given," George said. "Dave carried that with him for the rest of his military career. He was an excellent steward of his family's legacy."
As a forward air controller in Korea, he found himself behind enemy lines as North Korean and Chinese troops, backed by Soviet equipment, thrust south. He and his men were nearly surrounded.
"Because he'd been taking prisoner in World War II, he just knew that would never happen again — but he was faced with that possibility in Korea," George said. "He ended up muscling a jeep convoy through heavy enemy fire and really saved the lives of 127 men."
It took them through about 60 miles of firefights and bombings in enemy territory.
For his efforts, he received the Distinguished Service Cross — second in prestige only to the Medal of Honor.
"He just went on his missions to do what he had to do," Sharon MacArthur said.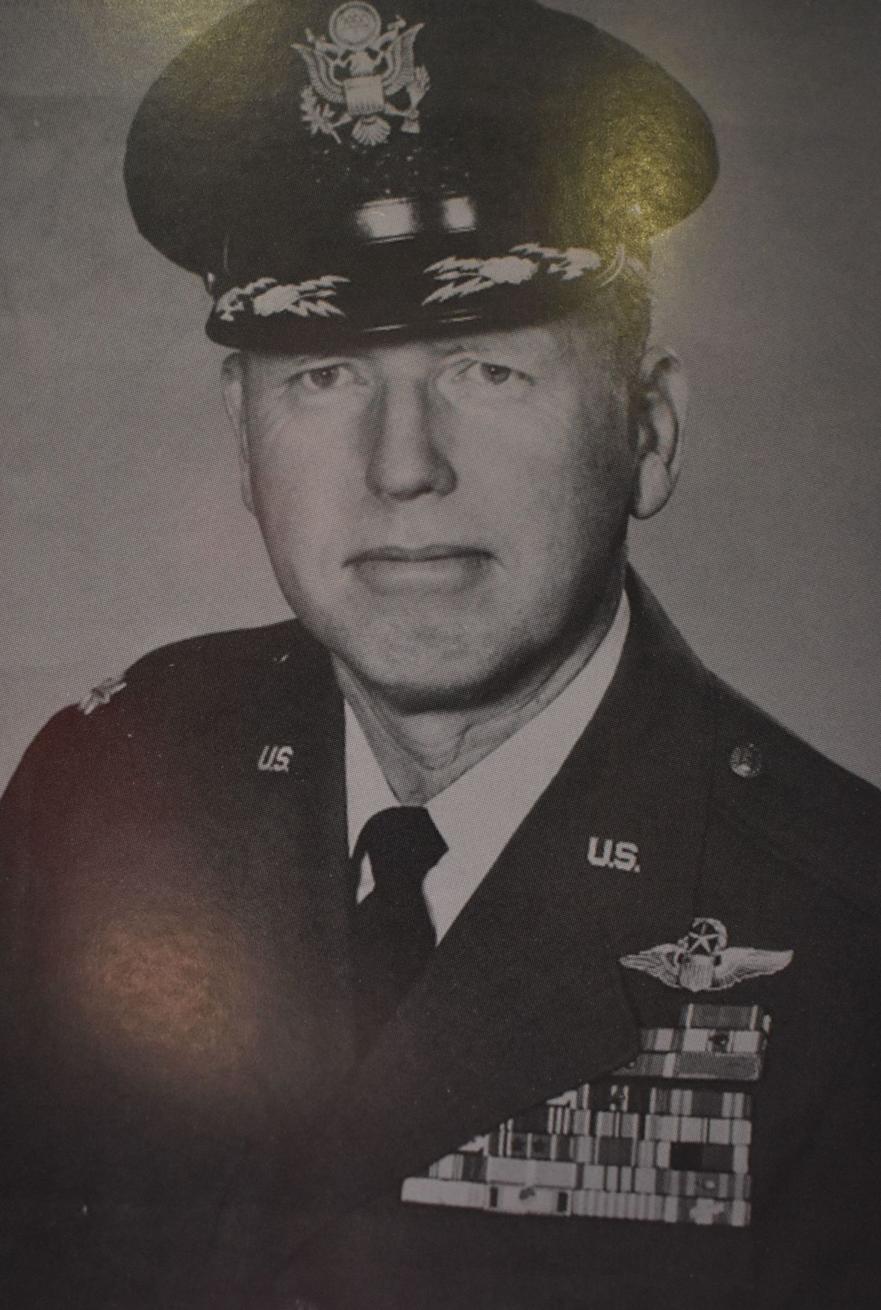 He would remain in the Air Force and serve in Vietnam as well, she said, flying as a SAC B-47 pilot for seven years, later as an F-105 pilot in Southeast Asia, then as a test pilot.
He liked to occasionally call himself an "ace for the enemy," based on his role in a movie.
He was assigned to Hawaii during the filming of the World War II epic "Tora! Tora! Tora!" For the movie, Dave MacArthur would fly a T-6 Mosquito that had been modified to resemble a Japanese Mitsubishi A6M Zero.
MacArthur was told to act like he was dying. It was a frustration for the director because after 10 takes, Dave couldn't quite do it right.
It was really kind of poignant for him, George said.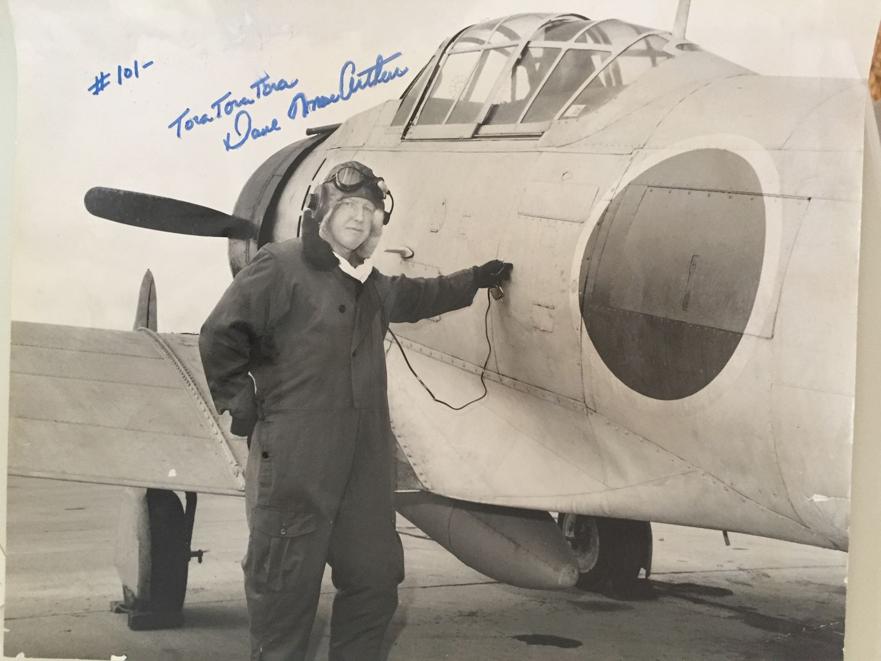 "Dave MacArthur just did not know how to die," she said. "He was in situation after situation after situation and just knew how to be persistent … He had the kind of fortitude that is remarkable and we don't see a lot of."
A lifetime later, Dave MacArthur would see a fellow pilot again.
At the 45th reunion of the 49th Fighter Squadron in 1990, a man named Al Nerney and MacArthur were brought together.
Nerney was the pilot nobody could find to fly the mission in October 1944 that led to MacArthur being shot down. He had thought for 45 years MacArthur had been killed
"He lived his entire life thinking he'd been responsible for Dave's death," George said. "Al Nerney looked like he'd seen a ghost and could not speak …. 'I went to confession every day, I prayed for your soul every day because I was certain I'd sent you to your death,' he said."
Sharon and Dave met at a restaurant in Maine in the 1980s. He was a widower; she was divorced. It started among a large group of friends but became their own relationship. Their first date was on motorcycles.
"He was always ready for the next adventure," she said.
They married in 1988 at the United Nations chapel in New York City. They began visiting Venice in the 1990s and moved here permanently in 2003.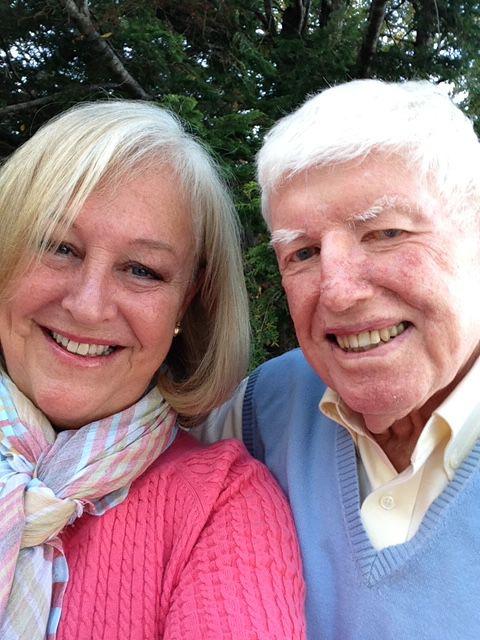 "Dave was smiley, easygoing," she said. "He could talk to anybody."
He had issues that went back to his days of being a POW and his Korean experience.
The pantry needed to be filled. No rice needed to be served, ever. He didn't want to ever take a cold shower, and he wanted toilet paper always to be available.
"He would have been OK during (the COVID-19) pandemic," she said with a laugh.
If anyone asked him about his experiences, he was not shy about answering. But he didn't share everything, she learned after he died. He spoke about his misery in the camps but not about what he witnessed.
"He never said it was women and children from the village who he'd seen shot," she said. "I never knew that until I was going through some documents in our garage after he died."
He was able to go through tough experiences — more-so than other people, she said. It came back to his quiet faith, Sharon MacArthur believes.
"His father was an Army chaplain and a Methodist minister, so he grew up under that umbrella, so maybe it was his faith. But he never much professed about it … but it probably was his faith."
In December 2016, hospice held a pinning ceremony at their home as he was fighting esophageal cancer. Members of all the military branches were at the event.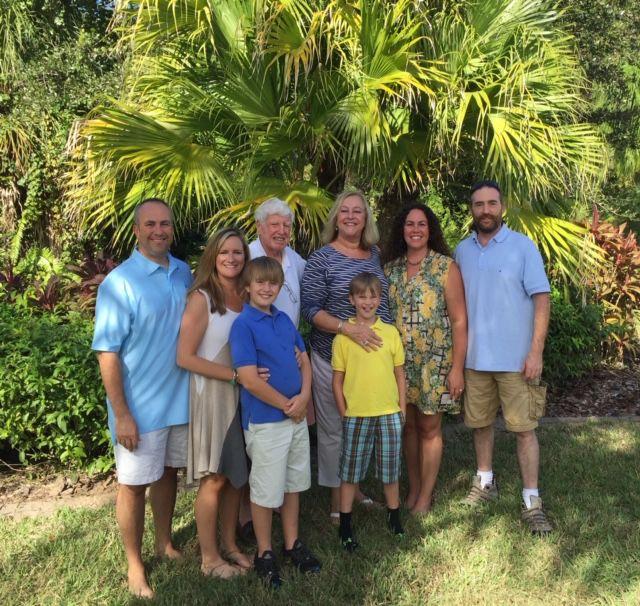 "He was barely talking at the moment at the time. When they pinned him and were reading a plaque to him, he said: 'I love my country,'" she recalled.
She said he'd probably be humbled and surprised by the book and start of a screenplay, even though he'd tried to work up his story through the years.
"He was so proud to fight for his country," MacArthur said.
It was a different mindset of people fighting for freedom; people who had experienced life without it.
"He was part of a generation that was willing to do the hard things to make the American way of life possible. It wasn't perfect, but I think Dave very much saw humanity worth fighting for," George said.