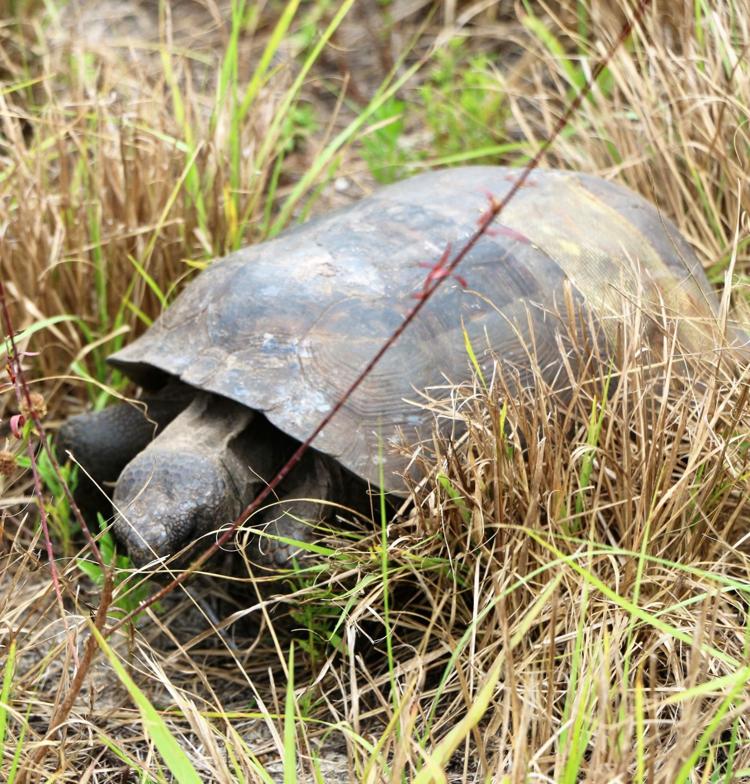 Let's say you lived on the same street for 40 years. You never left home, and lived a busy, routine life, eating plants, digging long tunnels and keeping track of your neighbors.
You were looking forward to another 50-60 years of this — well, maybe you can't think of the future — but you had no reason to expect a change.
Then, suddenly, a backhoe shows up and a nice biology undergraduate pulls you out and puts you in the back of a truck. A few weeks later, they put you down on a strange piece of ground and say, "This is your new home. Start digging."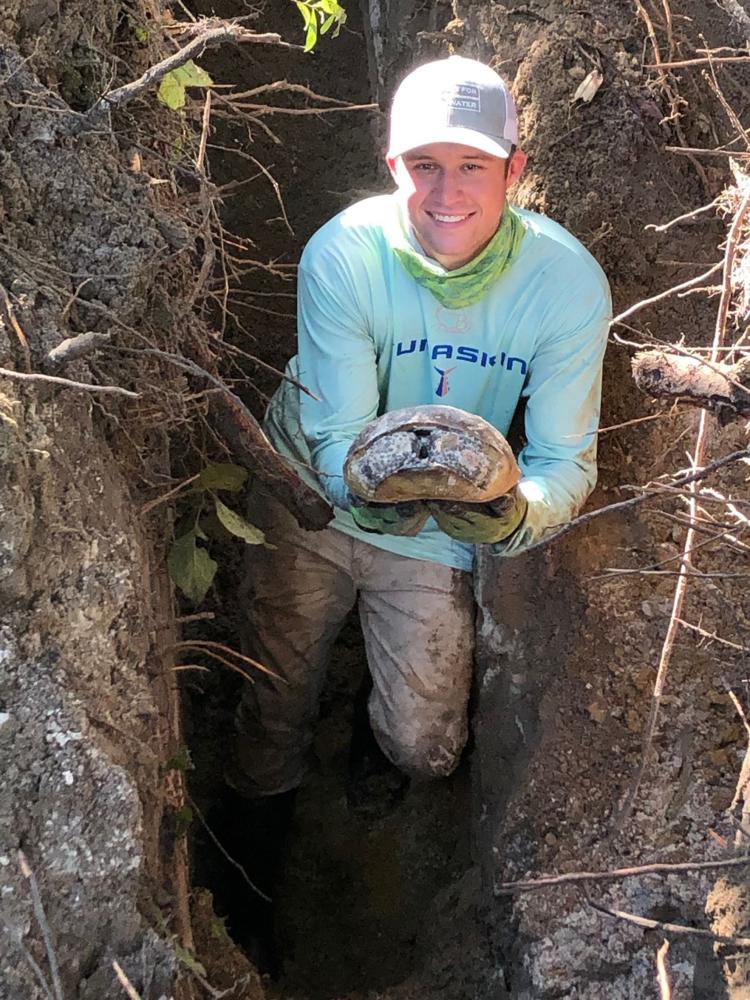 The story doesn't end here, tortoise researchers are saying.
To continue, some of your friends and relations cooperate, but you refuse. All you want to do is go back home. You spend your days roaming the surface of the land, looking for a way out, only to run up against fences. You can't bring yourself to eat or drink or dig a burrow. If the coyotes don't find you first, you gradually waste away, and then you die.
It's a grim story, but an important one to pay attention to, say reptile experts in Northwestern Florida. They believe it is an explanation for the loss of about 13% of gopher tortoises on a 40-acre experimental relocation plot in the Panhandle.
"They're not eating, that's the main thing. For whatever reason, they're just kind of shutting down," said Matt Aresco, director of the 54,000-acre Nokuse Plantation in the Florida Panhandle.
Aresco is a PhD-level scientist who, along with the staff at Nokuse, has been studying the survival rates of tortoises relocated due to development. Nokuse has been receiving these animals for the past 12 years as part of the state's species protection requirements. What they are finding is both good and bad news.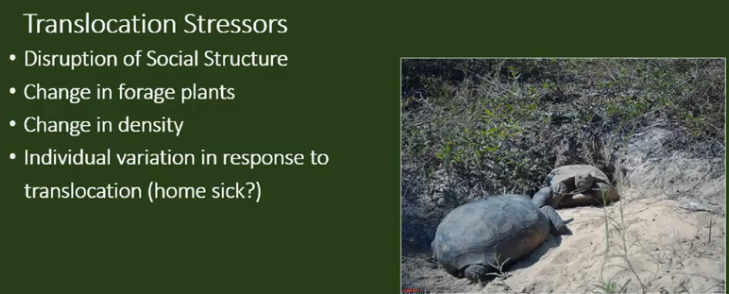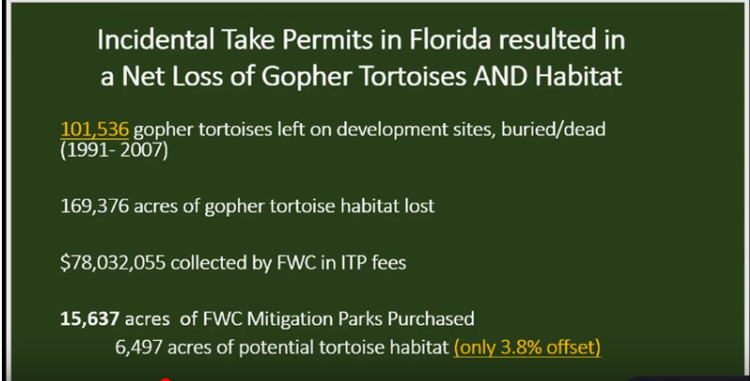 For the bad news, they have come up with a possible strategy, if not a solution.
It used to be legal to outright kill tortoises
But first, here's some of the history of gopher tortoise treatment in Florida. In the early days of development, gopher tortoises and all other species were collateral damage. Not until the U.S. Endangered Species Act of 1973 were governments forced to pay attention to species threatened with extinction.
Florida came up with a plan for tortoises, which it turns out provide habitat for countless other animals with their burrows. The plan was that developers should dig up tortoises on their site and move them to a suitable location. If that was too much of a hassle, however, developers were allowed to continue to do what they had always done — bury the tortoises alive or kill them with heavy machinery.
For this choice, they had to pay a fee. Guess which choice they often picked?
Aresco chronicled this history at the annual Gopher Tortoise Council conference in November. He credits newspaper articles in 2007 with spreading the word to the public about what was happening to tortoises. Another piece of damning news that got out — money collected from the permits was not going to buy new tortoise habitat as promised. Legislators kept using it for other things.
After that, in 2007, relocating tortoises became mandatory, but landowners were allowed to apply for one last "incidental take" or the bury-them-alive permit. The state issued thousands of permits in those last days before the new regulations took effect. These were projects that were not even likely to happen, but developers grabbed the permits, because they had no expiration date.
Today, Nokuse tries to take in as many tortoises as they can that still live on land with an incidental take permit. Those relocations are done by volunteers, Aresco said. Otherwise, relocation can cost $13,000 to $15,000 a tortoise.
That's a cost that developers now shoulder. In recent months here in Charlotte County, developers have hired environmental specialists to remove hundreds of tortoises before clearing hundreds of acres in Murdock Village. And in Punta Gorda, the county is removing tortoises for the final phase of widening Burnt Store Road.
Charlotte County is also taking in tortoises, 44 in total, at the Tippecanoe Environmental Preserve. The state approved that site as relocation habitat, but it's already at its limit.
New conclusions about relocating tortoises
It was alert reader Carol McCoy of Englewood who told the Sun about the tortoise research in Nokuse. That research showed that while the relocating tortoises is necessary, it is not necessarily happy.
"When I relocated to Florida, the first local I met was the gopher tortoise living next to my pool," she said. "I named it Cecil."
McCoy has become a certified Florida naturalist since coming to the state and participates in many wildlife protection projects. She wanted the public to know about the complex issues in saving Florida's animals.
"People relocate to Florida for nature and wildlife viewing opportunities," she said. "If suitable tortoise habitat is paved over and a species we claim to protect goes functionally extinct, Florida will be just another warm place."
McCoy attended the annual tortoise convention where she heard Aresco's report as the keynote event.
"I was absolutely appalled and incensed about the mortality translocation rate," she said.
Charlotte County tortoises have ended up in Nokuse, Aresco said, but only from the volunteer deliveries. For new permits, he said, the state Fish and Wildlife Conservation Commission does not allow tortoises to be relocated more than 100 miles. Aresco believes this restriction is unnecessary. Their research shows the tortoises adapt well to being farther north.
Southwest Florida tortoises are huge, Aresco said, perhaps because they have a shorter winter dormant period.
The alarm was sounded after Aresco's research showed that in some of the early enclosures of Nokuse, the mortality of adults was alarmingly high over a seven-year period. Researchers set about evaluating causes of death. They found predation by coyotes, and they found an unexplained wasting away of the tortoises who had no other form of disease.
The wasting away was much bigger a problem than predation, which is limited by electric fencing. They found no communicable disease. Food was plentiful.
They connected this finding with their own observations of what tortoises do when they are brought to the preserve. They wander above ground for days, weeks, failing to burrow — which would protect them from predators. They wander to the fencing, trying to get out.
Basically, they seem depressed.
"They're just not happy," he said, adding that there needs to be more research on tortoise social behavior.
What can be done for these animals? They can't stay where they were and there is no tortoise counseling.
What can be done about "depressed" tortoises?
The Nokuse team has one strategy that they have implemented already. It will take some years to find out if it works. They have limited the number of tortoises to 1.5 per acre in each relocation site. That's dramatically lower than the state limit of up to 4 per acre. They picked that number, because that is the typical density in a natural site, and also, because the newer Nokuse sites with that density have much lower mortality.
Not everyone agrees with Nokuse. Local environmental consultant Ian Vincent, whose firm handles 12% of the state's tortoise permits, said lowering the density would endanger tortoises rather than save them.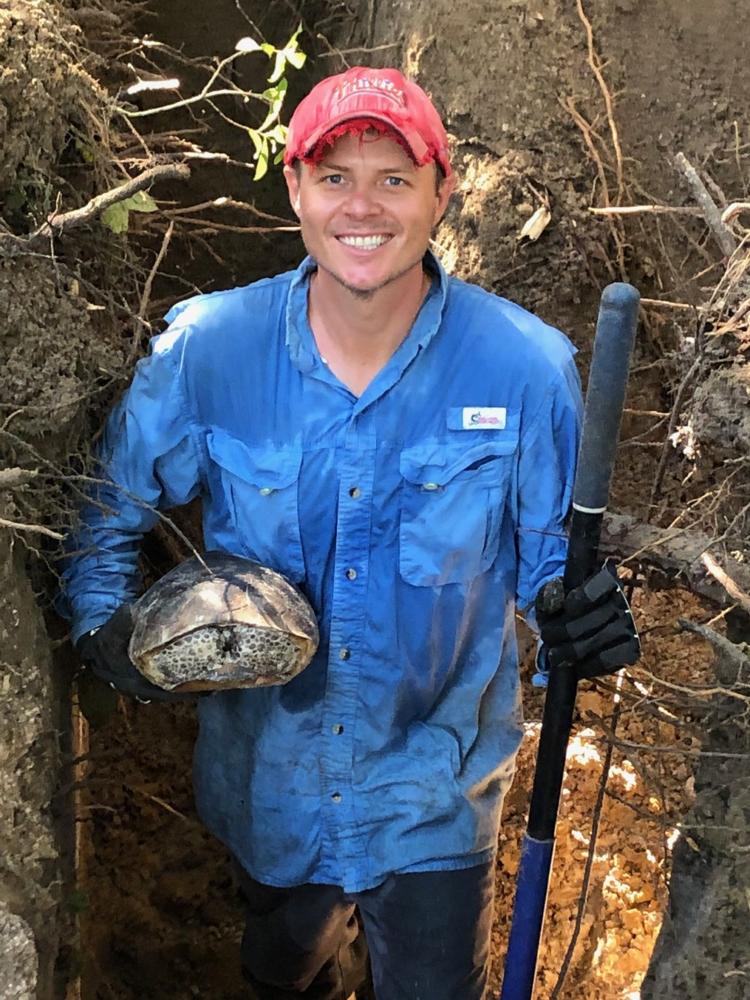 "That's crazy," said Vincent said, when he heard of the Nokuse research conclusions.
Vincent said lowering density on tortoise preserves means fewer places to send the animals.
"I would argue that FWC doesn't allow enough density per acre," he said. "We're already struggling with capacity at the recipient sites."
Of the thousands of tortoises Vincent has handled, none seem stressed when they are removed.
"I've never had any one show any sign of stress when we're holding it," he said, of the days or weeks they may hold on to tortoises before the recipient site is ready.
Vincent has a degree in resource conservation and management along with 23 years experience relocating tortoises. He acknowledged, however, that he has not been to a recipient site. His crew handles the tortoises for many days; however, other crews take them to their final destination.
His experience tells him, he said, "They're pretty adaptable animals."
Aresco agreed tortoises are adapting to more crowded settings over the decades as their habitat dwindles.
"They can probably hang on, on a lot of un-managed sites for a long time," he said.
Baby tortoises disappearing
Another problem is that the state is losing immature tortoises, Aresco said. The reasons are hard to prove.
"They just disappear," Aresco said. "They're bite-sized."
Juvenile means between 12 and 20 years old before reaching sexual maturity for this slow-growing animal, Aresco said. With the large loss of juveniles, the state needs to be able to protect as many adults as possible.
"If we're going to be relocating the right way, we need to understand social interaction much better," he said. "They're going to to continue to decline if we don't step up and solve this problem."
Not all is lost, however. In many sites that have low density, Aresco said, "We're seeing that we're building viable populations, and that's good news."
McCoy wants to see signs on all development sites showing the tortoise permits.
"The public needs to be able to walk up to a lot and look and verify the status," she said. "There may be pushback claiming that this would cost too much. In reality, the true cost of doing nothing will be the extinction of an ancient, long-lived species that was here long before us."