Local officials don't want big bureaucracy to decide which road projects get done in Charlotte County and Punta Gorda.
In Monday's quarterly meeting of the Metropolitan Planning Organization, local officials complained about certain projects that seemed to be pre-destined in favor of projects they felt were more important. They voiced their complaints to staff from the Florida Department of Transportation, which handles the major roadways such as U.S. 41, Interstate 75, State Road 776 and Kings Highway.
U.S. 41 corridor revisioning
The state's revisioning project in Punta Gorda includes an idea for turning traffic lanes on U.S. 41 into bike lanes in downtown Punta Gorda. Commissioner Chris Constance and Mayor Lynne Matthews both object to anything that slows traffic in the city's small, tourist-oriented downtown.
That project is still in the public comment period, said FDOT engineer Justen Abraham, so these objections will be recorded.
Bikes could be routed to other side streets downtown, both Constance and Matthews said.
FDOT staff outlined their longstanding plans for widening Jones Loop Road to six lanes from Burnt Store Road to Piper Road. Back when the plan started, development looked busier out there, said FDOT engineer Patrick Bateman, but activity has shifted to other areas. So the state has decided not to widen the western portion of the project, from Taylor Road to Burnt Store and leave it just four lanes. They still plan to widen the rest to six lanes, including the entrance and exits onto I-75.
"Why are we even looking at Jones Loop when we need to do Harborview?" Constance asked.
He noted in frustration that FDOT deals with different pots of money that have different rules making it difficult for the county to get its highest priority projects funded.
"I don't want the bureaucracy to take over," he said. "We sit here because we work for the people, and we have to make sure we do what's best for them and not what's most convenient for the way the bureaucracy works."
Alligator Creek pedestrian bridge No. 2
Constance said the money on this project would be better spent on more urgent needs.
Constance is frustrated that due to a decrease in federal funding, FDOT wants to approach the $44 million project in two stages instead of one. Constance thinks getting Harborview widened sooner rather than later is more important than, for example, widening Jones Loop. Harborview is currently a two-lane road for 2.3 miles, with no shoulder and hazardous curves. It is a major evacuation route as it connects with I-75. And if Allegiant Airline's Sunseeker resort restarts, as promised, the traffic could increase dramatically, Constance said.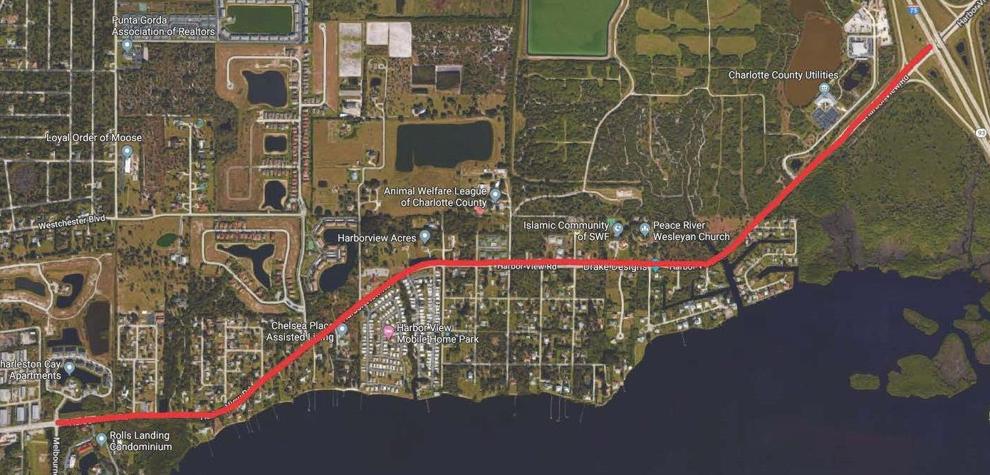 The county and state plan to work together on widening Harborview, which is technically a county road, but its connection to the interstate makes it of regional significance. The county's willingness to contribute a lot of money has pushed this project higher in priority for the state. Negotiations are still underway to determine who pays for what, said FDOT Southwest Director Wayne Gaither.
Smaller projects in Punta Gorda
Matthews and Constance were both interested in getting more signals on busy U.S. 41 intersections in Punta Gorda. In particular, they want to extend a northbound left turn lane onto Aqui Esta Drive, which they said backs up beyond the turn lane during certain times of day.
River Road in Sarasota County
As long as you're talking about projects that are a high priority, Commissioner Stephen R. Deutsch said, what about the continued widening of River Road from Winchester Road to U.S. 41? The only problem is, that is a Sarasota County road. It is a safety hazard mostly for Charlotte County residents, Deutsch said.
"I appreciate the commissioner's passion," said Constance, adding that the debate was not appropriate, because Charlotte County can't commit money for a Sarasota County project.
"I'll put in $1 and FDOT can fund the rest," quipped Deutsch.
Sarasota County did not put that project on their priority list, said MPO Director Gary Harrell.
Commissioners are eagerly awaiting the state's release this summer of its study of S.R. 776, called Veterans Boulevard in the east, El Jobean Road in the middle, and McCall Road in Englewood.
"That's going to be so critical right now with West Port," said Commissioner Joe Tiseo.
Commissioners are seeking approval and funding for projects that will handle a large jump in traffic expected with the imminent sale of homes in West Port, a large residential development authorized to hold 2,000 homes.
That road is critical to public safety in Englewood, Deutsch said, because if it gets blocked or shut down, emergency vehicles could take an hour to reach Englewood via available detours. He thinks a second bridge will be necessary in the future.
Multi-use corridors of regional economic significance
One big project is likely off the list for now. State legislators passed a law that eliminated a giant toll road planned for Southwest Florida, although they kept toll roads in central and northern Florida.