Gulf beaches in Charlotte and Sarasota counties and Boca Grande look fine this weekend with no signs of the toxic red tide algae.
Water samples taken from Boca Grande Pass north to New Pass in Sarasota County turned up free of algae or only with background counts, according to Florida Fish and Wildlife Conservation Commission reports.
Two samples taken from canals emptying into Charlotte Harbor turned no signs of the algae. But the Harbor is not completely clear of red tide.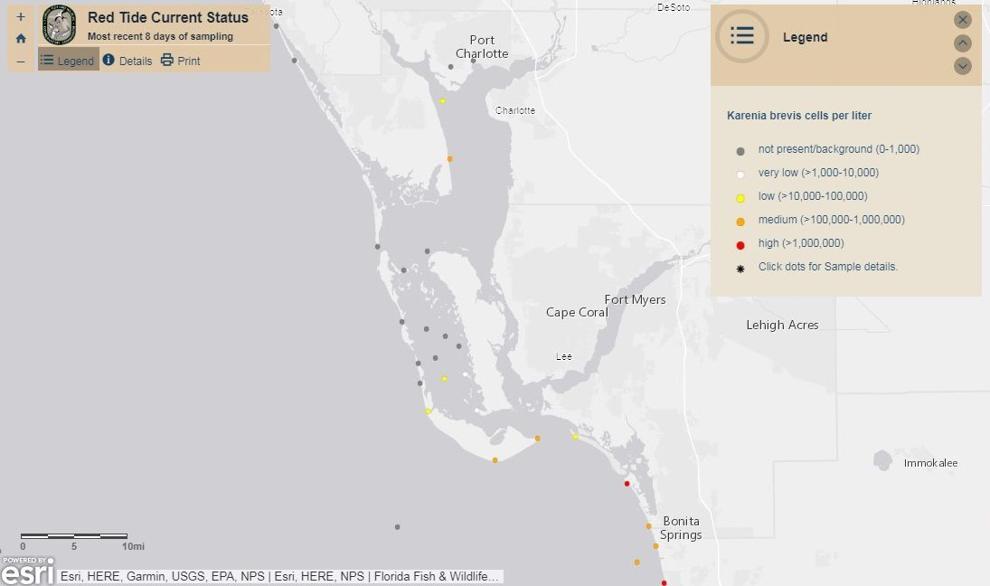 A sample taken at the mouth of the Myakka River showed low concentrations, 10,000 to 100,000 cells per liter of water. Further west, along the west wall of the Cape Haze peninsula, a sample saw medium concentrations of the algae, 100,000 to 1 million cells per liter of water.
Lee County and Collier County's Gulf Coast are seeing more intense concentrations of red tide.
According to reports, the southern end of Sanibel Island could see beachgoers affected with scratchy throats and coughing due to airborne toxins.
Water samples taken from Lovers Key State Park, south of Estero in Collier County, to the Naples Fishing Pier are seeing medium counts or high counts.
The red tide algae, Karenia brevis, is natural to the Gulf of Mexico in concentrations of fewer than 1,000 cells per liter of water.
But if the concentrations of red tide blooms exceed 100,000 cells per liter of water, humans can experience scratchy throats, coughing, respiratory and other ailments triggered by the toxins. Higher concentrations can kill fish and other marine life.
To learn more about red tide, visit myfwc.com.