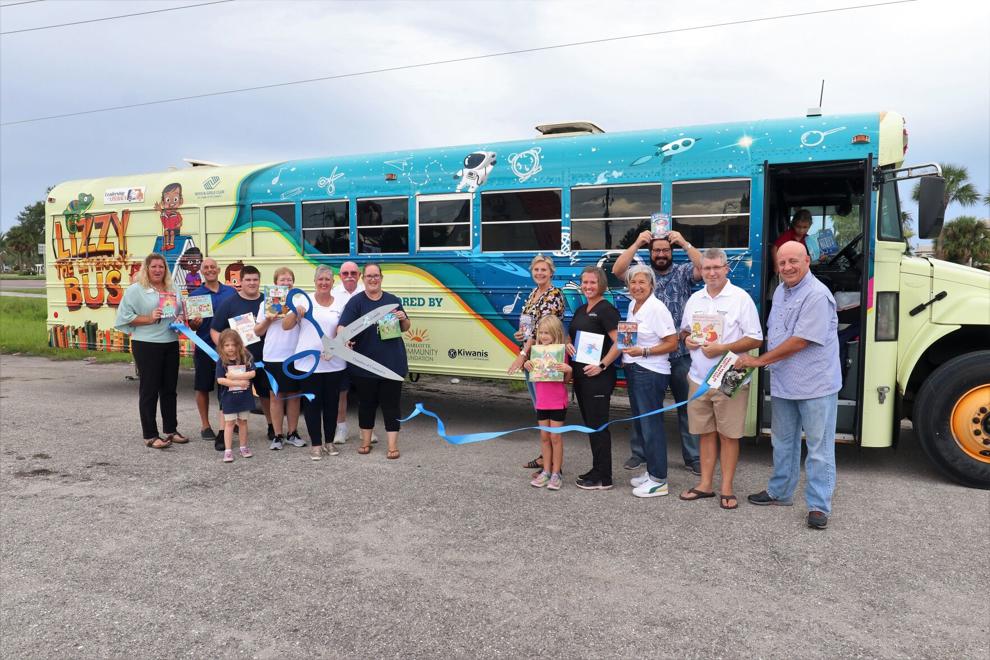 PUNTA GORDA — With around 8,000 books in stock, Lizzy the Literacy Bus is rolling its way through Charlotte County to encourage reading.
The bus has been on the road since June, but the project dates back to 2018 through the efforts of multiple local organizations, including the Kiwanis Punta Gorda After Hours club.
Around that time, Larry Taylor, who died in April 2019, had committed the PG After Hours club to providing the thousands of books that now line the walls of the bus.
His wife Marian Taylor, also a Kiwanis PG After Hours member, said her late husband's legacy lives on with every book they now deliver to local students.
"We as a family are so excited that this club is fulfilling the vision he (Larry) had," Marian Taylor said. "(Now) that the literacy bus has come to fruition, we are able to really have the impact on children's lives in our community that he knew this club could have."
Larry Taylor was a Charlotte County resident since 1969 and a Kiwanian since 1983.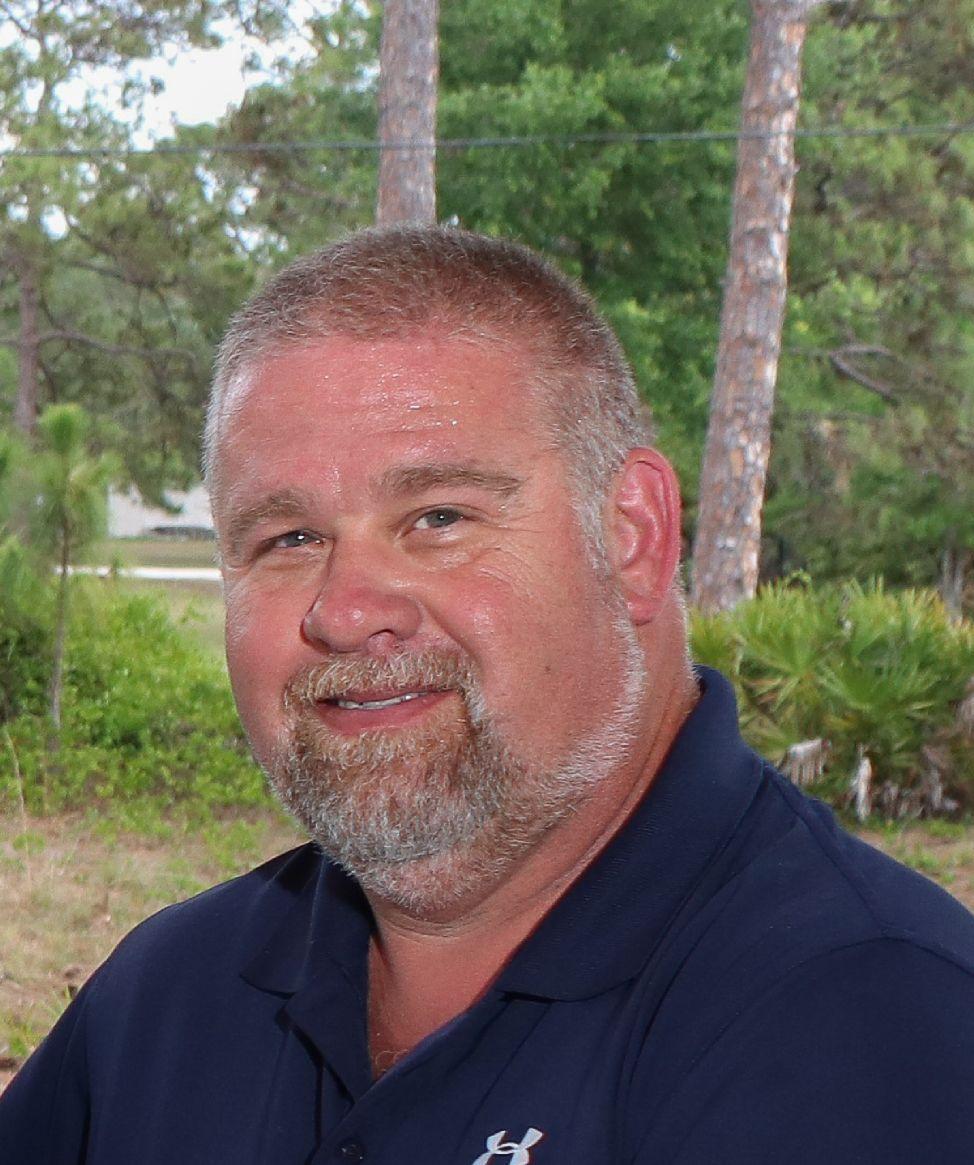 He was always active in the community in many ways, from setting up programs for children at East Elementary School to serving as a youth sports umpire.
"There is just so much positivity with the literacy bus project," Marian Taylor said. "The kids are just ear-to-ear smiles when they come off the bus.
"The teachers are also thrilled that the kids are excited about reading and that they have a resource available to help them build their own little personal library."
Lizzy's most recent stop was the Dairy Queen on Tamiami Trail in Port Charlotte as part of the Peace River Elementary "Spirit Night" event on Sept. 17.
"The kids were so excited to get to go on the bus and pick out a book just for themselves that they can take home at no charge," Marian Taylor said.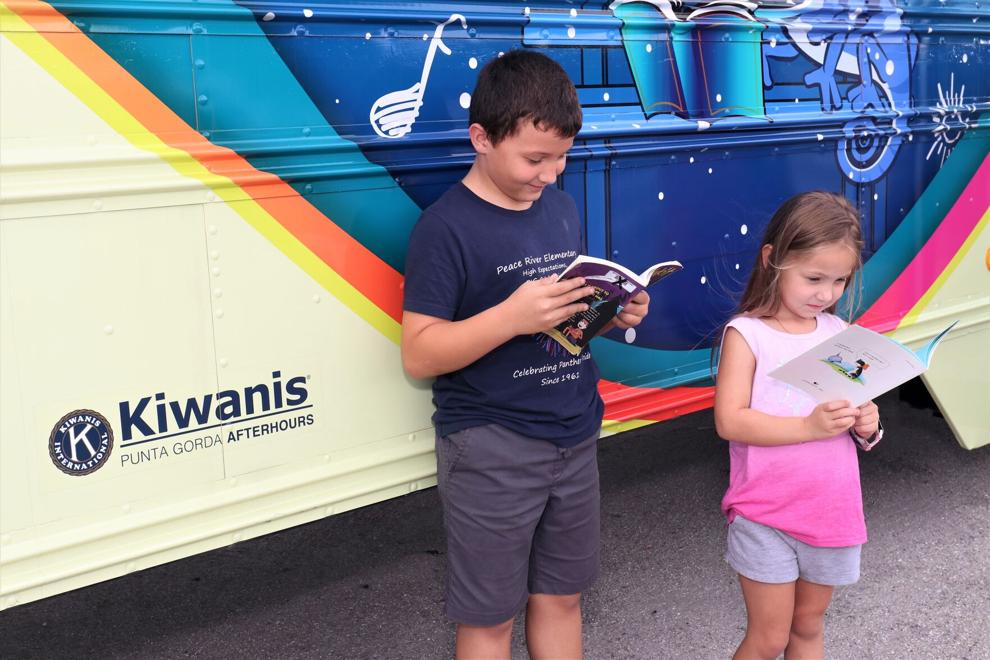 The literacy bus project began through the efforts of the Charlotte County Chamber of Commerce Leadership Charlotte Class of 2019, the Boys and Girls Club of Charlotte County, United Way of Charlotte County and the Kiwanis After Hours club, with support from Charlotte County Public Schools.
"I love the fact that the book bus energizes and motivates people from all over the community," said Angie Matthiessen, United Way executive director. "It shows how our community is able to mobilize (and work together)."
"One of the things we want to emphasize moving forward is the ability to go into our community neighborhoods where we may not have a lot kindergartener-aged kids registered yet," she added. "We can take the bus out there, give them books and help the parents register their children."
Marian Taylor said the books are chosen with the help of local teachers who are members of their club.
"We have educators in our club that are an invaluable resource for having the pulse of the kids knowing what they want to read," she said.
Many of the books chosen are also listed on students' accelerated reader lists.
"They have certain goals for reading a certain number of books for their AR goals," she said. "These titles (we provide) will help them with that, too."
Marian Taylor said they are focusing on Pre-K through third-grade reading levels.
"We will have titles for kids who are older or are more advanced readers," she said. "We are encouraging parents to read with the kids and for the older kids to read to their parents for practice.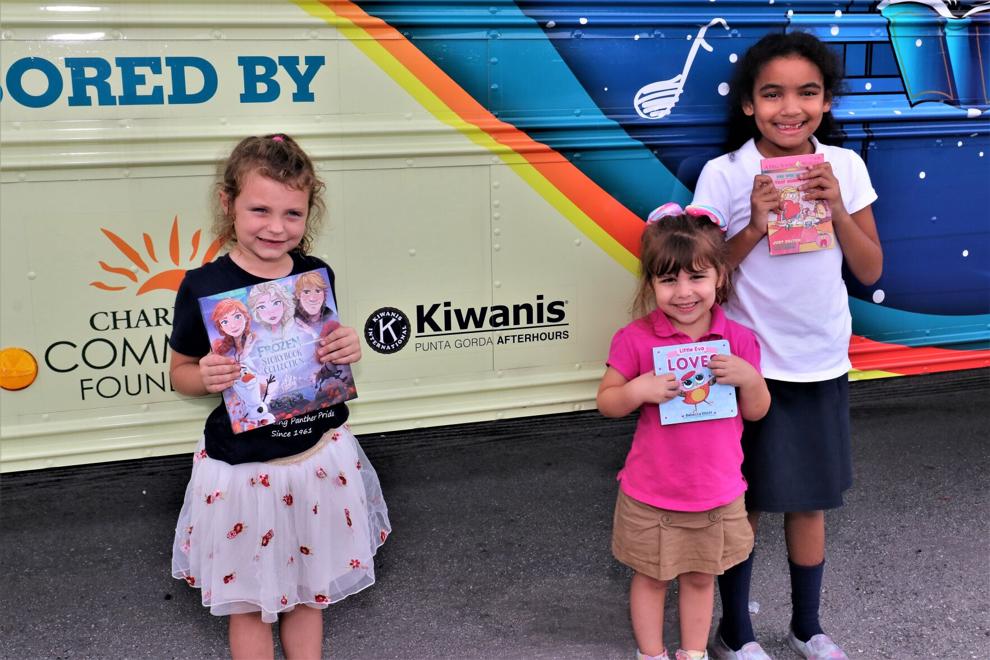 "We're hoping to instill in the kids a love of reading through the ability to send them home with a book of their very own."
To fund the books, Kiwanis PG After Hours has planned a December fundraiser with the goal to make it an annual event.
This year's fundraiser is set for 7 p.m. Dec. 18 at the Charlotte County Fairgrounds.
Tickets are a minimum donation of $100 and available now from Kiwanis PG After Hours members as well as Leadership Charlotte Class of 2019 and the Boys & Girls Club.
Attendees also have a chance to win $10,000 through a "reverse raffle."
For more information, contact Kiwanis PG After Hours member Dan Hanks at 314-441-1806.
"The funds we raise through the event will allow us to continue to provide the books for the bus," Marian Taylor said.