Punta Gorda Airport has escaped the possibility of shutting down for months, thanks to a cost-benefit analysis by the Federal Aviation Administration.
It was all about an FAA requirement to raise the main runway by one foot while it was being renovated.
It could have doubled the cost of the $16 million project, Airport CEO James Parish said.
With the FAA's decision to give up that requirement, the airport can get back to the job of rebuilding its World War II-era runway.
The airport is in the midst of the complicated process of rebuilding its two main runways. Phase one was completed last year. That was to rebuild the smaller runway, called 15-33, which required adding an extra 593 feet to it. Those extra feet will allow commercial airlines to land there when the main runway is down for reconstruction.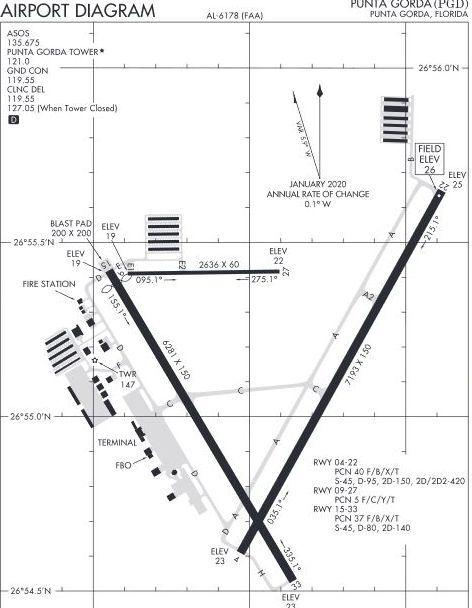 Everything was ready for phase two — rebuilding the main runway, called 4-22. Ninety percent of the $16 million cost is covered by the FAA, so they have a big say in the project. Late last year, the FAA said the runway needed to be a foot higher, having to do with new stormwater control guidelines.
Recently, however, the FAA decided not to require the extra foot, after doing a cost benefit analysis. It would likely have required shutting down the entire airport, Parish said, due to the need to elevate other runways and change all the lighting.
While waiting for the FAA to decide what they wanted to do, the airport missed one funding round, Parish said, delaying the project. FAA still has the money set aside for PGD, however, Parish said he anticipates taking bids for the project in August.
Construction is expected to begin around the end of the year. While the main runway is down, Allegiant Airlines, and soon, Sun Country, will use the alternative runway, which will bring flights in at different angles. Airport officials have said they will announce those new flight patterns at that time.
The goal has always been to rebuild the foundation of runway 4-22, which has not been rebuilt since it was constructed in the 1940s, although it has been resurfaced. To meet few federal requirements, the airport has had to also buy more land on the north and south ends of the airport. It has also spent $1.8 million filling in wetlands and mitigating that environmental damage. Wetlands at airports are now considered too risky due to the risk of birds interfering with flights at take off and landing.