The boat storage building is out and a boutique hotel plus restaurant is in for Charlotte County's waterfront property across from the Sunseeker resort.
Also out of the Melbourne Street property deal is the owner of Punta Gorda's Fishermen's Village. Arizona-based Arciterra had teamed up with Whiskey Joe's Bar & Grill last year with a plan that earned the most votes from county commissioners. Arciterra was going to build a multi-story boat facility right on the water, looking north on the Peace River and Charlotte Harbor location.
Whiskey Joe's, under the California-based Specialty Restaurants Corporation umbrella, will be presenting the new plan to commissioners Tuesday at 10 a.m. The board will be asked to approve the plan and sell the 3.6 acres for $4.24 million.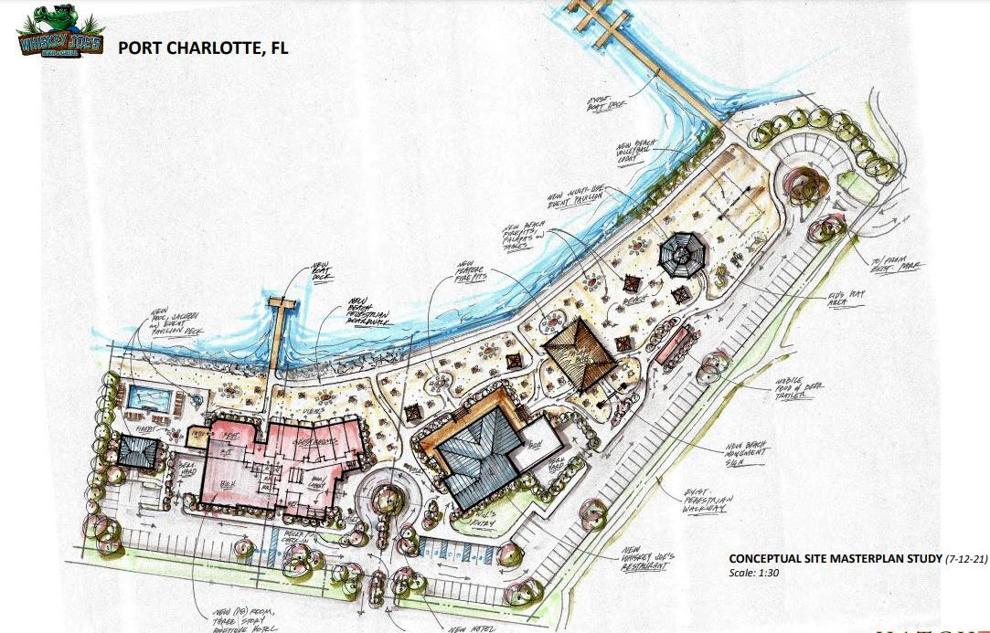 Commissioners will also be reviewing new details from developers competing for 185 acres of county land in the Murdock area. Developers of West Port and Atlanta-based Trinity Land Partners have already proposed $14 million competing visions there. West Port proposes mostly single-family homes. Trinity proposes some residential but also a senior wellness community and a start-up electric engine company. New information includes names of likely companies. Staff don't expect the board to make a selection yet in Murdock.
With Arciterra gone, Specialty Restaurants took out the multi-story boat building and put in an 18-room, three-story hotel plus a pool and hot tub. Whiskey Joe's is a beachy-style restaurant currently in three locations around Tampa and one in Miami. The indoor restaurant proposed for Charlotte County is relatively small with more space devoted to outdoor tables and activities. Currently, the site is mostly aging asphalt with a tiny beach. Specialty Restaurants is required to build a waterfront boardwalk connecting to the county's riverwalk. The site would contrast Sunseeker's large 680-room luxury resort going up across U.S. 41.
Back in November, Commissioner Chris Constance was the only commissioner to object to the Arciterra/Whiskey Joe's plan based on what he said was a low purchase price. The price offered then was $4.5 million — the same amount the county paid for the land in 2016. The plan then was to sell it to Sunseeker, which no longer wants it.
Whiskey Joe's plan along with Arciterra out-competed the proposal from a team of local restaurateurs who wanted to build a new Laishley's Crabhouse across the river from the current one. Many residents had objected to Arciterra's idea of a boat storage unit on the waterfront plan, but county officials supported the plan.