If underwater seagrass is a sign of a healthy environment, Charlotte and Sarasota counties may be losing ground.
Lemon Bay has lost about 12% of its seagrass between 2018 and 2020. Charlotte Harbor lost about 23% on average with a 50% loss along the so-called "East Wall," which includes Punta Gorda's Ponce de Leon Park, said a scientist from a nonprofit group that monitors regional water quality.
That's a loss of about 347 acres in Lemon Bay and 4,615 acres in Charlotte Harbor.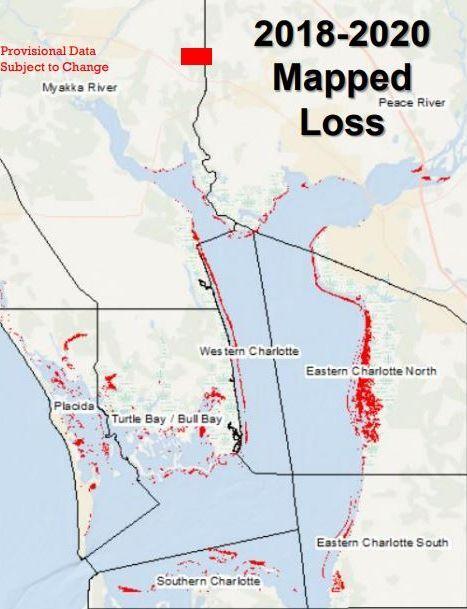 "That's an all-time low for our area," said Nicole Iadevaia, research manager with Coastal and Heartland National Estuary Partnership.
Frustrated county commissioners on Tuesday asked what they could do about this that they're not already doing, and got a few suggestions.
The two scientists presented data on seagrass in Charlotte County that is collected by both federal and state regulators. Data by the National Oceanic and Atmospheric Administration is collected by satellite every two years, said Iadavaia. CHNEP monitors all the waters flowing into Charlotte Harbor.
On the state side, the Department of Environmental Protection and Fish and Wildlife Conservation Commission have been going out into the water to collect samples since the 1980s, said Betty Staugler, Harmful Algae Bloom liaison for NOAA.
Satellite data suggests that Charlotte Harbor is losing seagrass faster than Lemon Bay.
One reason for the loss is the overflow of nitrogen and phosphorus washing into the water from the increasing number of people who live along the waterfront, Staugler and Iadevaia said. The nutrients are no longer filtered by wetlands following the replacement of marshes with canals, the building of canal-side sea walls, continuing presence of private septic systems and fertilizer use.
These nutrients are natural, except when they exceed natural levels. When that happens, algae starts to take over, eliminating sunlight and water clarity that the seagrass needs, Iadevaia said.
Staugler and Iadevaia acknowledged that hurricanes are a natural event that also stresses sea plants and animals by stirring up the waters. A healthy ecosystem will recover from a storm like Irma in 2017, Iadevaia said.
The fact that Lemon Bay and Charlotte Harbor are losing ground suggests that they are not healthy enough to rebound from the natural destruction of a hurricane.
"What it's showing is that seagrass is becoming less resilient," said Iadevaia.
The state's up-close monitoring of seagrass shows that algae starts out by covering the seagrass, before the seagrass eventually dies.
What does the seagrass do?
Florida's sport fish grow up swimming through the shallow waters, eating snails, crabs and mollusks that attach to the seagrass. The snails, crabs and mollusks, in turn, eat the algae that's on the grass — up to a point. Sport fishermen know that the larger fish cannot eat the small fish in the shallows, so the seagrass cover allows the species such as redfish and snook to mature and replenish.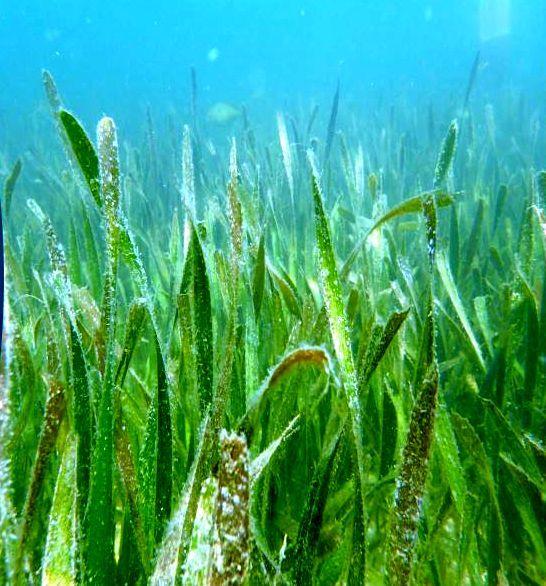 Seagrass need shallow water and clear water to get the sunlight they need. So if seagrass is present, it means the water is not polluted by too many nutrients. Seagrass both indicates clean water, and helps create it, Iadevaia said.
Commissioner Joe Tiseo said he thought the data shows that seagrass is no worse now than it was in the 1980s, when the population of Charlotte County was a fraction of what it is today.
Iadevaia said that might be because a lot of environmental upheaval happened around the 1980s. That damage includes the dredging of the Intracoastal waterway and of residential canals, both of which happened in the 1960s and caused an initial degradation of the waterways from which they they might have initially recovered.
"Don't we know how much of seagrass decline is due to nutrient loading?" Tiseo asked.
Staugler said identifying isotopes of nitrogen and phosphorus is how scientists determine where nutrients are coming from, but at a certain point, all the nitrogen in the harbor starts looking the same — like sewage.
"We really don't know what action to take that's different from what we're already doing," said Tiseo.
The county has embarked on a decades-long pursuit of removing most of the tens of thousands of septic systems. Commissioners have also hired a water quality director to set up a water-quality monitoring program. State agencies and nonprofits have other small and large-scale projects.
"We do need actionable items," said Commissioner Chris Constance.
What the county and state need now is not just to clean up the harbor and bays, Constance said, but to identify which pollution is coming in and how to prevent it.
Constance suggested that CHNEP should identify local causes of seagrass losses, such as a derelict boat.
One large project is expected to improve water quality in the harbor, Iadevaia said. This is a plan to move water under Interstate 75 in Charlotte County from east where there is too much, to west where there is too little. The hope is that it will allow water to filter through more wetlands, rather than gushing all at once from the highway into Matlacha Pass.
Both Staugler and Iadevaia said they support the county's plan to beef up water-quality monitoring throughout the region as it affects the harbor.
Will that monitoring help the county know whether polluting nutrients are coming from places like Tampa and Orlanda? asked Commissioner Stephen R. Deutsch. 
Probably not, said Iadevaia.
"It's tough, because we don't have these answers," said Staugler.
CHNEP will be adding a web page on seagrass monitoring in the region, said Iadevaia. CHNEP will also continue its water-quality monitoring done through FWC and citizen volunteers.
The state and federal Sea Grant program continues with seagrass restoration projects using citizen volunteers.
"This has been great information, good and bad," said Commission Chair Bill Truex. "We need to have the information … Keep pushing us."