Pizza remains America's, Florida's — in fact, most U.S. states' — favorite comfort food, according to a 1,000-voice 2020 survey by Treadmill Reviews.
A more gut-busting pizza trivium holds that Americans — not you or me, mind you — eat 350 slices a second.
Pizza is inexpensive and easily grabbable. One large $16 pie can feed a family of four. Once called recession-proof, it's also proved to be the perfect pandemic-proof food.
And who can you count on to donate mass quantities of food to hungry and hardworking people? Just about every pizzeria in the area, including Bella Napoli and Taglio, which participated with Visani and Carmelo's in six weeks of free Restaurants for a Cause feeds.
In March, after dining rooms closed and only takeout remained, Yelp's "Local Economy Coronavirus Impact Report" showed pizzerias "grabbing a much bigger share of the pie" — an increase of 44% in one week alone.
No surprise that the only restaurants to triumph under quarantine were pizzerias. They thrive on takeout and delivery, staples of the new restaurant normal.
WE'RE EATING MORE PIZZA NOW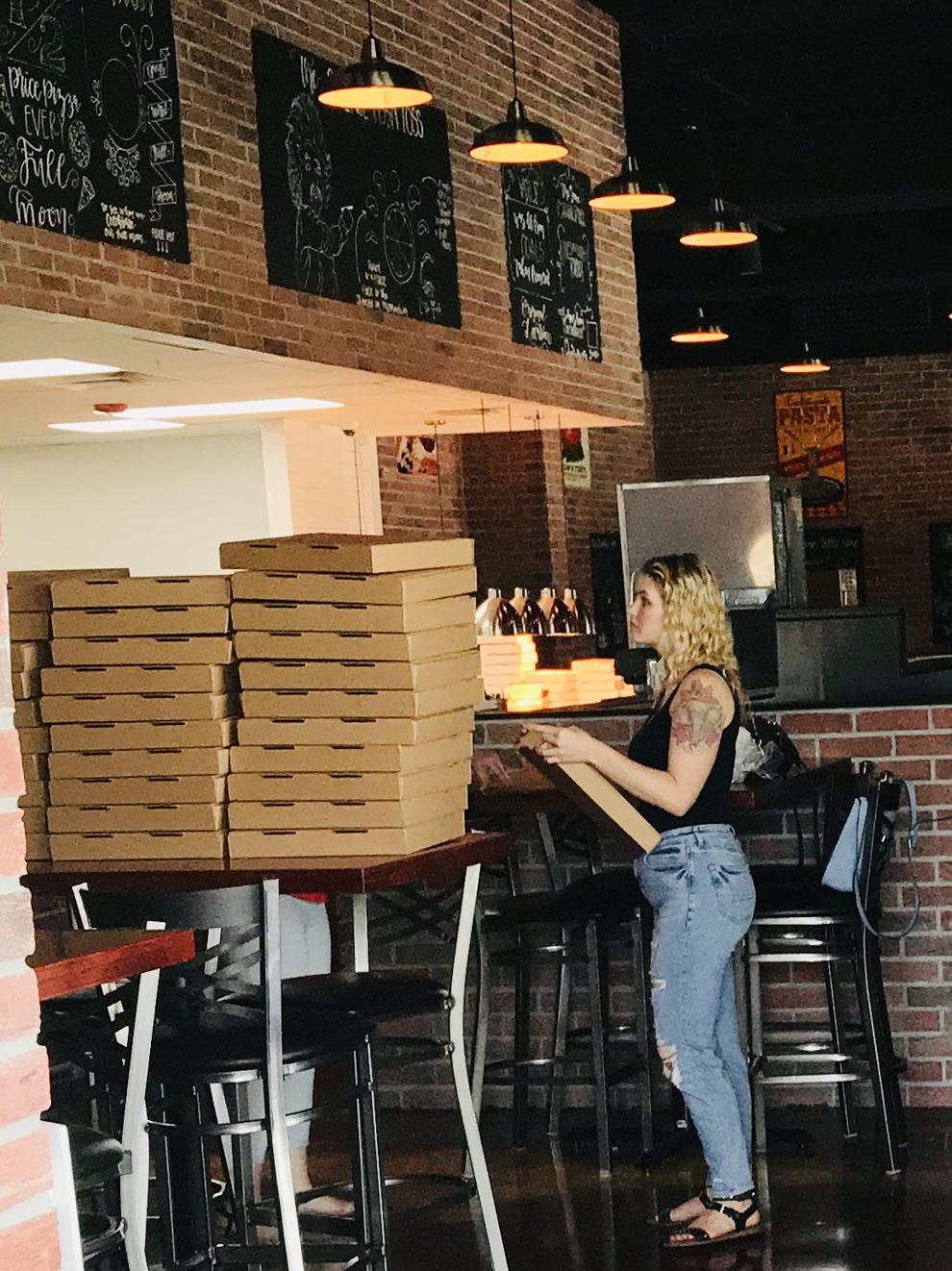 A 265-vote poll of local social media showed people ordering pizza an average 2.6 times a month during the pandemic.
Of those indicating how their pizza habit had changed, only 7% reported ordering less than usual; 45% ordered the same amount (often on Friday Pizza Night); and 48% ordered more — in some cases "WAY more" — than usual.
Greg Kinzel, an oncology nurse at Sarasota Memorial Hospital, confessed, "I ordered it, like, six to eight times a month — definitely more than average because there were so many new restaurants on the food delivery apps."
Sheree Negus said, "We haven't eaten out at a restaurant since March 20, but we've done Domino's touch-free delivery way more than we usually order pizza. These days we eat differently — more for comfort and entertainment."
Heidi Lange, co-owner of Punta Gorda's Sandman Books, reported ordering Hungry Howie's takeout for her family of four every other week.
"And at least 15 times, Scott made pizza from scratch. Plus probably half a dozen frozen pizzas. Pizza was definitely the quarantine food around here," she said.
Dave Coffey, manager at Luigi's in Port Charlotte, explained, "Everyone wants something they can trust, and pizza is trustworthy, convenient and delicious ... not to mention safe."
"You can eat it hot, you can eat it cold, you can stick it in the freezer," said Pioneers Pizzas owner Rick Barone. "Pizza's great."
Vito Recchia's Bella Napoli Italian restaurant has been a community institution for 17 years. Its high-volume kitchen peels out 480 pizzas a day — half of them normally takeout.
"COVID happened right in the middle of season. It kicked our butt the moment it happened," Recchia admitted. "We had to make adjustments for the 'new normal' — like contactless service and a new phone system.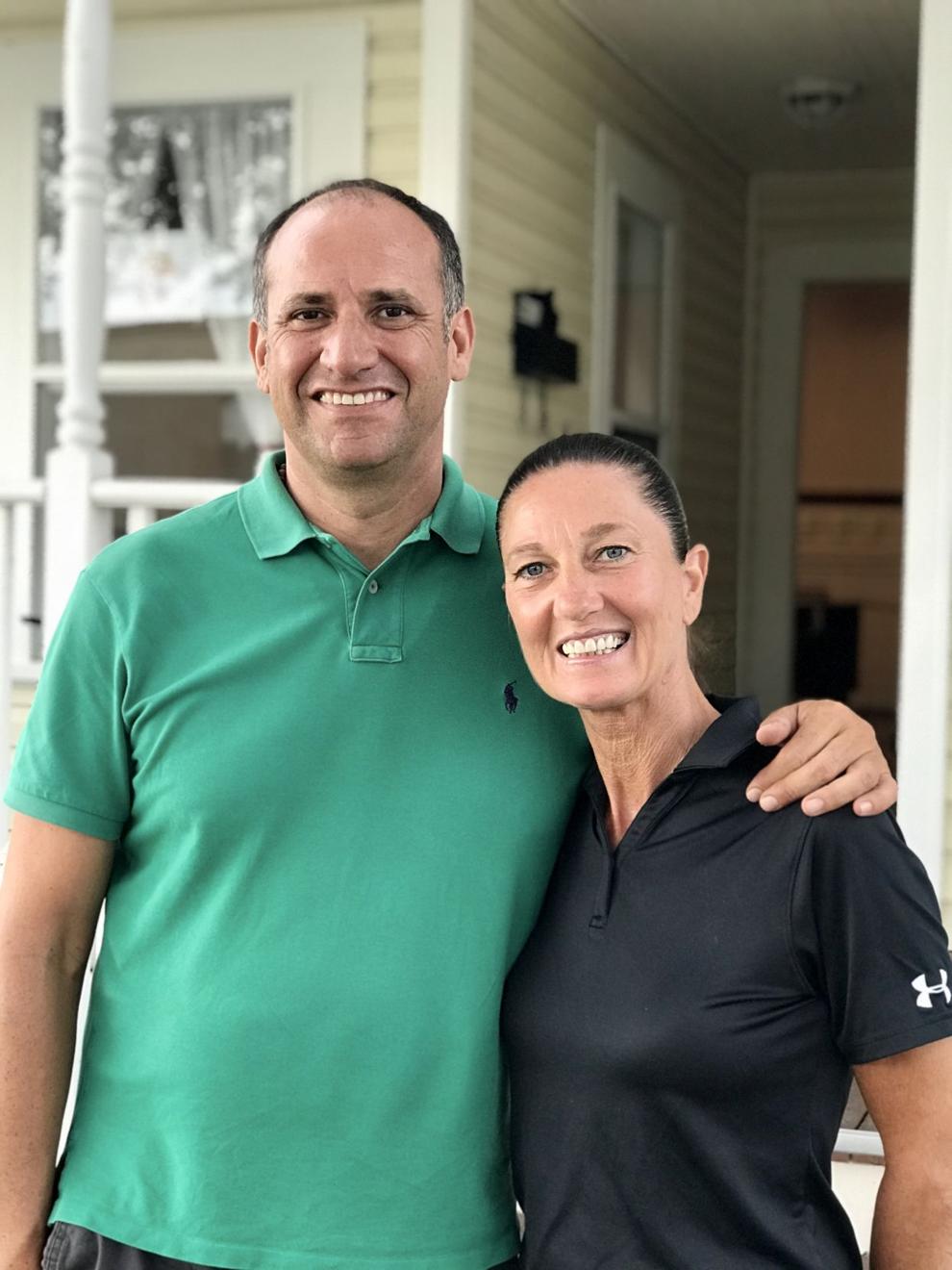 "Before we got our new system, the lines got so busy that people were calling over and over, and hanging up upset with us because they couldn't get through.
"We're doing better than I expected. But if we didn't already have an established takeout and delivery business, it would be hard to generate."
Ed Piedmont, owner of Luigi's Family Restaurant & Pizzeria in Port Charlotte, knows pizza delivery. He's been doing it for 40 years, half of them at Luigi's, where takeout and delivery amounted to 20% of pre-pandemic sales.
"Switching to all-takeout, I kept most of my staff as delivery drivers, phone people, salad preppers, runners taking food out to cars," he said.
Phil Solorzano, who runs Solorzano's Pizzerias in North Port, Gulf Gate, Longboat Key and, soon, Anna Maria Island, got a bump from COVID-inspired creativity.
"The pandemic actually helped us," he said. "Our main hustle is takeout and delivery, 85% every day, and it doubled."
Then Solorzano set up an Italian market in each location and pulled in even more revenue from Italian Flora-brand pastas, sauces, stuffed olives, cheeses and meats.
WHO NEEDS DINE-IN ANYWAY?
Josh and Jennifer Kramer, owners of Hungry Howie's in Punta Gorda since 2002, have survived hurricanes, a recession and, now, a pandemic that didn't treat them that badly.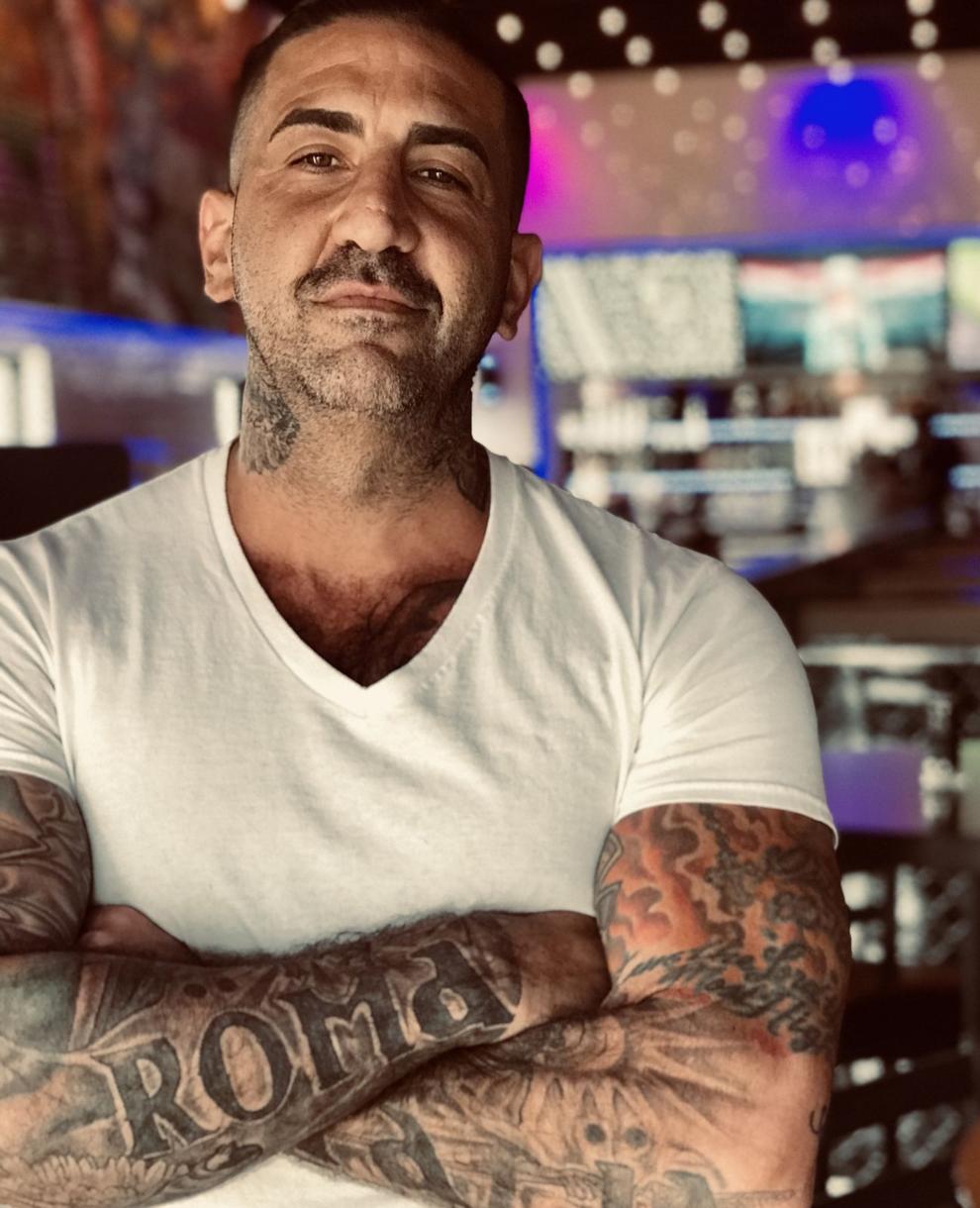 Even before the pandemic, at least 90% of their sales were pickup and delivery.
"To be honest," said Jennifer, "our sales were up 100% with so many other places closed. Friday nights were insane. I had to hire four new employees to keep up with it. It's good that more places are open now and things are leveling off, because we're all kinda worn out."
Though customers keep asking when she'll open the dining room, Jen is in no rush.
"I just don't want to deal with the drama of dine-in," she said. Meanwhile, takeout and delivery are doing just fine.
Ray (RJ) Harmon Jr., of Amore's Italian Restaurant in South Venice, couldn't agree more. He closed down his dining room entirely, returning it to the landlord to reduce his rent, and now focuses on takeout and delivery.
"To be honest, the way people are, I don't want to deal with the public in a dining room right now," said the 24-year-old owner who'd taken over his family's 20-year-old restaurant less than a year ago. "We'll bring it to them."
From the start, he cut delivery times from an hour or two to between 15 minutes for pickup and 30 minutes for delivery. Pre-pandemic takeout and delivery comprised 75% of his business.
Now he's open until late night and is seeking more drivers to keep up with demand.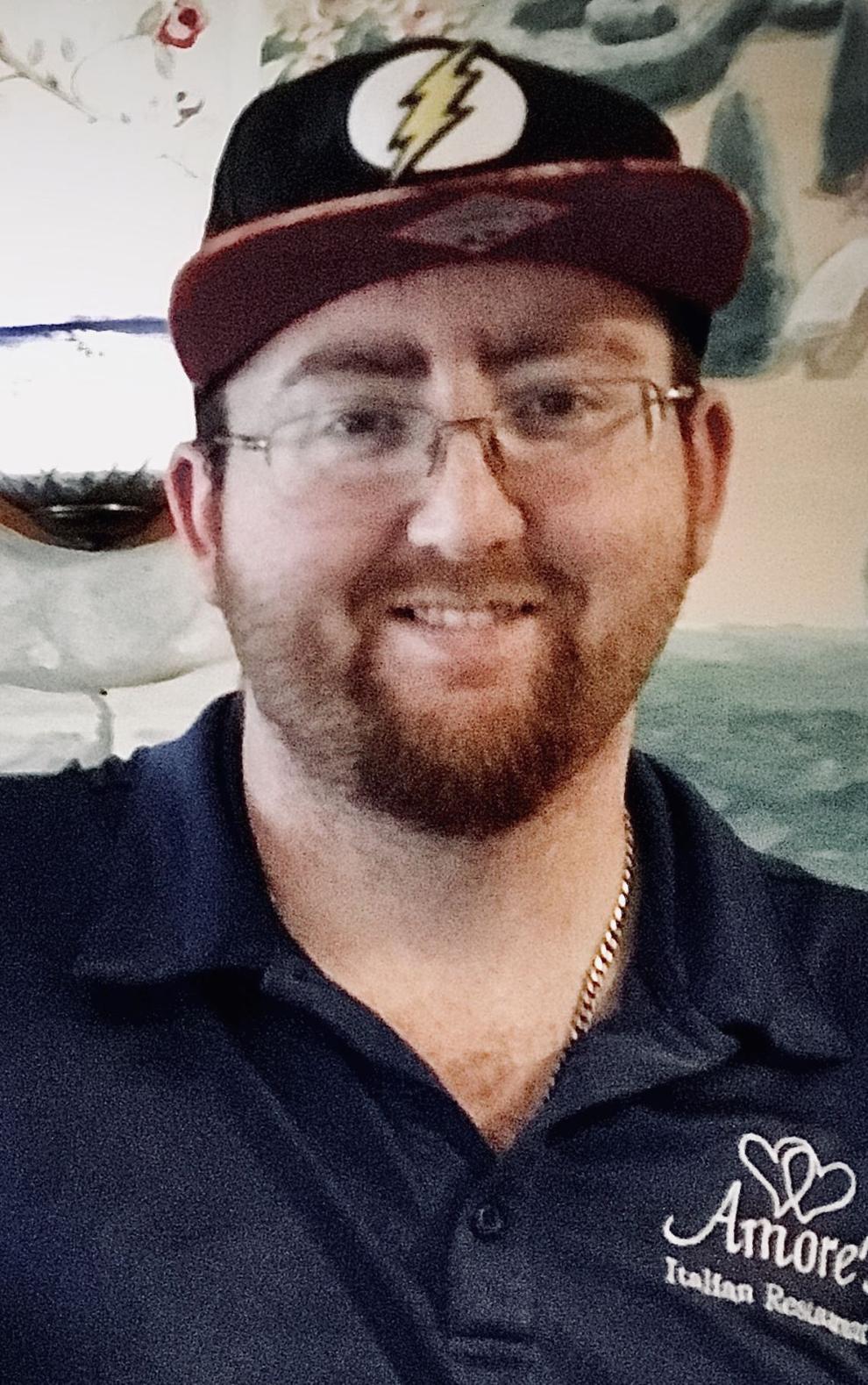 Nick Wrasse of Port Charlotte's Uncle Nick's Pizza has always done perfectly fine without a dining room.
"Overhead is really hard on sit-down restaurants because they have to pay high rent," he said. "And when you're at 50% capacity, you can't turn tables like you have to. But takeout doesn't require filled seats.
"When everything else started closing down, our business increased about 20% simply because people were staying home."
Wrasse is a rock star of giving back, donating $3,000 toward rebuilding Fishin' Frank's business and giving $10,000 of free pizzas to just about anyone who needs it. During the shutdown, he employed furloughed restaurant workers until they could return to their jobs.
The community, in turn, has handed him enough success to move to a new location in Murdock Carrousel at summer's end. It, too, has no dining room.
NEW LAUNCHES IN THE TIME OF TAKEOUT-ONLY
Local pizza pushers were of different minds about opening brand-new stores in a world limited to takeout.
Rick Barone, days away from opening Pioneers Pizza Punta Gorda, said, "If I opened there for takeout-only, I'd be setting myself up for disaster."
His time there would come with Phase 2.
Dennis and David Valentino, owners since 2011 of Bocca Lupo restaurants in Port Charlotte and then North Port, took a chance on takeout-only at their new, third pizzeria in West Villages Marketplace.
Dennis said, "We had a lot of discussion about it, but pizza just lends itself to to-go. We decided for many reasons to push through. No one could predict it, but that first day at West Villages was just nuts.
"At that store and other Bocca Lupos, we retained 65% of normal business with a to-go model. In comparison, our Prime Serious Steak lost 95% of its business. At this point, at 50%, with barriers installed, we're just as busy as we were last year in North Port and Port Charlotte, and doing 10% more takeout than we used to."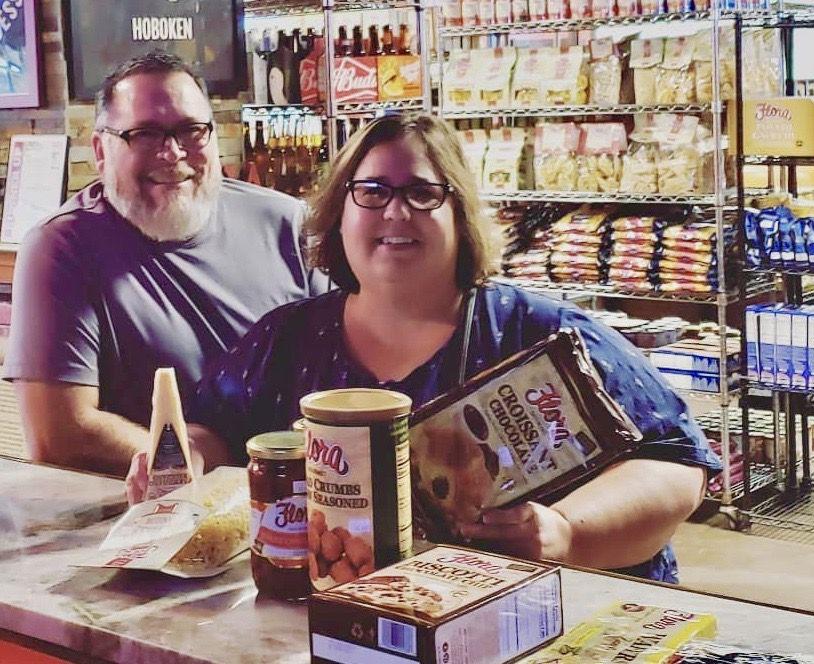 PUNTA GORDA'S POST-PANDEMIC PIZZA BOOM
You'd think this would be the worst possible time to launch a brand-new business, but Punta Gorda alone is about to have four new pizzerias — each with its own niche.
Pioneers Pizza Punta Gorda roared into the town's auto district on June 7. And the just-like-Italy Pizza Gorda is coming to Downtown Punta Gorda's 315 Taylor St. at the end of July. Two more are keeping their plans hush-hush until they're closer to opening.
Rick Barone, now king of two Pioneers Pizzas, in Port Charlotte and Punta Gorda, didn't let the virus slow him down. Just before dining rooms reopened, he expanded Port Charlotte's dining area to hold a 50% crowd even at 25% capacity.
Shortly before reopening on May 4, he said, "My business held up amazing. My gross sales dropped off by 35%, but by cutting payroll and food costs, I was just as profitable as I was before."
With Port Charlotte thriving, he opened Punta Gorda for dine-in only.
"At first I was afraid this was going to hurt my Port Charlotte location, but absolutely not. Punta Gorda is a whole new demographic that doesn't go over the bridge. Here, my goal isn't delivery for now; it's to take care of everybody coming through that door and make sure they have a great experience."
Later this summer, Nico Candelora and his wife, Marzia, founders and owners for six years at Venice's popular Ristorante San Marco, will fire up Pizza Gorda's wood-burning pizza oven.
"We sold Ristorante San Marco two years ago and wanted to move a little more south," said Nico. "This is a great community, a charming location, and we didn't see any other wood-oven pizzerias here."
Why not another Italian restaurant like San Marco?
"Every restaurant we had in Italy had a wood-burning brick oven for pizza, but I never had the chance to do one in Florida," Nico explained. "Put together the pandemic and my always wanting to do it!"