Charlotte County commissioners declared an official state of emergency first thing Monday morning to expedite individual applications for federal aid following a tornado strike in the Englewood area.
A tornado of 110 mph winds hit two long-standing manufactured homes parks on Gasparilla Road on the Cape Haze peninsula at 6:59 a.m. Sunday morning, Emergency Management Director Patrick Fuller told commissioners Monday.
That was shortly before the first tornado warnings went out at 7:15 a.m., he added.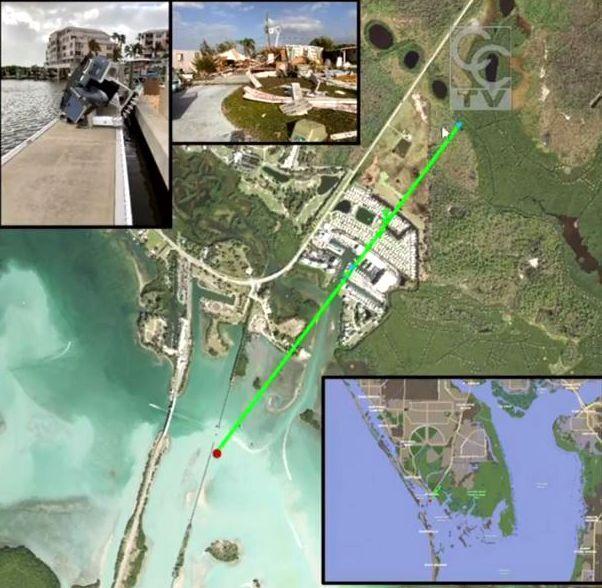 There were no tornado "watch" alerts, he said, which come out of the National Weather Services Oklahoma station. The "warning" alerts, he said, come from the NWS's Tampa station.
Charlotte County's tornado was the first to strike land, even as greater damage from tornadoes was reported in Lee County, he said.
Reports suggest the tornado hit near Placida and traveled 1.4 miles north in Charlotte County. It was 50 feet wide, he said. The speed was at the top of the level one category.
Twenty-one units were made uninhabitable in Gasparilla Mobile Estates park and another 18 homes damaged. By Tuesday, the National Weather Service was reporting the one tornado in the county became two by lifting off the ground after hitting the Gasparilla park, and then touching down again at the Holiday Lakes manufactured home community farther inland on Gasparilla Road. That second tornado had winds of 100 mph, was also 50 feet wide, and destroyed four homes in the Holiday Lakes Park, damaging another two homes there.
By far, most of the damage was in the Gasparilla park, he said, which is closer to the open water.
The Gasparilla Marina, just south of Gasparilla Mobile Estates, also sustained damage, including a large portion of its roof being ripped off.
Miraculously, he said, no one was injured. Both parks were built decades ago.
"These mobile homes suffered some catastrophic damage," said Fuller. "It's pretty impressive there were no injuries."
To deal with the number of people made homeless, by 9 a.m. Sunday, the county opened the Ann and Chuck Dever Recreation Center as a refuge or shelter. It had been closed as a shelter by Monday afternoon.
Most residents, however, Fuller said, started out gathering at their parks' club houses. Later, about 75-90 people, including many senior residents, gathered at the recreation center. Not all of them were homeless, Fuller said.
By evening, only 4-5 people were left, he said, and they eventually found a place to stay, so no one spent the night at the county refuge. It remained open, nonetheless, he said.
Florida Power and Light crews quickly restored power to most residences by 2 p.m., Fuller said. Charlotte County and Englewood firefighters and emergency crews were on the scene in minutes, said Commissioner Stephen R. Deutsch, and some residents had already started piling up debris.
The National Weather Service's warning coordination meteorologist was on site around noon, "...which was a rare opportunity. We don't usually get him down here," Fuller said. "This was significant event as far as tornadic activity in Charlotte County."
Others, Commissioner Bill Truex noted, were showing signs of shock, standing outside without moving much at first.
"I was incredibly impressed," Deutsch said to county staff including firefighters, human services and emergency medical. "Our hats are off to you,"
"I saw incredible coordination," said Truex, who lives in Englewood.
Also, the state Department of Emergency Management and American Red Cross were on hand within a few hours along with the county's human services staff.
One purpose of declaring an emergency, Fuller told The Daily Sun, is to start the process of notifying the U.S. Federal Emergency Management Agency, which will conduct its own assessment.
Notifying the federal agency jump starts the process so that individuals whose homes were damaged can apply for emergency aid. Two agencies will be involved, Fuller said — FEMA and the Small Business Administration, which provides low-interest loans to individuals.
The assistance will not cover all of the damage, such as the cost of replacing even a single-wide manufactured home, Fuller said, but it will help.
The county is not applying for emergency aid for the government, Fuller said.
The county's building department staff including Director Ben Bailey were on site to assess structures for whether they were habitable, Fuller said. Human services staff are also on site Monday assessing the needs of the residents and advising them on how to apply for assistance, he said.
Fuller said he can't predict how long it will take FEMA to decide on whether the location qualifies as an emergency, but the county will be submitting all the necessary information including area demographics and prior storm emergencies. It's possible, he said, that FEMA might expedite the case.