Tabitha Butterworth was eager to enter the faith-based, residential recovery program ordered as part of her probation requirements. She chose His Girls Discipleship in Bradenton at the recommendation of a church member, and she was ready to change her life.
"I was so excited," Butterworth, 24, told the Sun recently through the Charlotte County Jail's video visitation system. "I was so, so excited, because I had heard such good things about it."
His Girls Discipleship is described on its website as a 12-month residential recovery program based on Christianity and living godly, healthy, safe and productive lives.
But when Butterworth got there, she said her enthusiasm waned when she was told to grow out her hair and that she couldn't wear the men's style clothing she's most comfortable in. When she became close with another woman at the program and they developed feelings for each other beyond friendship, hostility from program staff escalated, she said, leading to her eventually being kicked out of the program.
She's now been in the jail for five months on a probation violation for failing to successfully complete the program on the first try.
"I believe I was discriminated against and I'm currently wrongfully incarcerated," she said in a Facebook message to the Sun. "This is infringing on my constitutional rights and I am done being silent regarding this matter... I do not deserve my probation to be revoked and sentenced to DOC for falling in love with a woman!"
Addiction in the LGBTQ community
According to American Addiction Centers, LGBTQ people are four times more likely to develop some type of substance abuse disorder than the general population, but it can be hard for them to find treatment that "truly meets their needs without being confronted with negative prejudice."
Contributing factors to LGBTQ addiction can include exclusion from social groups and activities, physical abuse by family members or partners, rejection by family or by a spiritual community, peer ridicule and rejection for LGBTQ youth, or violence based on sexual orientation or gender identification, according to the American Addiction Centers website.
For Butterworth, drugs became a coping mechanism when she was a teenager dealing with rejection from the Christian church.
"It was always very difficult growing up in a Christian setting and knowing I was gay," she said. "I knew I was gay since I was 8 years old, and I was always reminded of how 'wrong' it was viewed within the church. I would cry myself to sleep almost every night praying for it to change."
After coming out, she tried to hang herself at 16, and the drug use escalated from there. Last year, she was arrested on theft charges after stealing a dog and said the crime was fueled by her altered state of mind, in active addiction at the time.
Susie Brenner, a pastor at Beyond These Walls Metropolitan Community Church in Punta Gorda, who is herself a lesbian who has been in recovery for 20 years, said it's hard for people to cope when they've been told they're a "piece of crap."
"I still believe (addiction) is a chemical imbalance, but I think that because of the negative things we've been told about ourselves, that does not help these things," she said. "Churches tell people they're going to hell. It's still astounding today that people are kicked out of their homes for being gay."
Brenner said the protections for LGBTQ people in addiction programs are few.
"I don't think there's much protection for us," she said. "Here they are, they're at a rehab center, but they get to choose if they want to treat this person because of their sexual orientation."
His Girls' Discipleship is a privately funded recovery program, not one of the residential programs contracted with the Department of Corrections, which are required to operate with a non-discrimination policy. However, even the Department of Corrections' non-discrimination policy does not specifically include sexual orientation.
According to Deputy Press Secretary Paul Walker, the contract for FDC-approved vendors states: "No person, on the grounds of race, creed, color, national origin, age, gender, marital status or disability, shall be excluded from participation in, be denied the proceeds or benefits of, or be otherwise subjected to, discrimination in the performance of this Contract."
The only residential programs the Department contracts with in the 20th and 12th Judicial Circuits are First Step of Sarasota and The Salvation Army in Fort Myers.
Butterworth's former lawyer, Joseph Lombardo, said DOC pays for those programs but not for private programs. Whether clients choose the state-contracted programs or a private one typically depends on their family and financial situations. For Butterworth, he said she wanted to go to the program, and they were able to work it into her plea agreement.
The program costs $400 a month, according to its website, but Crystal, the woman Butterwoth met at the program who is now her wife, said she believes Butterworth did not have to pay.
"I think they took her because she was court ordered there," said Crystal Butterworth, of North Port. "I paid nothing also. That's usually how it works until you're able to get a job. Unless you receive month(ly) income like Social Security."
His Girls' Executive Director Tracy Lejeunesse said the program takes sponsorships for women who cannot pay. She declined to speak further with the Sun, citing confidentiality.
"We take confidentiality with the women in our program very seriously," she said in an email to the Sun. "Although I would like to, I am unable to respond."
A 'failed exorcism'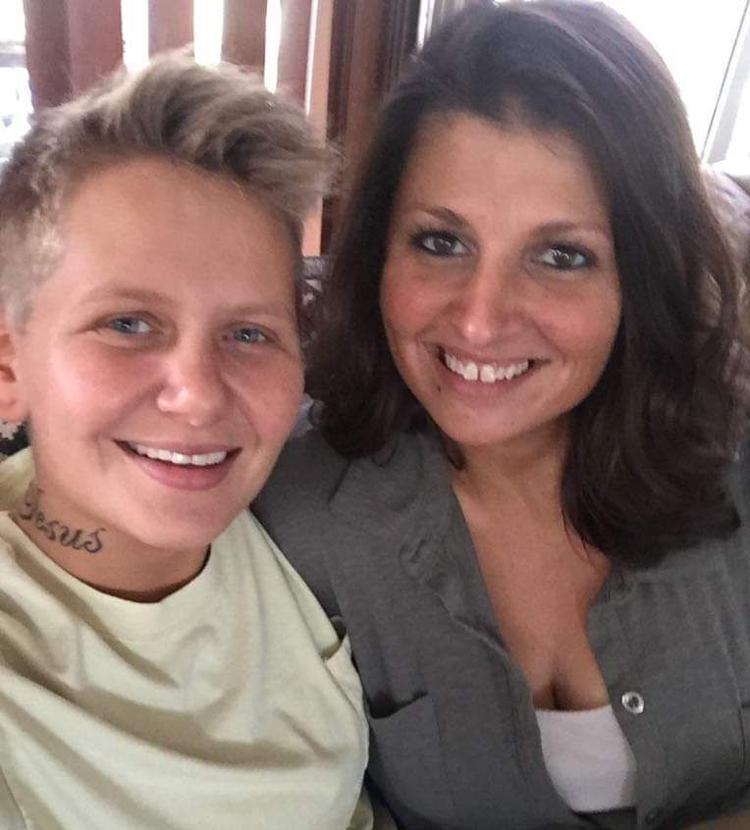 On paper, the official reason for Butterworth's termination from His Girls Discipleship was breaking the program's rules by "establish(ing) a relationship with another person in the program" and "sneaking in the middle of the night to meet with them in the home."
But according to Butterworth, that wasn't the case. Both she and Crystal said they agreed to abide by the program's rules.
When first confronted by program staff, both women admitted to their feelings and to sharing a kiss. But they both said they agreed to stop spending time alone together for the duration of the program after that first conversation.
The only "sneaking" at night Butterworth admitted to was getting out of bed to get a glass of water. She has dry mouth from an auto-immune disease, she said, and there were never any rules prohibiting women in the program from getting snacks or drinks from the kitchen at night.
According to Butterworth, the staff acted as though she and Crystal's relationship had "opened a portal" to "sexual perversion" in the home.
"I was told not to look at Crystal in the eyes because her eyes were possessed and operated by a demon of seduction trying to entice me," Butterworth said. "We were also ordered not to speak to each other. We followed these new rules set in place, in fear of me being removed from the program and violating my probation. I felt like every eye movement I made from that point forward was watched under a microscope."
The staff brought in a Bradenton pastor named Jon George, of Revival Church, to do a "deliverance ceremony" at the home. He allegedly put oil on her forehead, face, and neck and tried to cast out the demons of homosexuality, perversion, lust, and seduction. It was like an exorcism, she said. George had a Youtube channel where he puts videos about "deliverance," claiming to cast out demons, delivering people from various physical and mental problems.
He denied ever attempting to cast a demon of homosexuality out of Butterworth but admitted to ministering to her at His Girls.
"What happened when I ministered to Tabitha (Butterworth) at His Girls is COMPLETELY unrelated," he said in an email. "I did however pray for Tabitha. And that was only after she raised her hand and asked for prayer because I heard the Lord tell me that someone in the Room had been practicing or dabbling with the Illuminati. I shared what I was sensing from the Lord and Tabitha raised her hand in confession that she had strongly dabbled in this and wanted prayer. And that is the only reason I began to pray for Tabitha and it had nothing to do with her sexual orientation."
He accused Butterworth of trying to manipulate the court with claims of discrimination when she had previously proclaimed herself freed from homosexuality after a similar "deliverance" experience at another church.
"Tabitha was 'delivered' from homosexuality according to her own testimony before even entering the program," he said. "She was on this deliverance ideation long before 'His Girls' and didn't need any influences from anyone else to get there. You have a very bad case of manipulation to avoid prosecution on your hands if you ask me."
Butterworth said she did attend a similar deliverance ceremony at a church near Tampa in the midst of addiction a few years ago and renounced her sexual orientation, even having a boyfriend for a time afterward. Now, she feels like the experience was akin to brainwashing by a cult.
"They prey on vulnerable people to promote their selfish egos and ministries," she said. "At the time I went to this church I was in active addiction and shut off by my whole family, and when my family had heard of the 'deliverance' I finally got their attention back. It's sad that I had to deny my own wants to feel accepted. But for a while it was like I was walking in delusion to please others and for attention from my family that I had not got in so long."
She noted George pointing out she was open to the idea of deliverance in the past has nothing to do with the real issue of discrimination.
"I've lost another 5 months of my life sitting in jail due to a 'failed exorcism' when I followed every rule out of that program other than admitting I was still attracted to females after the deliverance," she said. "I didn't sneak out, I didn't use drugs, I didn't get new charges... When it boils down, I violated my probation due to the fact I fell in love with a woman in a Christian program."
'I got to meet the love of my life'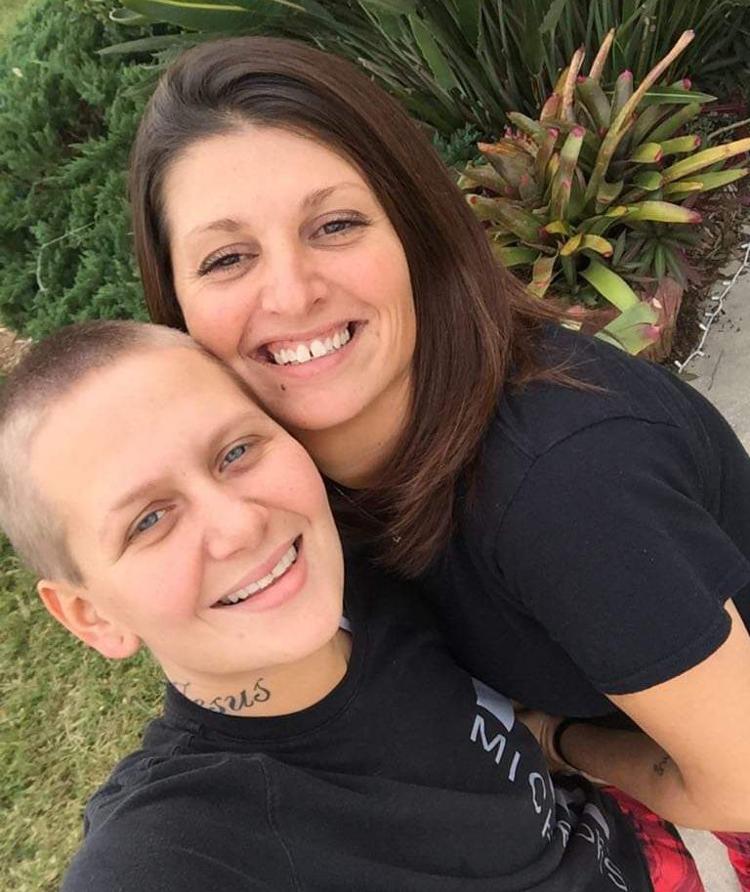 George, though noting he is not a spokesperson for His Girls' Discipleship, argued that Butterworth's termination from the program had nothing to do with her sexual orientation. The rule against relationships would apply equally to a woman dating a man.
According to Butterworth, sometime after the deliverance ceremony, the director of the program asked her whether she and Crystal were still in a relationship. She said no, but admitted they planned to be together after it was over, Lord willing.
The director allegedly told her the relationship would never be blessed and told her to leave. Later that same day, the director had a similar conversation with Crystal.
"She asked me if there were still feelings or what our plans were, and I said our plans were to be together after the program," Crystal said. "I think her exact words were, 'that's unacceptable.' They pretty much packed my stuff and made me leave."
Both women ended up staying together at Butterworth's mother's house after they were kicked out of the program in November. On Dec. 3, they were married at the Sarasota County courthouse.
It was a quick turnaround, but Butterworth said she knew she had never felt like this before about anyone.
"I'm happy that even though this happened, I got to meet the love of my life," she said.
The month they spent together before Butterworth was arrested for the probation violation, she felt like she had a fatal diagnosis. She tried to give Crystal all the love and affection she could while they were together. Crystal, too, said it's been hard but their love is real.
"We knew this was coming, but I knew my feelings were real, and I'm going to stand by her through it," she said.
Despite what happened at His Girls', they both still feel strongly about their faith, which they said is what drew them together to begin with.
"Honestly what first attracted me to her was her love for Jesus," Crystal said about Tabitha. "She made me want to go deeper. She made me want to have a more intimate relationship with the Lord... That's what really connected us at first."
For Tabitha, Crystal was one of the first Christians who seemed genuine about their faith after growing up feeling judged by the church. She's come, finally, to accept her own identity.
"This is who I am, this is the way I was born, and I've come to a conclusion in my faith and in my walk that Jesus loves me for who I am," she said. "For a little bit I was nervous to announce I was with a woman again — because of once again fearing condemnation from people who are called to love without judgment. But, I am beyond in love with my wife Crystal and that is something that will never change and I know that my love is far from demonic."
Her next court date is June 6, and she said she plans to make an open plea before Judge Donald Mason.