PORT CHARLOTTE —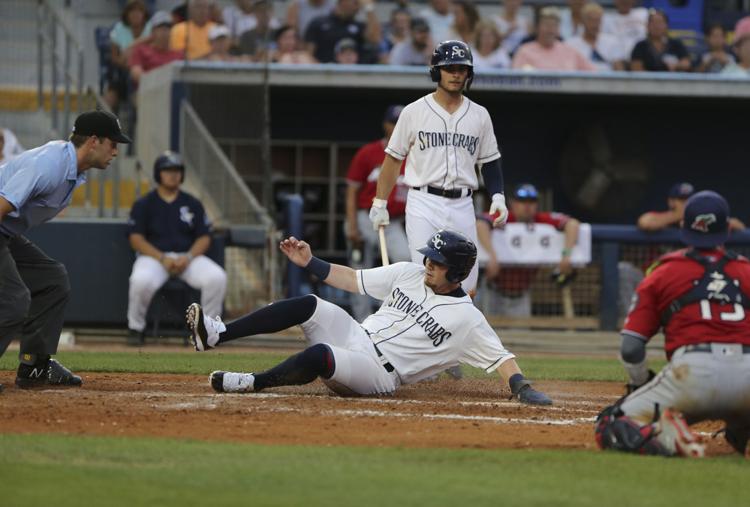 When the Charlotte Stone Crabs were in the midst of a seven-game slump last season, there was one guy doing everything he could to reverse their fortunes.
And it was just as much from what he did in the dugout as it was his play.
Carl Chester is always one for jokes. Whether in a tense situation on the field or amping guys up before an at-bat, he does what he can do to keep things light and loose.
"He's quite the character," said Charlotte third baseman Jim Haley, who also lives with Chester. "He's definitely the house clown, but also one of the better guys you're gonna meet on the team. He keeps the dugout loose. He's the guy that when things aren't going your way, or even when they are, he's the guy making it fun for everyone."
Chester is a big believer in morale. The more he laughs, the better he plays, and he tries not to take things too seriously. He equates it to the long summers he spent playing summer ball with the Orlando Scorpions. Nearly every weekend filled with road trips and tournaments.
It's a grind and pretty much every player in the minors can attest to that. If players aren't careful, it's easy to get burnt out or lose the fun side of the sport.
"If you take this game too serious, it's pretty much a grind," Chester said. "If you have fun and joke around a little bit and laugh in the dugout every once in a while, you'll see a big change."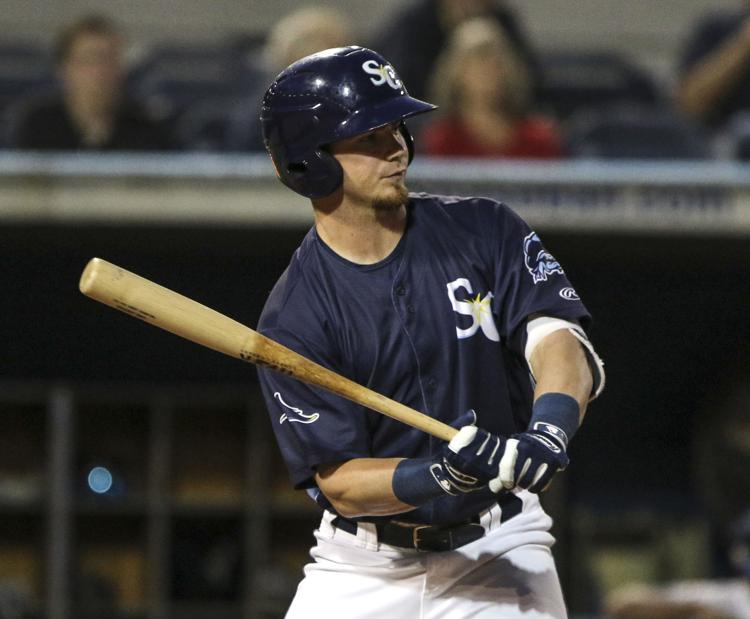 Going back to his days at Lake Brantley High School just north of Orlando, Chester had always been one to thrive in the spotlight, even when he was far from the top prospect on the team.
When Lake Brantley won the Class 8A state title during his junior year, the Patriots had nine Division-I prospects, including Chester. Logan Warmoth (Toronto High-A), Mitchell Jordan (Oakland High-A) and Tate Blackman (Chicago White Sox High-A) were all members of that championship team.
That gave Chester the chance to thrive in front of scouts without feeling the pressure of being the main focus.
"I got the best of both worlds, really," Chester said. "I had people above me who were really in the spotlight and they were always the top dogs. I also had people looking at me, but I was just trying to live up to the hype and take it one day at a time."
He didn't have much power back then. A scrawny kid, he says, Chester used his speed and singles to work the offense. With the Stone Crabs, he's developed into quite the slugger, with seven extra-base hits including four home runs in 36 games played in 2019.
But he caught the eye of Gino DiMare, the current head coach at the University of Miami, who was an assistant helping to recruit Chester out of high school.
It didn't take much convincing to sway him toward the Hurricanes, so much that he committed as a sophomore.
"That was the first time people starting calling me and my parents and talking about college. It was kind of weird. I still have three more years until I go there," Chester said. "I definitely wanted to stay in Florida because I've played here my whole life, and I like it.
"DiMare came to a game and then I went down to Miami and watched a practice and games and just loved everything about it. It worked out well, obviously."
With Miami, Chester hit .298 with 84 RBIs and 11 home runs across his three years. He was part of two College World Series runs, including hitting the game-winner against Arkansas as a true freshman.
Playing in the College World Series was an experience unlike anything he had felt before. It's the ultimate payoff for a college baseball player and was the highlight of his career to that point.
"It's like 25,000 fans and they're just there for baseball," Chester said. "You have your little section of Miami fans, but the rest of them are just there to have fun and watch a good baseball game. It's special. I mean you work your whole season to get there. You finally get there, and I can't even describe it."
That high point was soon overtaken in June of 2017 when the Tampa Bay Rays gave him the chance to stay in his home state to continue his career.
Chester was selected in the 12th round of the MLB Draft. That draft also produced guys like two-way player Brendan McKay and current teammate Riley O'Brien.
"The Rays called and were like, 'We're gonna take you in the next round, are you ready?'" Chester said. "I was like, 'Sign me up.' Everyone was working, so I was at home with my mom. It was special to get that call and call my dad, call my sister, call everyone. You work so hard to get there. It's your whole life. It's surreal."
Living just 2 1/2 hours from his hometown is just an added bonus.
His mother, along with the rest of his family back in Longwood, have been major supporters of his career. Chester gets constant texts and daily calls voicing encouragement and advice. Sometimes, it's just to catch up.
Chester said his parents listen or follow along with each game he plays and have for quite some time. It's part of what keeps him working in the minor leagues.
So far this season, it's helped.
Chester is currently batting .292 and has seven RBI in his last nine games. He is also on a 28-game errorless streak. The Stone Crabs, at 24-20, sit in fourth place in the Florida State League South.
Individual success is somewhat lost on Chester, who isn't focused on his ascent to Double-A, though he is still driving toward it. His main focus each day is to continue his routine and strive to be the same player each day. If he can do that, the rest should take care of itself.
"I just come to the ballpark with an open mind every day," Chester said. "I just do what I do every day. It's baseball, things will come around. It's just about coming to the field with this great group of guys and having a good time. Things will take care of itself."