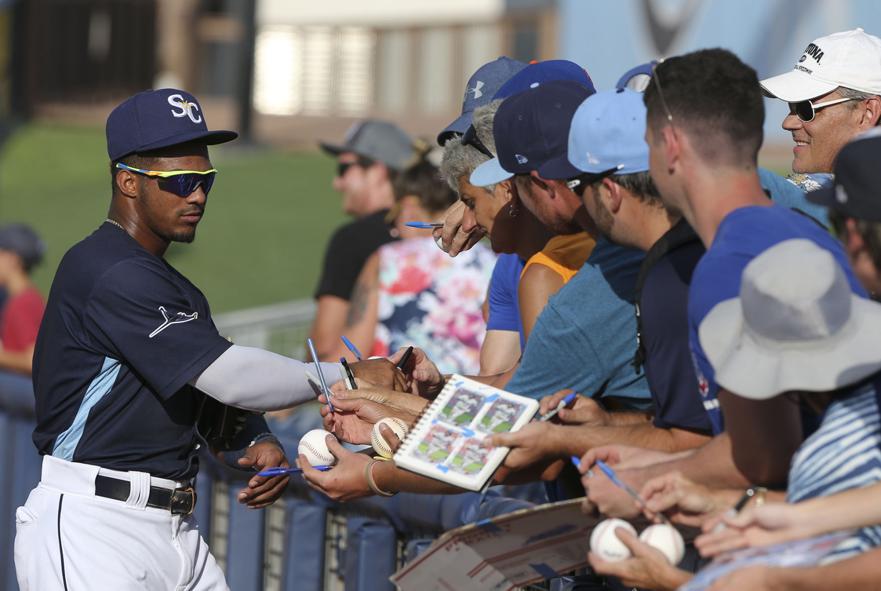 A scrum of 20-30 fans — some Rays, some Yankees — lined the fence down the first-base line at Charlotte Sports Park prior to Sunday's Stone Crabs game against the Tampa Tarpons.
A few players were signing balls and other items down the line, trying to get to as many fans as they could.
Then baseball's No. 1 overall prospect, Wander Franco, walked through the padded, blue double doors in right field and the crowd immediately began to scatter and scurry, almost frantically, toward him — following him down the baseline until he joined his teammates near first base. The other players signing were essentially left hanging.
A young fan continued to yell, "Mr. Franco, Mr. Franco" toward the currently larger-than-life shortstop. Another fan, a middle-aged man, waved a ball and pen as others hung their memorabilia over the waist-high fence, teeming with anticipation.
One player walked over to a fan that had flagged him down and joked, "I know Franco is here, but do you still want mine?"
The Franco effect.
"I have never seen anything like it," Stone Crabs first baseman Jim Haley said. "I've played with a few of our big prospects and they get something similar, but nothing like what he's getting right now. He's really good about it. He doesn't put himself above you and he handles everything really well with all the baggage that comes with it, especially being that young."
The #WanderFranco effect. He signed for about 30 minutes before today's game, probably 50-75 autographs plus a couple before batting practice. One player asked a fan, "I know Franco is here but do you still want mine?" @StoneCrabs pic.twitter.com/gSuaOYkIXE

— Jacob Hoag (@ByJacobHoag) July 14, 2019
It's been a regular occurrence for the 18-year-old prospect from the Dominican Republic, who's batting .362 with 10 RBIs and eight walks to just three strikeouts in 13 games as of Monday. Game after game, fans travel from far beyond Port Charlotte to get a glimpse of the future star and maybe get his pen to graze their items.
"It's kind of fun to watch every time I come to the field and watch the fans come to me and ask me to sign," Franco said via translator/first base coach Ivan Ochoa. "I sign a lot of things like baseballs, bats, shirts, cards. That's why I'm here, to play for them.
"I don't mind it at all. I try to have good communication with them. I know they're gonna ask me a lot of things about baseball and how I feel. That's why I'm here, I'm prepared for that. I've really enjoyed it."
Franco isn't the first prospect to garner this type of fandom, though he might feed into it more than others.
Last year, it was two-way player Brendan McKay who drew the admiration of the crowd. McKay, who has pitched in the majors this season, was the Rays' No. 1 prospect before Franco's arrival.
Each year there's typically that one, coveted signature that fans will goggle over and it's established a fun dynamic between the players and their dedicated fans. It's an ego boost for the athletes and a growing hobby for those who follow them.
Armando Cardenas set up shop on Sunday along the fence that lines the sidewalk that players take toward the batting cages. He was there around 10 a.m., two and a half hours before first pitch. After getting signatures from Franco and Rays No. 7 prospect, catcher Ronaldo Hernandez, he moved inside the park to get the players walking onto the field.
He was stocked with three bats, a few balls and large poster-sized pictures of the prospects he wanted from both the Yankees and Rays bungeed to a section of cardboard. And of course a bundle of markers.
"I usually do some research on who's here," said Cardenas, who snagged two Franco autographs Sunday and has collected baseball memorabilia recreationally for nearly two decades.
"From there I decide what I'm gonna bring, whether it's a bat or a ball or a photo ... or one of those mini helmets. If I get something it's great, if I don't I understand."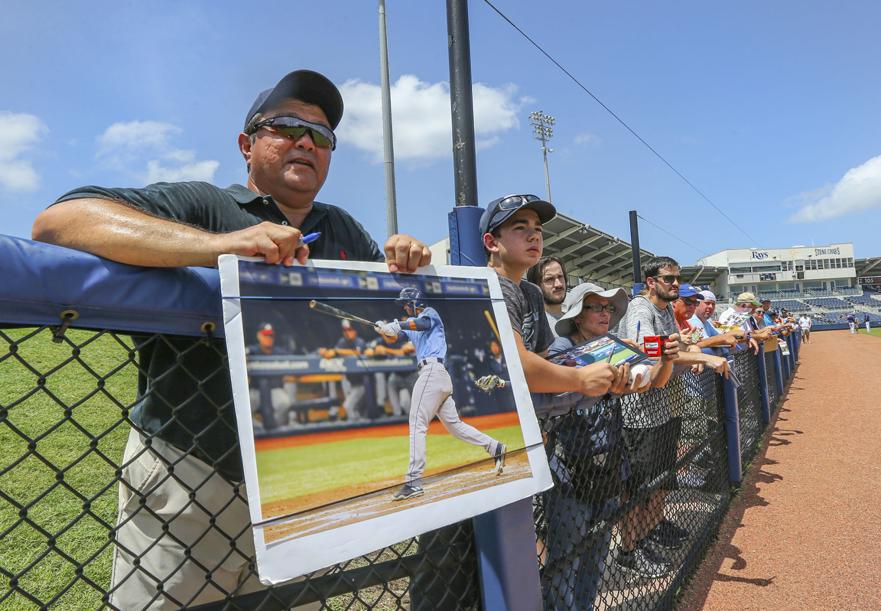 Cardenas, a resident of Atlanta, Ga., has been traveling the country gathering signatures from the game's most prolific athletes. That includes greats like Reggie Jackson, Albert Pujols and just about anyone who's been around the big leagues in the last 20 years.
What started as grabbing a ball and seeing who he could get has now transformed into an obsession.
For the most part, the players enjoy the unique interaction with the fans. But sometimes autograph-seekers pester too hard and cross the line, forgetting that the players are still people and are there to play.
During the Stone Crabs' road trip to Kissimmee,  a few fans followed the team bus to its hotel in hopes of snagging some face time, but were turned away.
"Every once in a while you'll get a situation where there's people that try a little too hard," Haley said. "And it's not like a 'back off' thing, you just gotta realize that you have to respect our space too, because we're all here to do a job."
Autographs will forever be a part of the sports world, and for good reason. It bridges the gap between superstars like Franco and the 10-year-old fan who one day could become just like him.
There's no telling how long before the Franco show packs up and moves to Montgomery, allowing the next big prospect takes his place. What is known is that no matter who is on the roster, the fences will be lined with pens and eager fans.
"I feel really good when everyone is calling my name and they say, 'Hey, lets go Franco. Lets get a hit,'" Franco said. "Everybody is with me. I try to come to the field and do the best I can for them. I don't think about how I stand in baseball or in the organization. Everyone knows who I am on the field and off the field, so I just go out and play hard."