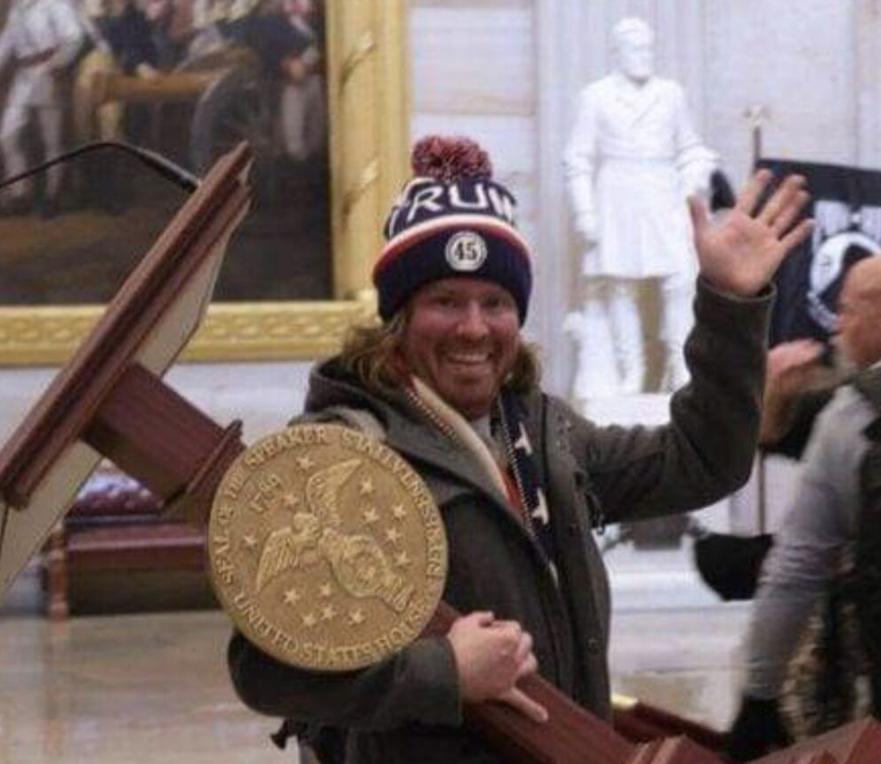 A man in the center of one of the shocking photos from the breach of the Capitol in Washington on Wednesday has been identified as a Southwest Florida man.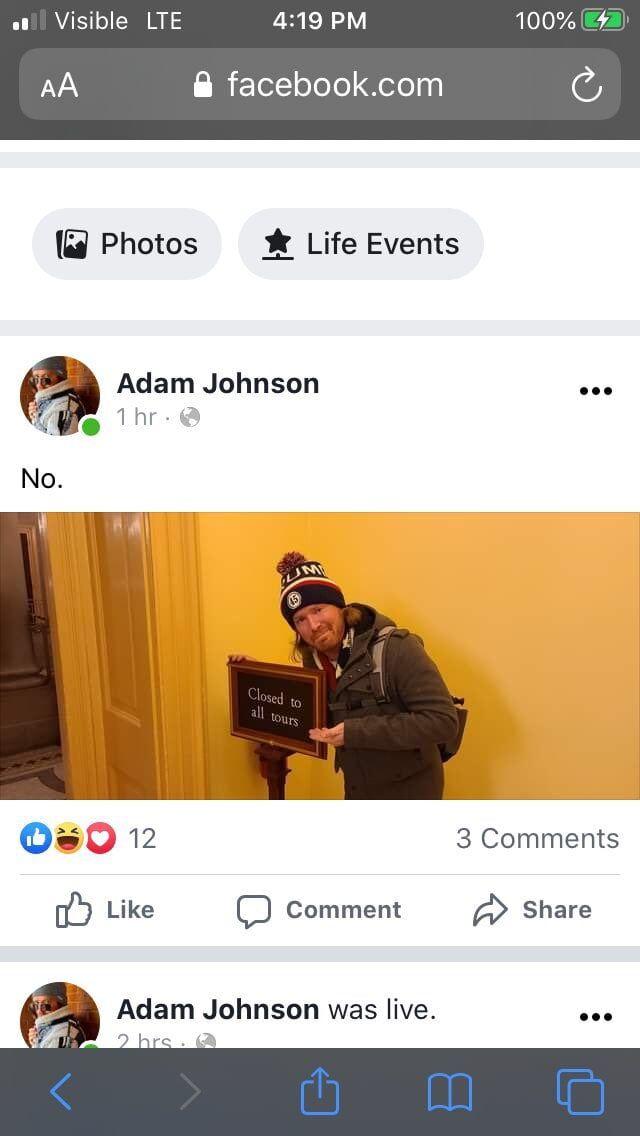 Adam Johnson of Manatee County was quickly identified by social media users in the historic photo of himself smiling and waving as he carried U.S. Speaker of the House Nancy Pelosi's lectern while he walked through the U.S. Capitol Building with other rioters on Wednesday.
He even posted a photo of himself at the Capitol, then shortly after he deleted his account — but not before his posts were screenshotted.
His wife, Suzanne Johnson, also deleted her Facebook account shortly after.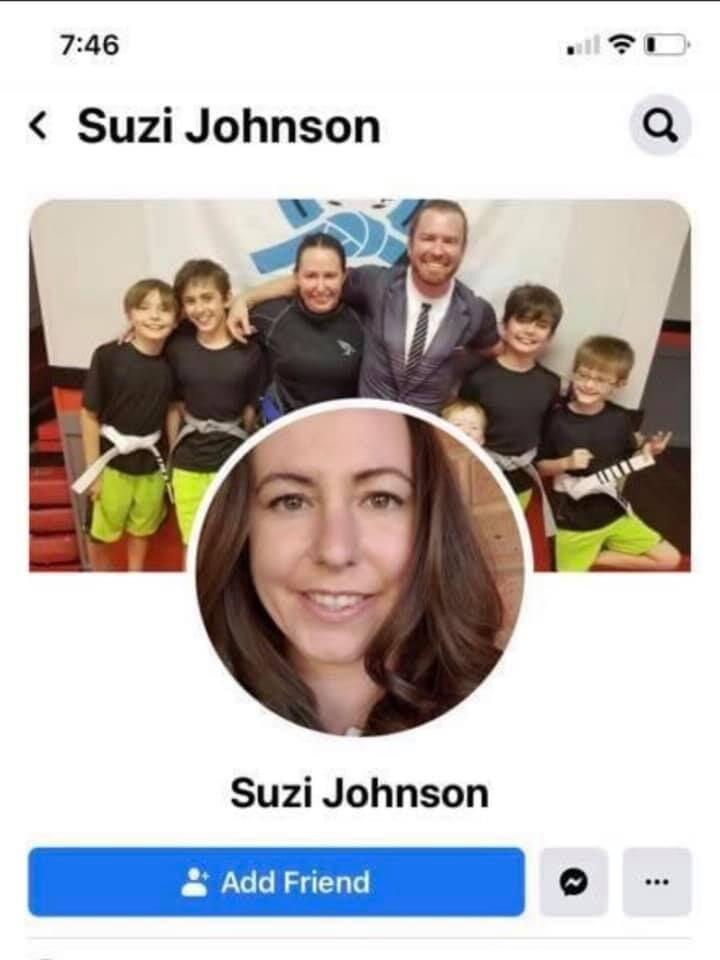 Screenshots of Suzanne's profile taken before the couple scrubbed their online presence showed that she is from Port Charlotte. Google lists her as a doctor in Palmetto.
Sarasota County Commissioner Christian Ziegler, who also serves as the Florida GOP Vice Chair, was also at the Capitol.
But he said there were two very different scenes happening.
The commissioner, a longtime vocal Trump supporter, spent time campaigning in Georgia for U.S. Senator Kelly Loeffler Tuesday before going to President Donald Trump's rally Wednesday in Washington D.C.
He took pictures at what he called the peaceful protest of about 200,000 Trump supporters and their families milling around on the Ellipse near the White House.
Ziegler told The Daily Sun that people like Adam Johnson are "bad actors."
"We were all like-minded people who were there," he said. "It was peaceful and there were no issues. What a lot of people don't know is there was another rally happening with a different crowd, people who were more aggressive at the Capitol."
According to the Manatee Supervisor of Elections website, Johnson, 36, of Parris, is not a registered Republican. He's non-party affiliated (NPA). The last time he voted was in 2016.
Ziegler said he doesn't know Johnson, but says he's one of the people who hijacked what he said was a peaceful day.
"I don't recognize Mr. Johnson from any of our Florida rallies," Ziegler said. "A small percentage of people were involved in destruction of the Capitol building. Peaceful protests and rallies are fine. When there's destruction of property by Antifa or Black Lives Matter, we get upset because we are the law and order party. We complain about it all of the time, so it's hypocritical for us not to get upset about people breaking windows, threatening police and walking through the Capitol, some with Trump flags."
Ziegler said he, along with U.S. Senator Marco Rubio, the president and vice president, all denounced the violence.
"It makes me angry when we work hard, knock on doors and rally and the bad actors with their cheap activity steal the show. They become the story. They ruin it for everyone."
Ziegler admitted that Joe Biden is the next president.
"We have to be productive," he said. "If we want the next four years, we have to beat them at the ballot box and do it peacefully."
The Johnsons could not be reached for comment.
On Facebook last week, The Manatee County GOP thanked U.S. Senator Josh Hawley, the Missouri Republican at the forefront of a bid to block congressional certification of the Electoral College vote.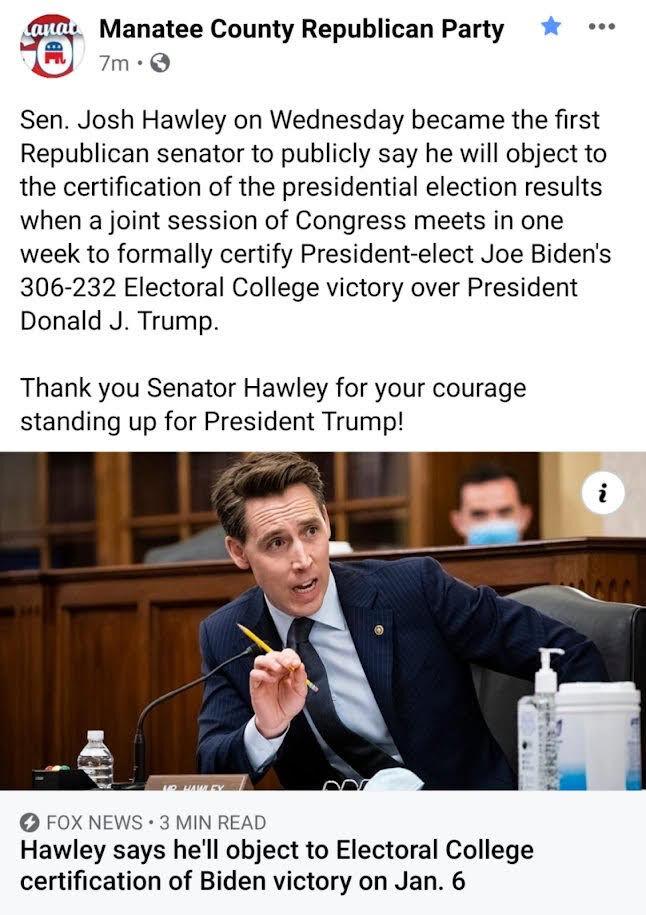 His hometown newspaper, the Kansas City Star, published an editorial which said that Hawley "has blood on his hands in Capitol coup attempt."
Congressman Greg Steube, another Trump supporter, released a statement Thursday condemning the violence and rioting "of any kind, by any group or organization."
He did not mention Trump by name.
Steube, a Sarasota lawyer, represents Florida's District 17, which includes Charlotte and DeSoto counties, southern Sarasota County and a large part of inland Florida.
Officials from the Charlotte County Republican Club said they were unaware of any of their members participating in the breach of the Capitol.
By the end of Wednesday night, police arrested 52 people and there were four confirmed deaths.
Johnson was not listed in a D.C. Metropolitan Police Department report of arrests from Wednesday.
The D.C. MPD asks anyone who can identify individuals at the protest or who has knowledge of any of these incidents to take no action but call police at 202-727-9099 or text your tip to the Department's TEXT TIP LINE at 50411.