Andy Mele is a man on a mission — protecting waterways from man-made pollution.
The Punta Gorda resident recently founded Peace+Myakka Waterkeeper.
Mele and volunteers will take water samples, similar to what the Calusa Waterkeeper nonprofit does on the Caloosahatchee River, to monitor the Peace and Myakka rivers' water quality.
The nonprofit will serve as our waterways' watchdog, so to speak. Its mission: "To preserve and protect water quality and ecological integrity in the watersheds and estuaries of the Peace and Myakka rivers of Florida."
Board members are Arne Carlson, former governor of Minnesota; Justin Bloom, founder of Suncoast Waterkeeper and Clear Water Act attorney; Brooks Armstrong, president of People Protecting the Peace River; and Mary Lundeberg, wildlife photographer.
An environmental scientist and published author, Mele is known for championing environmental causes throughout the state and nation. Last November he ran for state representative in District 71 (Manatee and Sarasota counties), with the environment a key part of his platform. He lost to the incumbent, but his environmental message was expressed.
The fight for clean water continues
Mele didn't quit fighting for environmental causes after the election. Along the way he met Cheryl Berlon, a community fundraiser and volunteer, and he moved to Punta Gorda from Sarasota.
Doing what she does best, Berlon added Peace+Myakka Waterkeeper to her priority list for fundraising activities, as she shares Mele's mission.
To do his work, Mele needed a boat. In February he purchased a decommissioned Coast Guard 25-foot Zodiac Hurricane used for "search, rescue and interdiction."
The vessel was purchased by the Coast Guard in 2008, and "halfway through its service the engine was replaced with a 315 horsepower Yanmar Marine diesel," Mele said.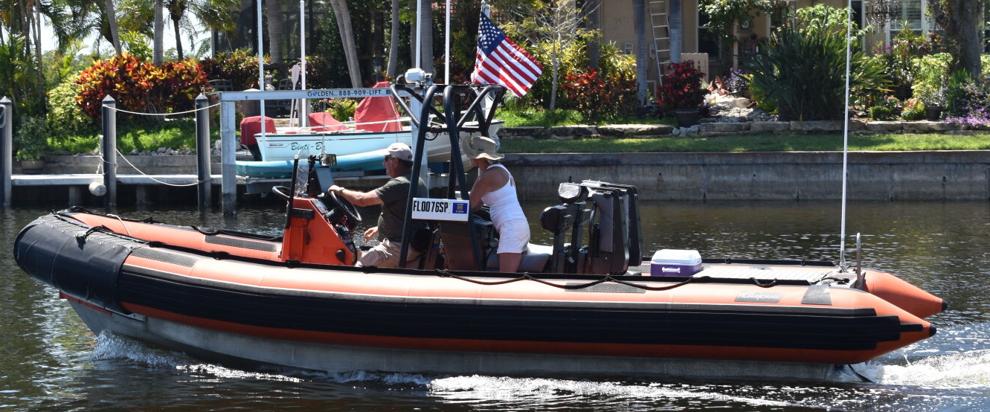 Berlon served as captain on the first part of the trip, as Mele prepared his testing kits. Diligent records must be kept, he explained, and the bottles need to be meticulously labeled, indicating where and when samples were taken.
Once samples are labeled, they are immediately put in a cooler with ice packs aboard the Zodiac. Within hours, Mele then takes the samples up to the Benchmark EnviroAnalytical laboratory in North Port, for accurate results.
On April 13, Mele set out on the vessel to collect numerous samples off the Laishley Park Municipal Marina in Punta Gorda, and off the city's waterfront between Gilchrist Park and Fishermen's Village.
That day there were some 20 boats anchored offshore, from west of the U.S. 41 bridge to Fishermen's Village. This area has no mooring balls, so all the boats were anchored.
Among them was a boat already tagged and in the beginning of the derelict designation process, confirmed a spokesperson for the Punta Gorda city manager's office.
The Punta Gorda Police Department has a marine unit headed by Cpl. Joe Trufan, who was also out on the water patrolling that day.
There are mooring balls at the city's Laishley Park Municipal Marina, but two or three vessels in the vicinity had clearly dropped anchor. Also in the vicinity was a rather dirty-looking sailboat with its mast folded, or collapsed down. Due to sailboat mast heights, some boats are unable to sail under the southbound and northbound U.S. 41 bridges. In all, there were some 30 boats off Laishley.
Mele didn't think the day's results would reveal an alarming presence of enterococci, which is one of the best indicators of water quality. And he was right. A few days later, he had an update.
"The test you were interested in is the fecal indicator bacterium for salt water: enterococci," he said. "In all five samples, it is below detection thresholds, so we can safely say that in those places on that day the anchorages were not dumping fecal matter overboard."
Some, not all, boaters are not good stewards of local waterways. Although boaters have access to free pumpouts from the SS Clearhead kept at the Laishley marina, a recent log in early April indicated there were more boats than pumpouts on two days, according to dockmaster Rusty Heaxt.
Given the number of boats anchored off Punta Gorda's coast, and the number of pumpouts, a disparity existed, meaning some boaters might have been discharging their waste directly into local waters, which is a violation under the Clean Water Act.
Experts, such as Mele, concur that the tides, currents and the size of the river and harbor would likely dilute discharges.
But boaters can take steps to be good stewards of local waterways simply by using the pumpout boat or pumpout at Fishermen's Village, or by installing a marine toilet that treats waste before it is discharged, which is legal under law.
Mele was also taking samples to test for the presence of nitrogen, which he said "is the most problematic." He cited agriculture up the Peace River and the phosphate industry as culprits.
Since much of the phosphate industry falls within Peace+Myakka Waterkeeper's geographical jurisdiction, Mele has been an outspoken critic of the way Florida has been dealing with that industry.
A graduate of Bard College where he also received his master's degree in environmental science, Mele, who was born and raised in Woodstock, New York, returned to college after a stint in the Navy where he did two deployments to the Tonkin Gulf.
He went on to become executive director of Hudson River Sloop Clearwater, Inc., a nonprofit organization based in Beacon, New York, and founded by Pete Seeger, whose mission is protecting the Hudson River. During Mele's time at Clearwater, General Electric was forced to sign a Consent Decree to clean the toxic PCBs out of the upper Hudson.
Clearwater also brought Indian Point (a nuclear power plant) to court, where it got its first courtroom defeat in decades, and helped to launch the Hudson River Park on Manhattan's west side.
Mele's first book, 1993's "Polluting for Pleasure," resulted in a wholesale outboard motor technology change, and in reducing oil discharges by millions of gallons each year.
The book's influence prompted some organizations to sue the EPA for a marine engine rule, and today most outboards are 95-98% cleaner than previously-designed engines, Mele said.