ENGLEWOOD — What started with 10 chickens is now 1,000 pasture-raised hens — including some that lay pretty, light-blue eggs.
Jess Hutchinson works Thursdays at the Chris & Victoria's Tiny Ranch booth at the Englewood Farmer's Market as part of her weekly market rotation. She explains to customers the simple science of why some eggs are blueish and others are white or orangey-tan.
Genetics and the breed of the hen determine egg color. For example, leghorn chickens lay white eggs and Orpington's lay brown eggs, while the Ameraucana variety produce blue eggs.
This is just the shell, mind you. The pigment doesn't penetrate the interior of the egg.
"Customers are fascinated that they can get blue eggs," Hutchinson said. "They can even mix and match them."
As a longtime employee of the Tiny Ranch, Hutchinson says she competes with owner Chris Lumpkin to see who can sell the most eggs at the farmers market.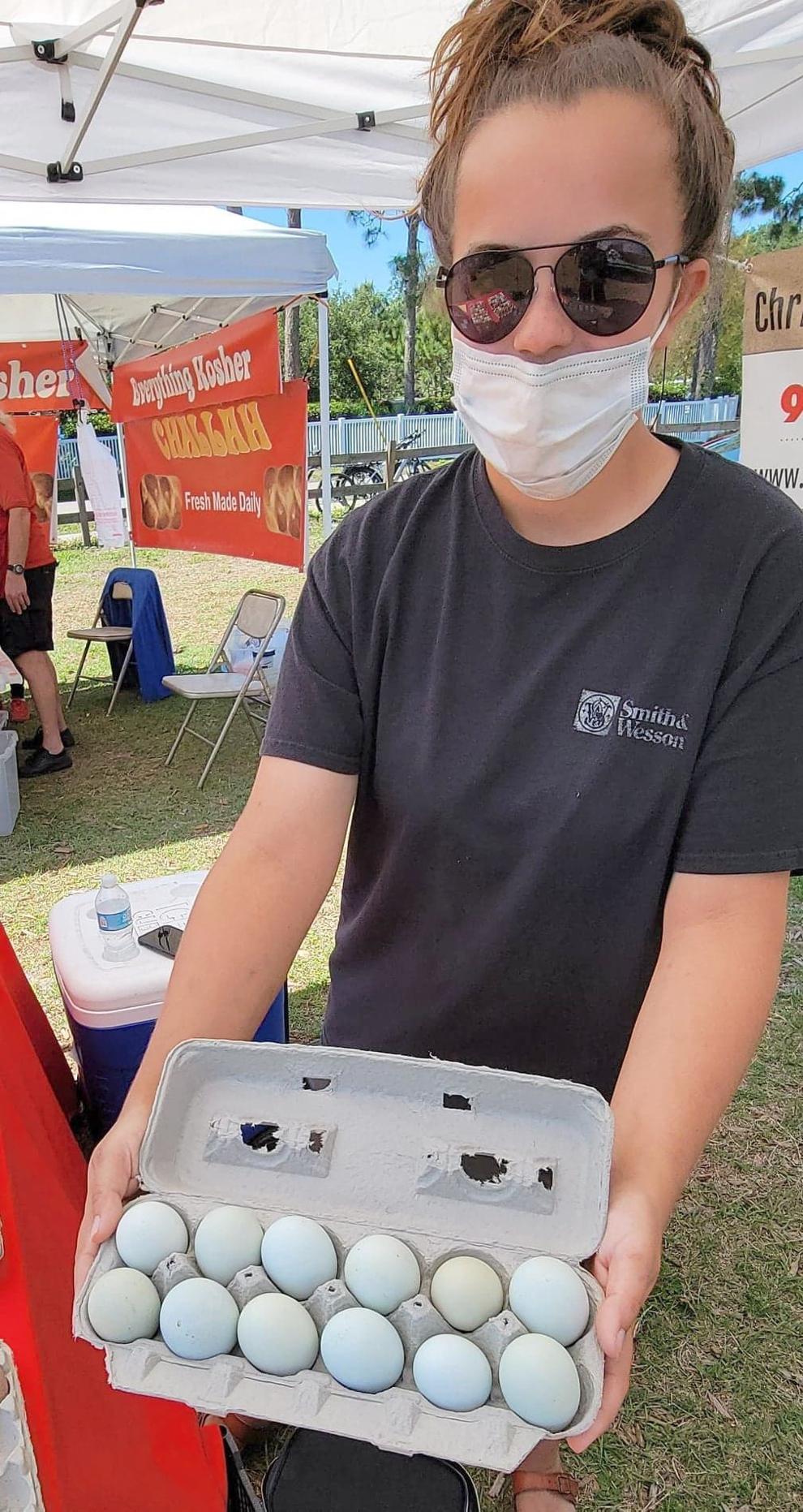 "The most I've ever sold was 95 dozen," she said. "Then I was off due to a death in my family and that day, Chris sold 105 dozen. It's a friendly bet. I'm sure one day I will win."
The goal of Lumpkin and his wife Victoria is to sell eggs and honey from their Englewood ranch in local stores, chains and restaurants. They've recently partnered with Vino Loco on Englewood's West Dearborn Street to help promote their healthy eggs.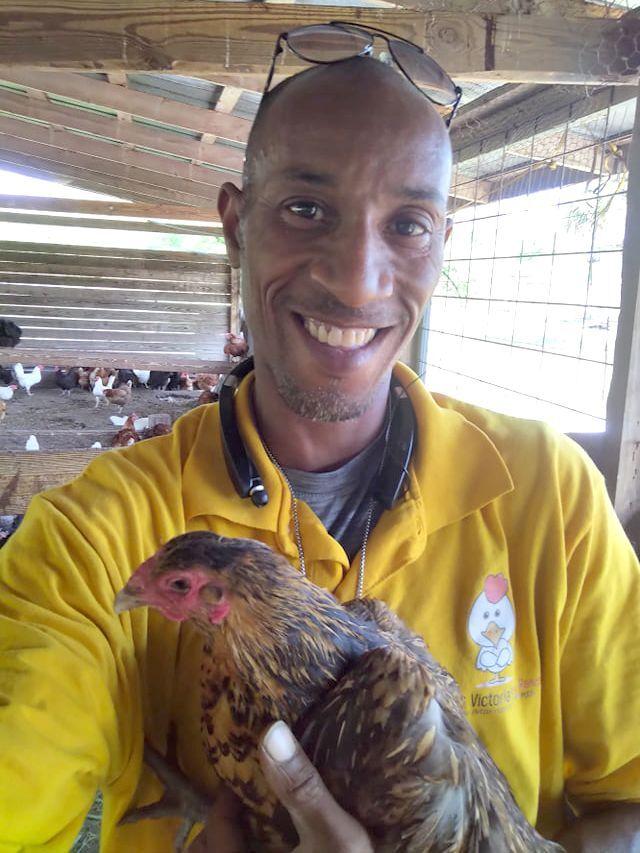 At the market, Hutchinson repeatedly explains to customers about the free-range eggs from the Tiny Ranch. She talks about when and why they need refrigeration. Hutchinson said the "magic" secret that protects the egg from bacteria is a film on the outer shell.
"The hen releases a shield on each egg," she said. "Each egg has a few thousand pores that are shielded. Once the egg is washed, the film comes off and the egg pores are exposed to bacteria. We tell customers as soon as they wash them, they should be put in the refrigerator."
Customers ask if Tiny Ranch farm eggs are organic? Lumpkins said there's a difference between free-range and organic fed hens.
"Our chickens are fed 1,000 pounds of donated produce from the Sunflower Market (produce wholesaler and retailer) in Englewood," Chris said. "The chickens also get insects. It's kind of like what's better? dehydrated apples or the real apple off the tree? Organic chickens eat sort of like the dehydrated apples. They do still have a nutrition factor, but they cannot compete as same as the apple right off the tree."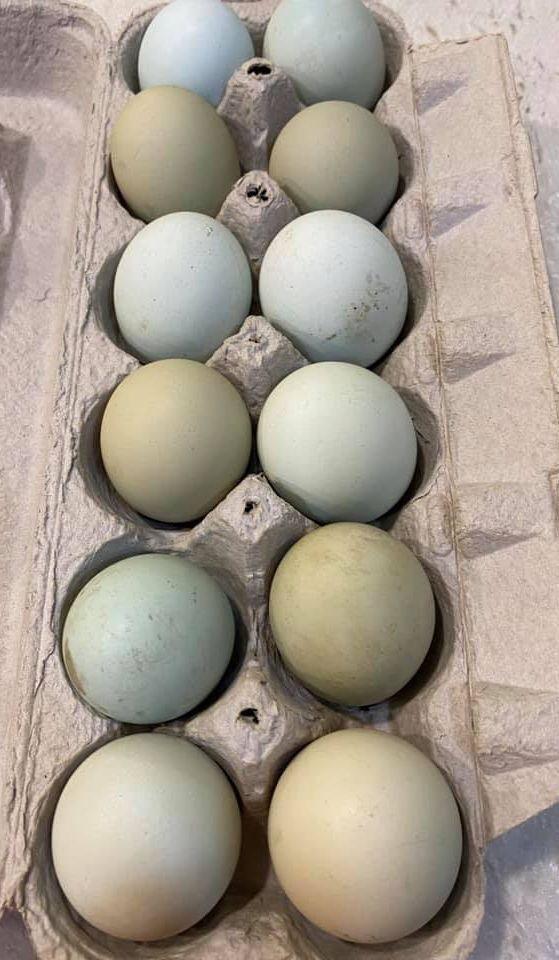 Hutchinson said organically fed chickens are forced to take in all of the grains and nutrients.
"Sometimes the hen doesn't want one thing over the other," she said. "They know what their body needs."
The Lumpkins say the egg business is split between quality and volume. Some produce high volume "lower quality" eggs.
"As more and more restaurants and food chains pledge to buy free-range chicken eggs exclusively, more local, free-range chicken egg farms will need to pop up," Chris said.
"Our eggs are five times healthier than any conventional store-bought ones," he said.
Large eggs are $5 a dozen and medium $4 a dozen.
"We are reaching out to local residents and restaurants about the pledge to offer free-range eggs exclusively, building the Chris & Victoria's Tiny Ranch brand locally," Chris said. "Our goal, first and foremost, is healthier chickens producing healthier chicken eggs for our customers."