ENGLEWOOD — State officials can't determine whether a python captured in Englewood slithered north from the Everglades or if some pet owner released it.
Don Darby, a seasonal Rotonda resident, spotted the 9-foot, 9-inch Burmese python emerging out of an undeveloped lot onto the grassy roadside along Cougar Way, about a mile from L.A. Ainger Middle School.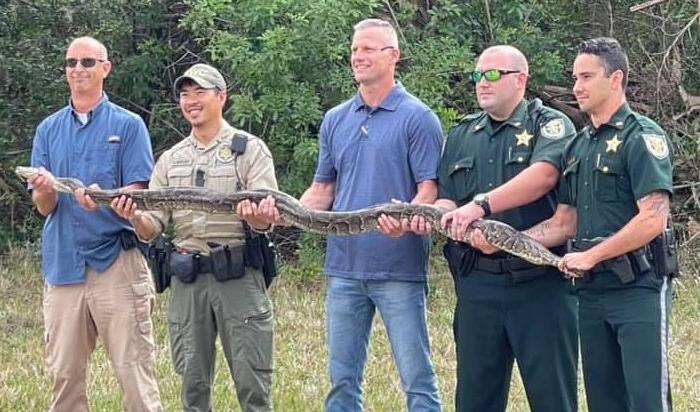 The Florida Fish and Wildlife Conservation Commission came and officers captured the snake. Scientists then conducted a necropsy, which is an autopsy for animals.
One part of the exam included a survey of its stomach contents to see what it had been eating. The idea was to see if the python was preying on wildlife, or something a snake enthusiast would feed a 9-foot pet.
The findings were inconclusive.
"We were unable to determine where the python came from based on the necropsy findings," wildlife senior officer Adam Brown said.
What the necropsy did reveal was the Burmese python was a male, weighed a little less than 24 pounds and was in poor health.
A few days after the python was captured in Rotonda, a family in Zolfo Springs in Hardee County caught a 16-foot, 6-inch Burmese python near their home.
Wildlife officials determined the Hardee python was a female, weighing more than 130 pounds, in which several underdeveloped eggs were discovered, "although the scientists couldn't determine the "viability of the eggs," Brown said.
As with the Englewood python, wildlife officials couldn't determine where the Zolfo Springs came from, based upon the necropsy.
Burmese pythons are semi-aquatic snakes with a native range from India to lower China, and throughout the Malay Peninsula and on some islands in the East Indies. They generally live near water. They swim very well and are also good climbers.
A well-documented, reproductive Burmese python population established itself in the Everglades in Miami-Dade, Broward and Collier counties and with a range extending south to Key Largo and just south of Lake Okeechobee in recent years. However, that doesn't mean they are migrating to places like Charlotte or Hardee counties.
"While Burmese pythons have been observed or captured outside this area, it does not mean those pythons are part of a breeding, wild population," Brown said.
Pythons, like those captured in Englewood and Zolfo Springs, he said, are more likely to be snakes that were deliberately released or escaped from captivity.
Last week, the Wildlife Commission voted to establish a ban "the importation, breeding and possession of high-risk invasive reptiles." Pythons, iguanas and tegus top the list.
Iguanas and tegu lizards can be sold commercially until June 30, 2024. Sales will then be banned in Florida after that date. The rules do not require anyone to relinquish their pets and a permit will be issued at no cost.
The state, however, does have a program in place where pet owners can surrender their pythons and other exotic pets. State wildlife officials hold periodic one-day-only Exotic Pet Amnesty Days.
Also, pet owners can call the Exotic Species Hotline at 888-483-4681 for assistance year round. Most exotic pets, including ones held illegally, will be accepted without penalty.