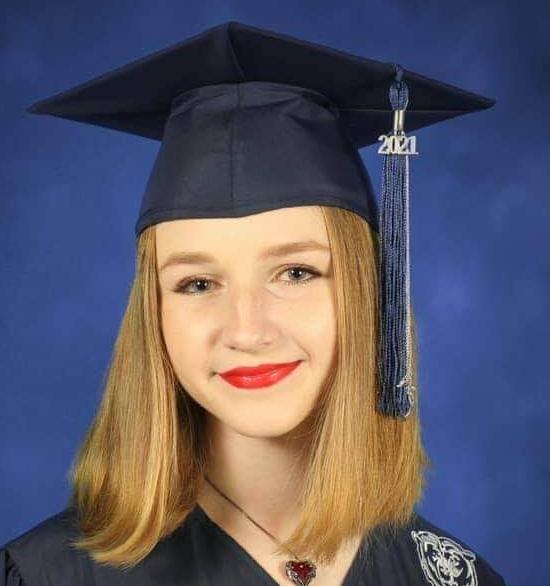 NORTH PORT — Daria and Gene Tomashosky remember their granddaughter Valentina as a sweet child her whole life.
"She was a lieutenant in JROTC throughout high school and was just queen of the ROTC ball," Daria Tomashosky said.
Valentina Tomashosky, 17, was killed Sunday in Spring Hill, about an hour north of Tampa.
According to the Florida Highway Patrol and video footage from a home near the fatality, Valentina's car collided with a power line that had fallen during Sunday's severe storms in Spring Hill.
The report says the teenager stopped and the car caught fire along the driver's side. As she got out on the passenger side, she stepped on the active downed power line. She died at the scene.
"It's just a horrendous tragedy," said Daria Tomashosky, a longtime North Port resident.
Daria Tomashosky, who is the president of the Ukrainian American Club of Southwest Florida, said Valentina enjoyed coming to North Port.

"When she was younger, she spent her vacations with us," she said. "She even attended the art camp at the North Port Art Center."
Valentina was a senior at Central High School and ready to graduate. Counselors were at the Hernando County school this week to help grieving students.
Daria Tomashosky said Valentina was headed to Pasco-Hernando State College in the fall.
"She was an only child, she was their miracle baby," Daria said. "She was in the (ROTC) program for four years. She loved ROTC. The cadets loved her. My son, Eugene, and my daughter-in-law, Christina, are starting a ROTC scholarship in her name."
Valentina Tomashosky took on leadership roles in ROTC Delta Company. She helped on the drill team and taught young cadets how to be leaders.
Friends of the girl and her family have laid flowers, a photo board and a homemade cross at a memorial site.
The family is planning a memorial service.
"We are all so numb," Daria Tomashosky said. "I just want everyone to know Valentina was so smart, beautiful and dedicated in serving through ROTC. We loved her so much."