ENGLEWOOD — Selected as one of Tripadvisors Travelers' Choice award winners, Lee Perron's Englewood Farmers Market is attracting attention from far and wide.
Perron hopes this year's market will be a repeat performance, if he can get the OK to open.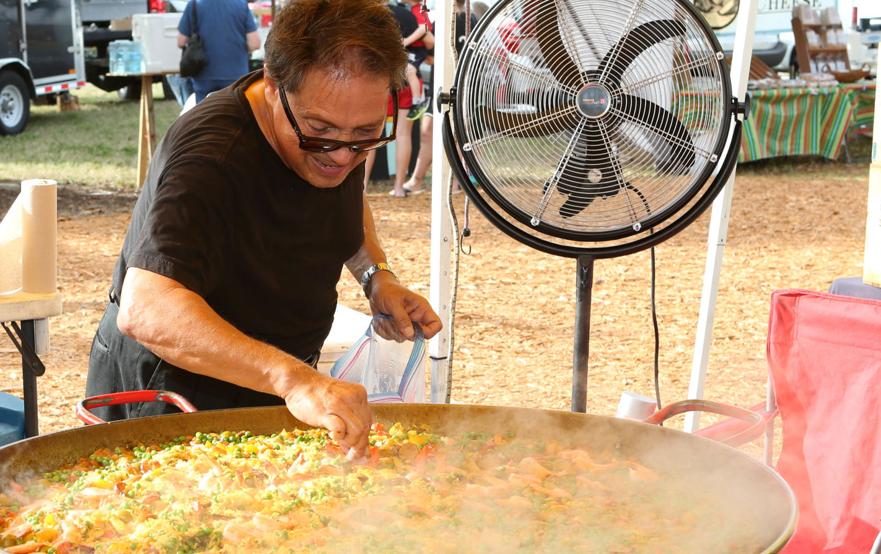 "The Englewood Farmers Market attraction was recognized in the top 10% world wide of millions of travelers who do reviews on the Tripadvisor site," said Perron who manages the marktes in Englewood, Venice, and CoolToday Park in North Port.
The Englewood Farmers Market is in its 10th season. It's scheduled to open Oct. 1, pending approval from Sarasota County. The market is held on county property at Pioneer Park, 348 W. Green St., along West Dearborn Street in Englewood. It attracts hundreds of visitors each Thursday.
Once it's open, many of the longtime vendors plan to return, Perron said, including clay art and jewelry, hand-designed clothing for children and adults, essential oils, nursery plants, cheeses, hand-crafted soaps, fresh-cut flowers and lots of locally grown produce.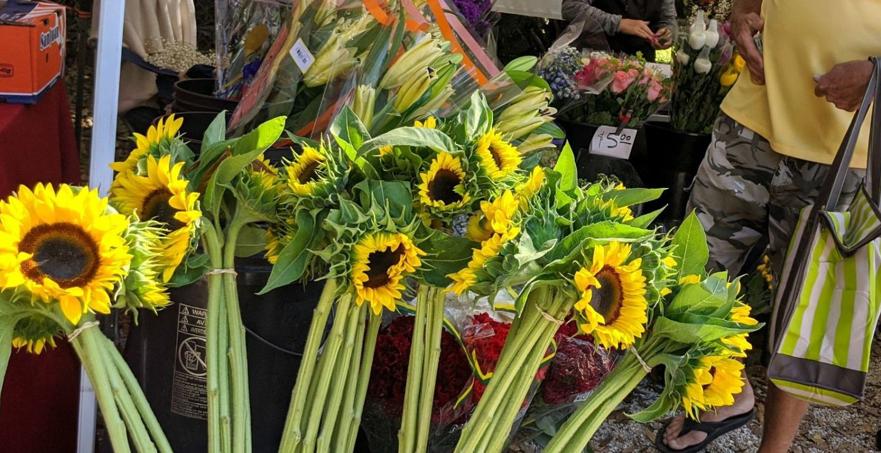 Perron spent three months developing an intense COVID-19 plan for the three markets he manages. There are mask requirement signs and hand sanitizer stations. Food vendors wear masks and gloves. There's no tasting, dining, seating or gathering places.
"We want people to have a wonderful shopping experience in a safe and outdoor area with our favorite produce farmers," Perron said. "We will address the attendance issue. If too many people are coming in and they aren't able to socially distance, we will make them wait outside like they do at Publix or Walmart. The turnover times at a farmer's market are incredibly fast."
Perron said his COVID-19 plan went before several departments in the city of Venice and its City Council for approval to open on Mainstreet in Venice.
It's open 8 a.m. on Saturdays in downtown Venice, and features produce, fresh baked goods, breads, pies, bagels and pretzels, wild-caught seafood, Florida-grown mushrooms, boutique cheeses, locally roasted coffee, kettle corn, nursery plants and more.
"I shared my COVID-19 plan, which is CDC compliant with the organizer in the city of Sarasota, and they are using it there too for their farmers market," Perron said. "I also submitted it to the Atlanta Braves for our farmers market at CoolToday Park in North Port for approval. We are good to open 8 a.m. on Oct. 7. We do need vendors that market on Wednesdays."
He still has not heard from Sarasota County on whether or not he can open in Englewood, but expects to get word soon.
Other markets
In addition to the Englewood Farmer's Market, several others will open on private property downtown Englewood. Because they are not situated on county property, other Englewood markets don't have to wait for an approval.
The Dearborn Street Market, across Dearborn from The Englewood Farmer's Market on the 300 block, will open on property owned by Joyce Colmar of nearby Vino Loco Gourmet wine bar. The market will open 9 a.m. on Oct. 1 at Dearborn Park, according to its Facebook page. There's art, fresh fruits, vegetables, jewelry and fresh flowers.
Corin Bay, around the corner at Mango and Green streets, is getting ready to go as well.
"We are so excited to reopen from 9 a.m. to 2 p.m. beginning Oct. 1," said Chris Phelps, owner of the Corin Bay Market. "We are looking for a couple of vendors. We already have three. We will be social distancing and wearing masks as required by Sarasota County." For more information about Corin Bay Market, email CorinBayMarket@gmail.com.
Also nearby is Artisans at Four Winds, at the Four Winds Galleria at 348 W. Dearborn St., which features outdoor artisans. Organizers plan to open Oct. 1.
Sunday Market
Life Realized sponsors a year-round farmer's market 10 a.m. to 3 p.m. Sundays at 501 W. Dearborn St., Englewood (across from Compadre's Mexican Restaurant). The market features Mrs C's Produce, Shay BBQ and Crepe Daddy's, food trucks, live music, produce and several new vendors. Participants must follow Sarasota County's guidelines for face masks, hand sanitizing and social distancing.