ENGLEWOOD — A federal judge, saying he "couldn't conceive" of people storming the U.S. Capitol, ruled an Englewood man accused of doing that Jan. 6 should stay in jail with without bond.
Graydon Young, 54, of Englewood, and other members of the Oath Keepers dressed in military gear, forced their way inside the Capitol Rotunda, according to the Federal Bureau of Investigation and the U.S. Department of Justice.
Later, they tried to destroy evidence showing they were there, court records show.
In a 44-page complaint, the FBI included dozens of photos a man they say is Young, along with his sister Laura Steele, and others in camouflage, body armor and helmets before and during the insurrection at the U.S. Capitol.
Photos and screen shots show them using a coordinated "stacking" military formation to make their way up through crowds up the steps and into the building.
The documents also include texts between Young and other members of the Oath Keepers, which federal agents describe as "a large but loosely organized collection of militia who believe the federal government has been co-opted by a shadowy conspiracy that is trying to strip American citizens of their rights."
Young and six others were arrested on federal charges last week. Young has remained in the custody of U.S. Marshals at the Pinellas County Jail since then.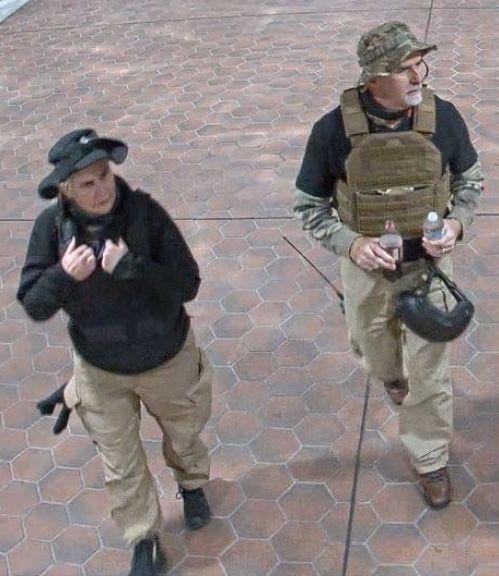 Federal Judge Thomas Wilson, during a bond hearing Monday at the U.S. District Court in Tampa, denied a motion for bond that Young's attorney Robert Foley filed on his client's behalf.
"I've been doing this for over 40 years, but never have I ever seen anything like this," Wilson said, quoted by the Tampa Bay Times. "I simply cannot imagine people planning to do this. They might get together and talk about it, just blowing smoke, but in this case they actually went through with it. So if I cannot conceive of someone doing this, what other inconceivable things could they do?"
Court records show "Young allegedly arranged, for himself and others, training by a Florida company that provides firearms and combat training," before the Jan. 6 breach of the Capitol.
In court, Young's attorney Robert Foley reportedly argued his client was duped and served a "limited role" in the breech of the Capitol and therefore should receive bail.
However, Young's indictment specifies he was a member of the group, the Oath Keepers and coordinated with Kelly Meggs, a Dunnellon man who is the self-described leader of the Florida chapter of the Oath Keepers.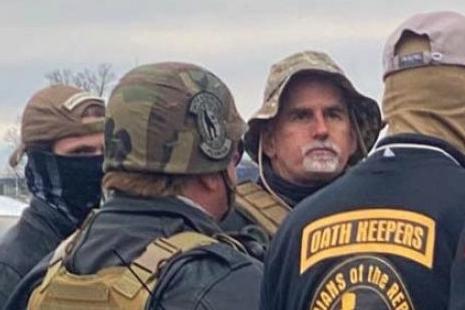 Kelly Meggs, 52, and Connie Meggs, 59, both of Dunnellon, were also arrested last week with Sandra Ruth Parker, 62, and Bennie Alvin Parker, 70, both of Morrow, Ohio.
Each are charged with one count of conspiring to commit an offense against the United States, one count of depredation against federal government property, and unlawful entry, disorderly conduct, or violent conduct in restricted buildings or grounds.
Young and others are also charged with obstruction after deleting texts and social media posts and accounts.
Who are the Oath Keepers?
The organization's name alludes to the oath sworn by members of the military and police to defend the Constitution "from all enemies, foreign and domestic. The Oath Keepers emblem, which members wore on the day of the riots, displays the motto, 'Not On Our Watch,' the Justice Department documents show.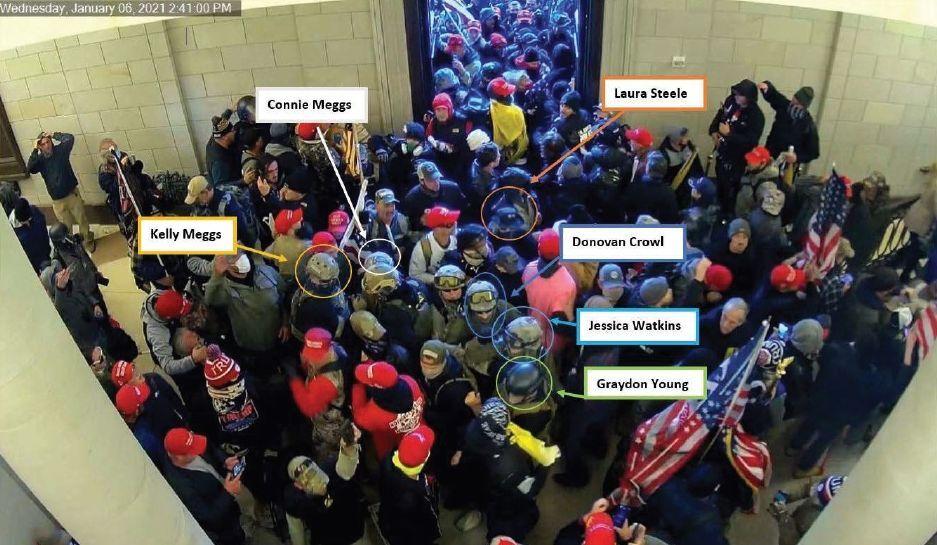 Young, who previously served in the U.S. Army Reserve and the U.S. Navy Reserve, wrote to the Florida Oath Keepers on Dec. 3 with an email that read, "looking to get involved in helping."
Then on Jan. 3, Young's sister 52-year-old Laura Steele of North Carolina, applied to join the Oath Keepers as well. In her membership application, Steele, stated "My brother, Graydon Young told me to submit my application this route to expedite the process."
On the five-page Oath Keeper application, Steele said she served as a K-9 Officer and SWAT team member with 13 years of law enforcement in North Carolina.
Prior to the raid, the Oath Keepers sent an email to its members titled "Call To Action: Oath Keepers Deploying to DC to Protect Events, Speakers & Attendees on Jan. 5-6: Time to Stand!"
"As always, while conducting security operations, we will have some of our men out in 'grey man' mode, without identifiable Oath Keepers gear on. For every Oath Keeper you see, there are at least two you don't see."
Court records show Young flew from Tampa to North Carolina on Jan. 4. He and his sister traveled to Washington, D.C. on Jan. 5 and stayed overnight in Springfield, Virginia. They returned to Washington, D.C. the next day.
Young remained in Thomasville until Jan. 8. He was supposed to fly back but changed plans and drove his sister's Chrysler Town & Country van back to Englewood. He then paid to have it towed back to North Carolina, court records show.
Young was photographed and recorded on video by surveillance cameras and news outlets wearing tactical gear, a camouflaged flak jacket and a tactical helmet. He also wore a "boonie" hat. He was photographed moving in a military style "stack" formation, with members placing their hands on the back of the person in front of them.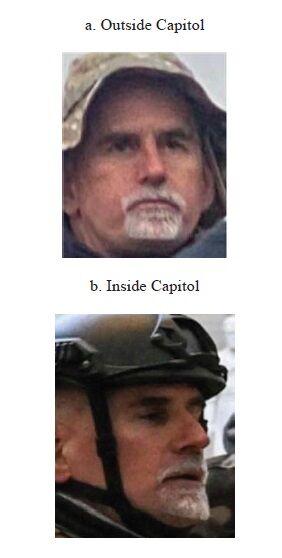 They group is shown moving together up the steps and then into the East side of the Rotunda.
The pair, along with Kelly Meggs and his wife Connie, were receiving commands from Oath Keeper Jessica Watkins who used a walkie-talkie-like phone app to communicate.
Young wrote on social media that his team leader went by the call sign "Ok Gator 1." Watkins posted on social media that "this is everything we planned for."
Once out of the Capitol, Young and Steele were tagged in several social media posts. Then a New York Times video called "Tracking the Oath Keepers" was released. Young is shown several times in the video.
The FBI's report states Young's cellphone records show he was in the Capitol on the day of the raid. He deleted all content on his social media dating back to last year, including a Facebook post that called "War of Northern Aggression" where he wrote, "I think censorship is going to get worse with Biden win."
Then he deleted his Facebook and Instagram accounts. However, witnesses, including a friend who knew Young for 25 years, identified him from Facebook posts, according to court records. The accounts were also tied to his phone number.
Young, who had a beard and goatee in the FBI's photos from Jan. 6, while he was clean shaven in his arrest photo Feb. 15.
A woman at the address listed on Young's arrest sheet did not comment to the The Daily Sun on Friday.
Foley, his attorney, could not be reached for comment.
Anyone who has information on anyone connected with the attack is asked to contact the FBI at 1-800-225-5324.