ENGLEWOOD — Manasota Key saw more dead fish wash ashore Monday, part of the damage caused by red tide in the Gulf waters off Englewood and Venice.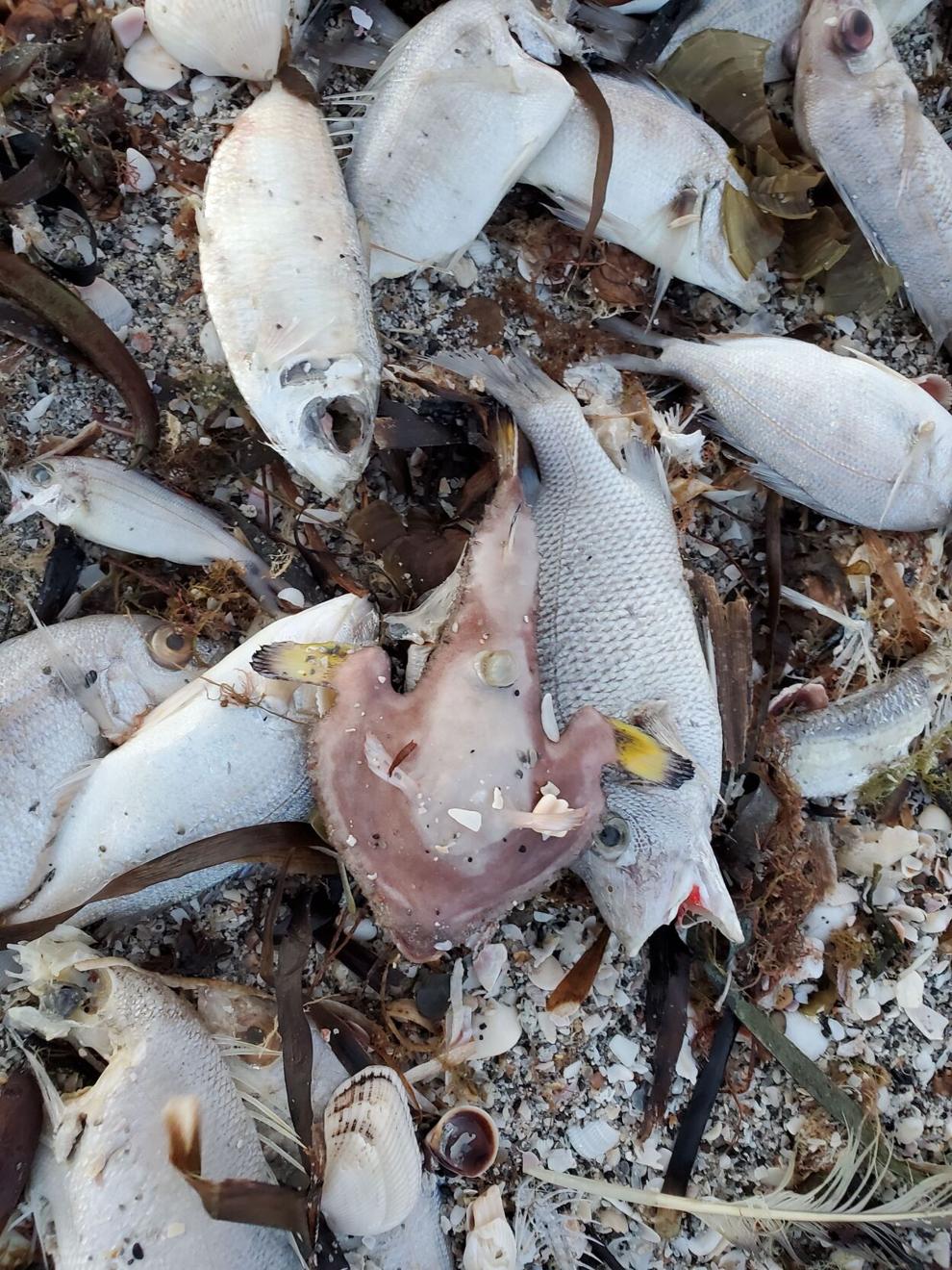 After hundreds of dead fish washed ashore Sunday, more turned up on beaches Monday morning, according to various reports. The airborne toxins were also plaguing beachgoers.
Mote Marine Laboratory's daily report Monday morning found beach goers were suffering "moderate" respiratory irritations at Manasota Beach, as well as numerous fish washing onshore, as reported visitbeaches.org.
"It wasn't good," said Zoe Bass who, with Wilma Katz, oversees Coastal Wildlife Club sea turtle volunteer who patrol beaches each morning on Manasota Key checking on nests. "The air was rancid."
Southward toward Blind Pass Park Beach in the middle of Manasota Key, Bass said the dead fish had thickened along the shoreline. She saw more large groupers that succumbed to the toxins.
The red tide continues to be found at beaches throughout Sarasota County from Venice to Lido Key, and south into Charlotte County beaches on the south end of Manasota Key. Sarasota County released an update Monday, noting red tide is present at all 16 of the counties beaches. There is no dead fish cleanup planned in Sarasota County. Charlotte County had employees scooping up fish at Englewood Beach on Monday morning.
Venice beaches were as bad, if not worse, than Englewood.
"I'm hoping this is just from the Piney Point poison," Jetty Jack's owner Chris Johnson said.
Along with small fish, a large grouper washed up dead by the Venice pier this weekend.
While many are speculating Piney Point to have fed into the high concentration, Mote Marine said red tide was already present in Tampa Bay at the time of the spillage in late March.
The red tide could have used the excess nutrients from the spill, Mote said.
Johnson said everything from Tampa Bay is now "getting blown south."
Despite the fish presence around the area, Sharky's On The Pier has remained unaffected from the red tide so far. "We are hoping it doesn't get like (2017 red tide)," general manager Kim Rasmussen said.
Things aren't as bad to the south of Englewood.
South of Stump Pass, on Knight and Don Pedro islands, Brenda Bossman, who oversees volunteer sea turtle patrols, said she spotted "some" dead fish and only "once in a while" experienced a little cough due to the airborne toxins
Last week Boca Grande saw low and medium concentrations in water samples collected by the Florida Fish and Wildlife Conservation Commission.
Mote reported Monday Boca Grande slight irritations from red tide and no fish washing onto beaches.
Lee and Collier counties — which experienced more intense blooms in June and July — are now relatively clear of red tide.
On Monday morning, U.S. Rep. Vern Buchanan (R-Longboat Key) hosted a discussion about combating the red tide.
"Red tide has wreaked havoc on marine life, our waters and the many businesses that rely on Florida's tourism-based economy," Buchanan stated in a news release. "We must take immediate action to combat red tide."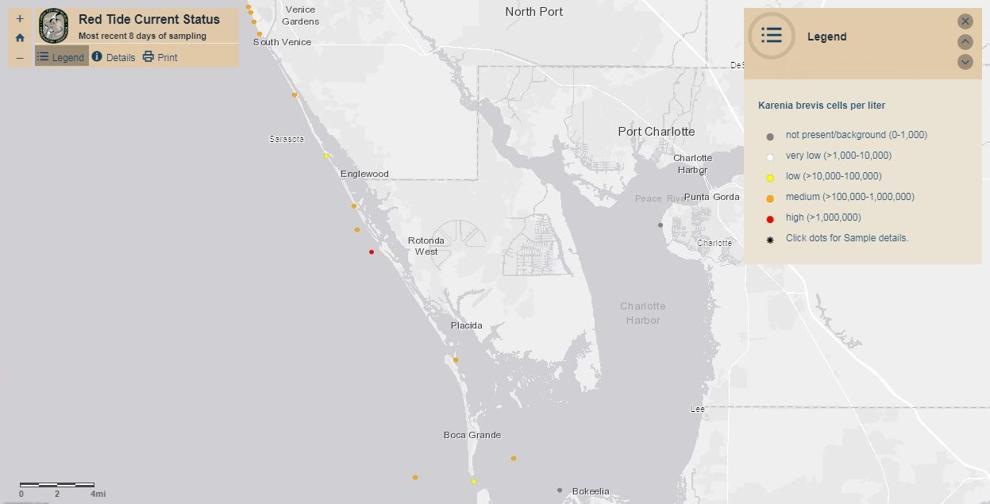 Red tide algae, Karena brevis, is natural to the Gulf in concentrations less than 10,000 per liter of water. However, concentrations more than 100,000 cells per liter of water can result in fish kills and its airborne toxins result in respiratory and other ailments in humans. When the cells reach or exceed a million cells per liter of water, the algae can darken or stain the water reddish brown.