ENGLEWOOD — New technology is allowing scientists to find red tide outbreaks quicker — and more accurately predict where it may go next.
That means beachgoers can have a better idea what to expect when they set out for a day on their favorite beaches — especially for those who suffer from asthma or emphysema or other respiratory ailments.
A nonprofit agency, the Gulf of Mexico Coastal Ocean Observing System, has set up an interactive map (habforecast.gcoos.org) that identifies where the toxic red tide is blooming, the intensity of the bloom and whether or not it is expected to intensify at specific locations.
The interactive map also tells what directions winds are expected. Locally, wind direction can intensify red tide blooms by blowing the toxic algae closer to shore.
"Red tide impacts can be really variable because of wind patterns," said Barbara Kirkpatrick, executive director of the Gulf of Mexico Coastal Ocean Observing System, in a news release. She conducted the first studies documenting the impacts of Florida red tide blooms on human health.
New funding, in the form of $653,960 in grants from the National Oceanic and Atmospheric Administration, the National Centers for Coastal Ocean Science and the U.S. Integrated Ocean Observing System, will help researchers expand the system to include more Florida beaches.
Forecast technology improving
The technology is based on getting faster results from water samples, which are taken at several points along Florida's Gulf coast. The information from the analysis of water samples isn't instantaneous — but it's getting pretty close.
Rick Stumpf — an oceanographer National Oceanic and Atmospheric Administration's National Centers for Coastal Ocean Science — said the technology is developing greater efficiency predicting and informing people what conditions they can expect on their favorite beaches.
The forecasts build upon NOAA condition reports and bulletins by refining the information so that predictions can be made on a beach-by-beach basis.
The Gulf of Mexico Coastal Ocean Observing System oversees the respiratory forecast network. The nonprofit consists of institutions and people who are "actively engaged in conducting observations of the Gulf of Mexico coastal environment," and who use the data. It is supported primarily with NOAA and other agency grants.
The Red Tide Respiratory Forecast system makes use of a "HABscope," basically a portable microscope system that uses video and artificial intelligence to quickly analyze water samples in near real-time for red tide cell counts.
Researchers are outfitted with low-cost, classroom-grade, portable microscopes with special adapters — designed by the team's engineer and built with 3-D printers. The adapter is mounted to a hand-held Apple iPod Touch. A portable powerpack provides light for the microscope.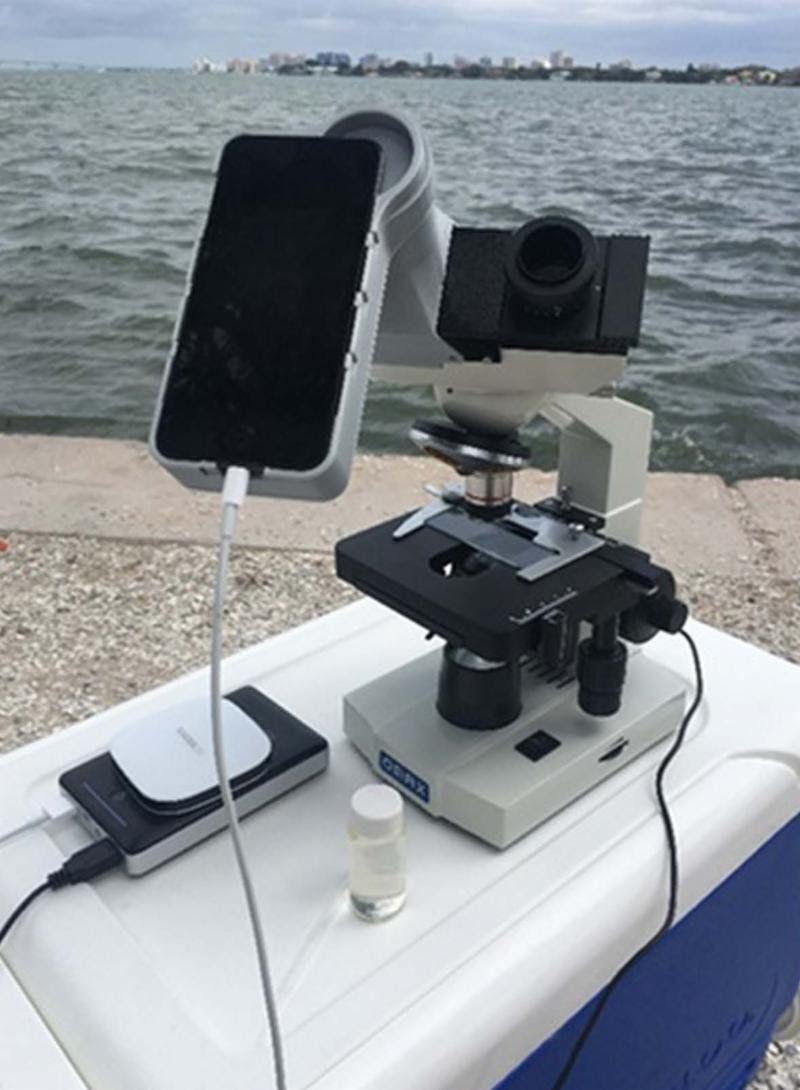 Volunteers collect water samples, place samples under their microscope and use the iPod to take a video. The video is uploaded to the Observing System.
The Gulf of Mexico Coastal Ocean Observing System employs an artificial intelligence program to identify automatically the presence of red tide algae cells in the samples, as well as the concentrations of those cells.
The automated process then reports its findings to researchers preparing red tide forecast models.
The Observing System recruits "citizen scientists" who help gather water samples. It wants to recruit more volunteers in Florida to gather water samples for the Red Tide Respiratory Forecast.
Volunteers must have a scientific or technical background, be living in close proximity to a beach and be willing to gather samples daily during red tide blooms.